Ruin in the Forest: A Stadium Once Fit For the US Open Falls Into Disrepair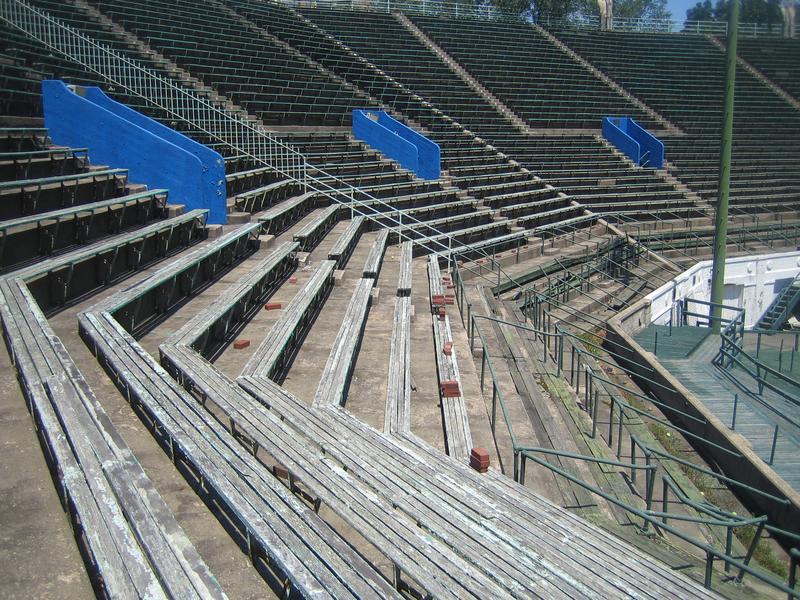 On top of 2.5 acres of prime real estate in Forest Hills Gardens, Queens, is the iconic Forest Hills Tennis Stadium. Once home to the U.S. Open, this crescent arena built in 1923 where the first African-American won a major tennis championship and women first earned equal prize money is now a crumbling ruin.
The West Side Tennis Club, which owns it, is considering selling the stadium that served as home to the U.S. Open until 1978 when the tournament moved to its current address in Flushing Meadows, Queens, where it opened Monday.
"Right now, we're looking into ways to bring some revenue from that area of the club," club president Ken Parker said.

The stadium had been used for various events since the U.S. Open left Forest Hills, but it was last used in 2008 for a ladies satellite tournament.
It hasn't been well cared for since, Parker said.

"It's not in danger of collapsing, immediately," Parker said, "but there's some problems with pieces of concrete falling down at times. It's in a state of disrepair."
Tennis journalist Bud Collins covered the action at the first televised broadcast of the US Open at Forest Hills in 1968.
"So much history is lodged in those walls," Collins said. "Althea Gibson playing and breaking the color barrier in 1950, 'Big' Bill Tilden and Billie Jean King, you just go down the list of champions."

Last fall, the Cord Meyer Development Corporation offered the club $9 million to turn the arena into luxury apartments. Though the proposal was ultimately defeated, interest in the stadium has not waned.

"This is still an ongoing issue with the members, what we want to do with this stadium," Parker said.


Those looking to see the structure preserved, however, suffered a blow this spring when the city's Landmarks Preservation Commission (LPC) opted not to recommend the stadium for landmark status.
The arena was designed by architect Kenneth MacKenzie Murchison, who also designed Baltimore's Penn Station. His vision for the stadium was a concrete revival of Rome's Colosseum in Queens. But LPC spokesperson Elisabeth de Bourbon said, after close examination, her staff found the stadium was too badly compromised.
(Photo courtesy of Rego-Forest Preservation Council)
"Its architectural features have deteriorated," de Bourbon said.
Their assessment of the stadium prompted Forest Hills resident and tennis fan Michael Perlman to take action. He's collecting as many signatures as he can for his online petition "Landmark and Restore the Forest Hills Tennis Stadium." He said the Commission's decision is unfair.

"Other buildings were landmarked in the past that had greater physical deterioration than the Forest Hills tennis stadium," Perlman said.
On August 1, the West Side Club issued a request for new proposals. Among those currently considering a bid are Toll Brothers, the national luxury home builder, and, again, Cord Meyer.

"I think it would really be a crime, almost, to tear down that stadium that has meant so much to the game, and could mean a lot as the years go by," Collins said.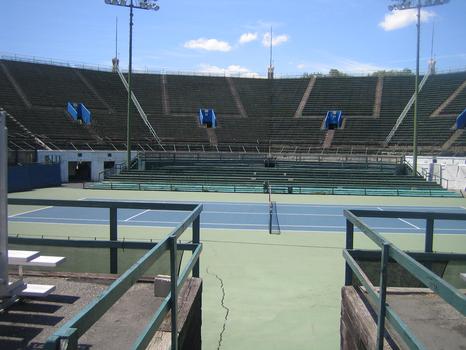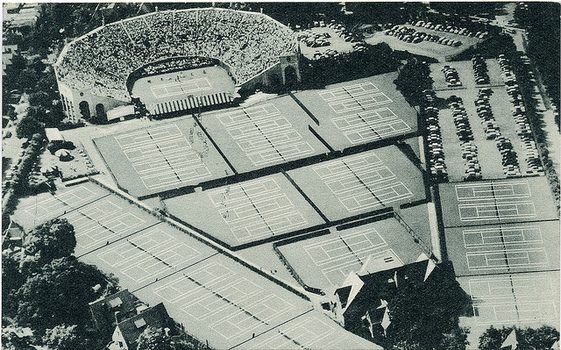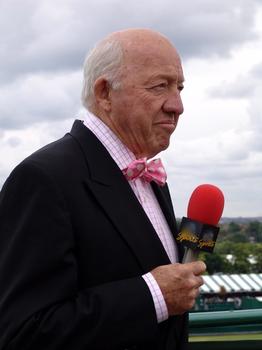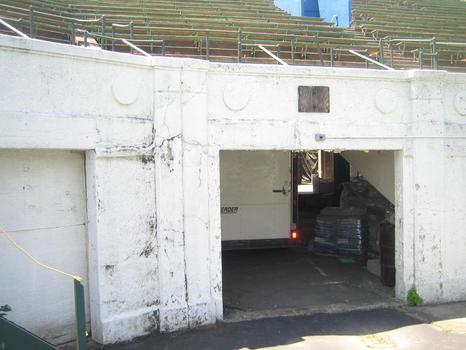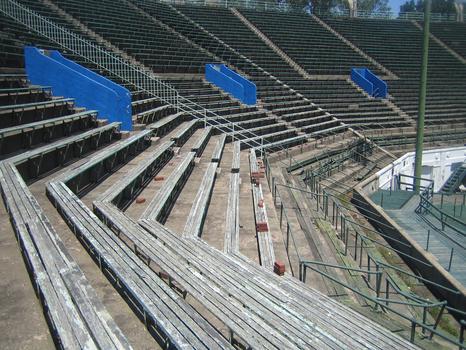 of