NJ Grapples With Widespread Flooding, Power Outages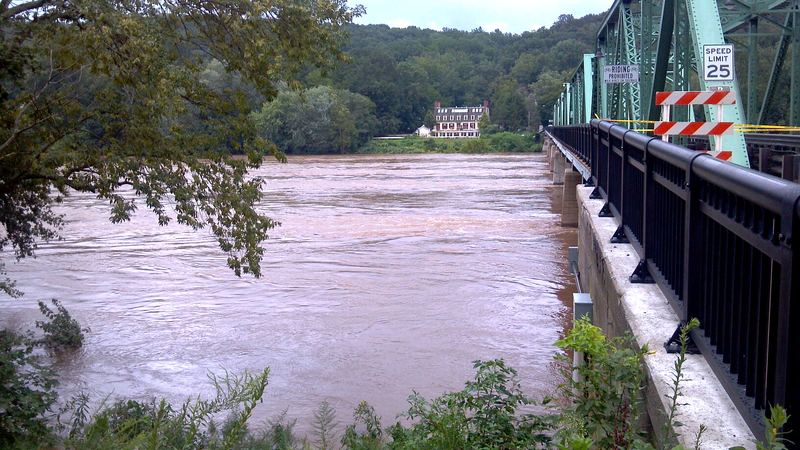 Clean-up crews in New Jersey are facing massive flooding and debris as they work to restore service to the 625,860 customers who lost electricity during Hurricane Irene.
"Our state has never before experienced a storm of this magnitude," said Ralph LaRossa, PSE&G president and COO. "PSE&G will have about 6,000 employees supporting the restoration effort, including 840 linemen and 540 tree contractors available to respond to outages."
Customers could be without electricity for several days. Jersey Central Power & Light said it still has 358,000 homes and businesses without service; Public Service Electric and Gas said it has about 205,000; and Atlantic Electric is reporting 67,039.
New Jersey Governor Chris Christie toured some of the damage that occurred as a result of Irene. He urged tourists and residents to go ahead with plans to visit the Jersey shore this weekend.  He said power would  likely be restored by then, and that opportunists would probably be able to scoop up deals since many may have cancelled their vacation plans for the last week of summer because of Tropical Storm Irene.
In Mendham, N.J., about 1/3 of the township is without power due to Irene, according to emergency management director Evan Thomas. The Mendham Fire Department put up 16 residents who needed shelter Saturday night and rescued a family trapped in their flooded home.
Thomas said residents who have lost power and gas should stay out of their basements if there is flooding and call the fire department or local municipality for help.
The same applies to people experiencing gas outages. Water could enter the utility's gas distribution system, as well as flood customers' basements and gas appliances. PSE&G says customers should call in all reports of gas odors.
Downed Trees Block Many Roads 
The heavy rain fall and flash floods took down some grand trees that had stood for decades. In Brookside, NJ, a massive black walnut came crashing down within inches of Pat Hettling's home (photo: left/ by Bob Hennelly/WNYC).
"And I looked out the window and a police car was coming up the road and that's why lights were shining towards it as it went by and said, 'Dear Lord — thank God it didn't hit the house," she said.
Some Rivers Still to Peak
Rivers and streams across New Jersey have been inundated by rains from Hurricane Irene, with many small streams at flood level and some larger rivers expected to peak over the next day. Many of the streams and rivers are at or expected to reach record or near-record flood levels because the ground was already saturated before the storm.
The Department of Environmental Protection said it is monitoring the situation.
There is potential record flooding possible in the Passaic River Basin. Record flows in the Ramapo River and its tributaries are expected to result in substantial floods in northern New Jersey  region.
The Delaware River at Trenton and New Hope/Lambertville is expected to approach major flood stage Monday morning and then gradually subside – though remain above normal levels – through Tuesday.
Peak water levels in the Raritan River are expected to be reached Monday night at Bound Brook and Raritan, and the same for the tributary Millstone River at Blackwell Mills.
The North Branch of the Rancocas Creek at Pemberton is expected peak at major flood stage early Monday morning and remain high until mid-day on Tuesday.
(Photo: Delaware River spills over its banks in Central New Jersey/by Joe Rose)
Water releases made by New York City's reservoir system in the Delaware River Basin are expected to take four to five days to reach Trenton. This is expected to have little impact on flooding because the water will arrive well after the crest for the Delaware River downstream.
Business Get Back to Work
Businesses are grappling with the one-two punch of power outages and flooding.
"The lack of power is killing us," said Joe Hogh, owner of Ultra Punch and Die Corporation in Boonton, N.J.
Hogh's tool and die shop has been in Booton for 40 years. He said the lost time will set him back filling orders for his computer and automotive sector customers. His staff is using a diesel generator to power the clean-up operation.
 "At least the water did not get high enough to take out the machines," he said.
Governor Chris Christie has announced a series of business assistance services for those affected by the storm.
"New Jersey has coordinated a range of multi-agency resources to assist impacted businesses and ensure they are operational quickly," Christie said. 
Information for all services may be easily accessed through New Jersey's Business Action Center (BAC), by calling 1-866-534-7789.  
Governor Issues Boil Water Order

Boil water orders have been issued for a number of New Jersey municipalities. Municipalities that have instituted boil water orders, so far, include Florham Park, Irvington, Maplewood, Millburn, Short Hills, Springfield, Summit, and West Orange, which are all part of the New Jersey American Water Company's Short Hills system. Boil water orders also are in effect for Hightstown, Rockaway Township, and South Amboy, and more are likely.
State, county and local officials say they are monitoring water quality carefully. The DEP is urging any New Jersey residents who are unsure of their water supply – from either a municipal water system or personal well -- to either use bottled water or boil your potable water before use. 
With reporting from Janet Babin and the Associated Press
(Photo: Flood waters surround Phillips Mill in Stockton, NJ/ by Joe Rose)