The Politics of Irene: Winners, Losers and What it Meant for Obama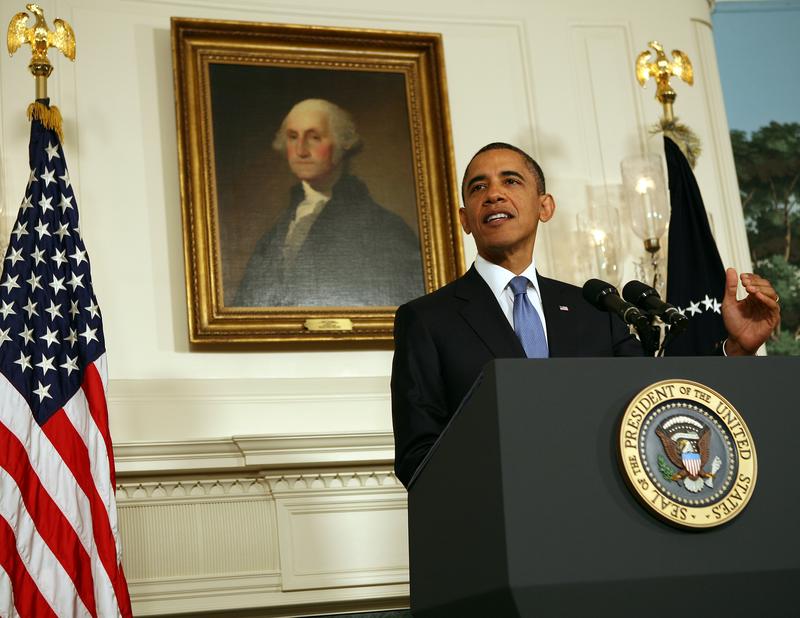 As Hurricane Irene stormed up through the East Coast, it interrupted political debates about Libya and the 2012 election and focused attention on the most basic services of government: public safety and public infrastructure. That cuts right at the heart of the debate about the proper role and scope of government that has raged in Washington since the 2010 midterms.
But Hurricane Irene is fundamentally about local politics, because as FEMA director Craig Fugate pointed out, the hurricane did not leave a single "place of damage that tells everybody the story about what's happened." Instead, the weekend ended with multiple storylines ranging from devastation to inconveniences to relief. So as Irene's winds weakened up the coast, so did her ability to shape the national debate about the role of government one way or the other.
Here, a look at the political winners and losers in Irene's wake. 
Winners:
New Jersey Gov. Chris Christie – New Jersey sustained some of the worst damage as Irene moved up the I-95 corridor, and Gov. Christie maintained a visible presence in regular press conferences, local media, and still got top billing on a Sunday talkshow. As politicians up and down the East Coast were pressing residents to take evacuation warnings seriously, it was Christie whose soundbite was the most penetrating. "Get the hell off the beach," Christie said on Friday. "You're done. It's 4:30. You've maximized your tan." Christie continues to shoot down 2012 rumors, but they persist, and as candidates in the GOP field never miss an opportunity to criticize the Obama administration, Christie emerged more of a pragmatic manager than a partisan flamethrower. "Right now, the cooperation between New Jersey and FEMA has been great," he told ABC's This Week on Sunday morning. 
New York City Mayor Michael Bloomberg - After the blizzard crippled New York City after Christmas last year, Bloomberg became the face of what went wrong. He was not only away from the city at the time that storm hit, the city's abysmal snow clean-up became a symbol for the failures of Bloombergian hands-off management style. In contrast, as Irene neared the city, he was visible, firm and clearly in charge -- and though the city was spared the worst of Irene's damage — New Yorkers were by and large generous with their praise of the mayor's emergency precautions. 
New York Governor Andrew Cuomo - More often behind the scenes than in front of cameras, Gov. Cuomo was actually behind the camera as he surveyed flooding damage in Delaware County on Sunday (his office posted some of his iPhone photos to his Flickr page.) He, along with the Metropolitan Transit Authority chairman Jay Walder, made the call to completely shut down New York City's mass transit system hours before Irene hit, which prevented cars from getting damaged in subway yards that did ultimately flood. Then, perhaps more importantly, he announced that subway service would resume in time for the Monday morning commute. "Today government worked," Cuomo said, as he praised transit workers for enabling the restored service. 
Losers:
 President Barack Obama - While he did leave his Martha's Vineyard vacation early to return to Washington because of the storm, his audio-only statement on the eve of Irene's landfall on Friday failed to capture a national moment to rally Americans around the threatened eastern seaboard. No local or state officials voiced complaints about FEMA, and Obama was firm on Sunday that if they did emerge, he wanted to hear them. "If they need something, I want to know about it," he said in a statement at the White House on Sunday. "We're going to make sure that we respond as quickly and effectively as possible." The president went on to tie the local emergency responses to a larger argument about the role of government,  Obama tried to use moment to make case for importance of effective (as opposed to "small") government. "This has been an exemplary effort of how good government at every level should be responsive to people's needs, work to keep them safe, and protect and promote the nation's prosperity," he said. But it will probably be the leaders at the more local level who get the lion's share of that credit, not him. 
Tea Party - While Obama isn't likely to see much of a bump from the combination of good execution and good luck that other local officials will claim credit for, a weekend-long emergency response mission along the nation's northeastern coast did highlight Arguing for less and less government in this shadow may not sit quite as well with Americans, or at least the 55 million of them who spent the weekend worrying about being in her wake. 
Texas Governor Rick Perry — A massive government response to a disaster threat undercuts part of Perry's small government message, but it also drowned out that message altogether. Irene's threat and aftermath kicked the Texas governor out of the news cycle, right at the moment of this new candidate's moment. "President Rick Perry?" was the headline of David Brooks Friday column in the New York Times, after all. That feels like a long time ago. 
In Overtime:
North Carolina Governor Bev Perdue - This Democratic governor in her first term faces a real test as her state recovers from Irene's winds, flooding and power outages. Perdue faced questions and criticism when she was out of state when tornadoes ripped through North Carolina counties in April. And as she surveyed the damage in North Carolina on Sunday, a separate group of Republican state leaders traveled elsewhere in the state to monitor the response. As North Carolina's coastal communities absorb the impact of Irene, it is still unclear who will get blame or credit as the response continues, but with Perdue up for reelection in 2012, the answer could have major implications in this swing state that extend way beyond local politics.