Amy Eddings: What To Do While Waiting Out Irene? Bake!
August 28, 2011 —
Governor Andrew Cuomo suggested enjoying one's family and getting "a good book" to wait out Hurricane Irene.
WQXR's Naomi Lewin has a better idea. Bake! And then, EAT.
She sent me a picture of a pie she made while listening to me host special Hurricane Irene coverage Saturday night on WNYC. She didn't tell me what kind of pie it was.  It looks peachy to me.  And are those walnuts in the crumble topping?
It's midnight, she's asleep, and I'm buzzing with "on air" energy and jonesing for some pie.I had some tea instead. Time to get some sleep myself. Irene's depths have yet to be plumbed.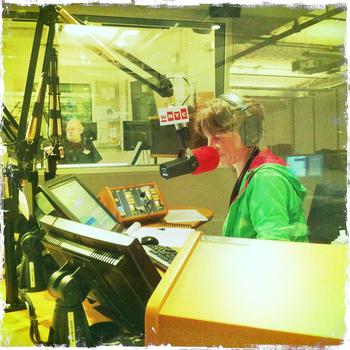 of