Transit Halts, City Braces as Hurricane Irene Chugs North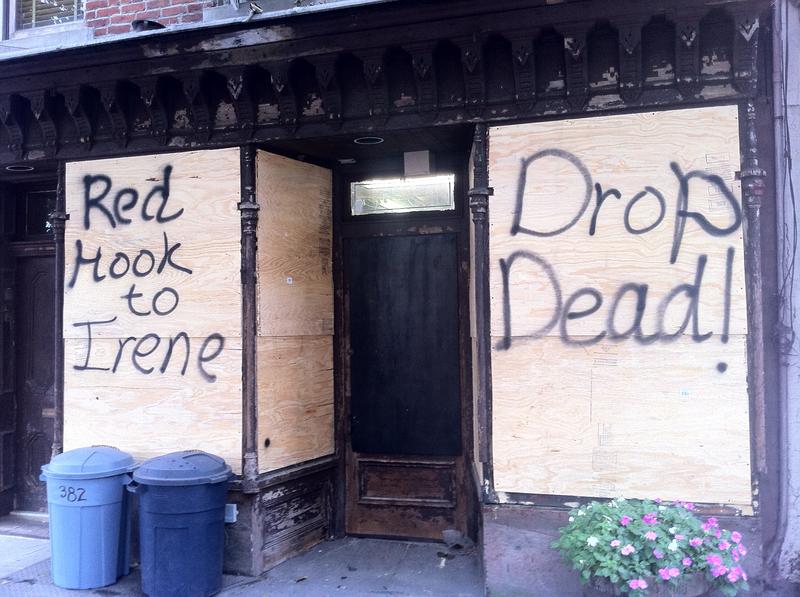 UPDATE: 11:17 p.m. The first rain from Hurricane Irene began to fall in the tri-state area Saturday as the city's mass transit system ground to a halt Saturday and more than 370,000 New Yorkers were ordered to evacuate ahead of the storm that could lash the city with 85 mph wind gusts. 
Hurricane Irene is expected to hit the tri-state as a Category 1 storm with wind gusts up to 85 mph sometime late Saturday or early Sunday.
In a 10 p.m. press conference Saturday, Bloomberg said the deadline for mandatory evacuations of low-lying areas had passed, and urged New Yorkers to now stay indoors. He said there is still a possibility Con Ed may have to cut power to customers in Lower Manhattan and Wall Street if flooding from the storm is widespread.
Here are the latest developments:
• Con Edison may cut power to 6,500 customers in Lower Manhattan and Wall Street if the flooding is widespread. The utility is shutting down 10 miles of steam pipes near flood zones.

• Evacuations for residents in the city's low-lying areas are now over. Many, however, refused to leave.

• Heavy winds of about 40 mph began in the city at about 9 p.m. Saturday and will continue until they reach hurricane strength, according to mayor Bloomberg. Flooding damage is likely to occur at 8 a.m. Sunday.

• The mayor of Jersey City issued mandatory evacuations for some residents by 4 p.m. Saturday.

• Mass transit shut down at noon Saturday. Long Island Rail Road, Metro-North Railroad and Access-A-Ride along with buses and subways will be affected. Bloomberg said transit may not be fully running until late in the day Monday: "Monday morning is going to be a mess."

• Major bridges in the city and Lower Hudson Valley and the state Thruway will close if sustained winds top 60 mph, the governor said Friday.

• More than 900 National Guard soldiers and more than 100 vehicles will head to the Hudson Valley, New York City and Long Island Saturday in response to Hurricane Irene.

 
Speaking from Martha's Vineyard on Friday, President Barack Obama said Irene would be "a historic hurricane" and urged residents in the path of the storm to evacuate if asked to do so.
He declared an emergency for New York state which means that FEMA and the Homeland Security Department can coordinate disaster relief efforts, and that the state can receive federal aid to supplement state and local emergency and clean-up assistance.
Evacuations
New York City residents in low-lying areas known as Zone A are supposed to evacuate by 5 p.m. Saturday. The city has set up a total of 71 shelters for people in Zone A and all of the Rockaway Peninsula. WNYC also has a map of emergency centers.
"With the shut down of the MTA system, I know that New York City gets really crazy, and I just wanted to make sure that I got into a center that was near me and accessible," said Virginia Hooper of Kip's Bay, who showed up at a center at Baruch College on Friday.
On Saturday, the mayor of Jersey City ordered a mandatory evacuation as of 4 p.m. for residents living in the ground and first floor in the following locations as of 4 p.m.: All streets East of Green Street from Essex St North to Christopher Columbus Drive; All streets East of Washington Boulevard from Christopher Columbus Drive North to 18th Street; buildings in Port Liberte; buildings in Society Hill; Country Village
Jersey City has opened six Emergency Shelters throughout the city:
Shelter Locations are MS#4, 107 Bright Street, MS#7, 222 Laidlaw Avenue, PS#17, 600 Bergen, PS#28, 339 Stegman Parkway, Dickinson High School, 2 Palisade, and the Jersey City Armory, 678 Montgomery Street. Please note none of the shelter locations have pet capabilities.
Governor Andrew Cuomo ordered some toll and fare suspensions to help facilitate the evacuation. Tolls were suspended on the Cross Bay Veterans Memorial Bridge and the Marine Parkway-Gil Hodges Memorial Bridge. Starting at 8 p.m. Friday tolls would be suspended on the Verrazano Bridge and fares would be suspended on all buses throughout the city and for subway and rail passengers at stations in the mandatory evacuation area.
To assist in evacuations from the New Jersey shore, Governor Chris Christie suspended tolls on the Garden State Parkway south of the Raritan River and the Atlantic City Expressway.
Power
Officials from Con Edison said they may shut down power to 6,500 customers if flooding threatens their systems. Con Edison's Senior Vice President of Electric Operations, John Miksad, said the utility expects to decide whether a preemptive shutdown is necessary some time between 2 a.m. and 10 a.m. on Sunday.
There are no plans to shut off power before Hurricane Irene hits the city, according to Con Ed spokesman Alfonso Quiroz.
"We have to wait for the storm to arrive. we have people located in our facilities to monitor the flooding," he said. "If the flooding gets too high, then we may have to shut them down, but it's not a pre-emptive shutdown of the whole area."
Quiroz said Con Ed engineers will make the final decision about whether to shut off power.
Buildings that rely on steam to power their facilities may lose energy later Saturday, according to the utility. There are 48 customers throughout Manhattan that use steam power for elevators and air conditioners. Those customers have already been notified that they may not have steam in their buildings, Con Ed said.
Preparations
Residents in Southeast Queens and in Long Island were girding for strong winds and rain as the National Weather service predicted the storm's eye will pass over central Long Island – in Suffolk County.


In Long Beach, Long Island, residents were duct-taping their windows and carrying canned goods along the boardwalk.

Residents in the Rockaways in Queens were scrambling to find batteries, flashlights and other emergency supplies.

Construction

The buildings commissioner has ordered all work at construction sites in the city suspended from 2 p.m. Saturday until 7 a.m. Monday.

Meanwhile, inspectors are checking construction sties throughout the city to make sure equipment is secured and materials tied down.

The Port Authority of New York and New Jersey is securing all cranes and equipment at the World Trade Center. Sandbags are being installed in areas that could be prone to flooding.  
Transportation
The MTA has instituted a system-wide shut down of mass transit as of noon Saturday.
Taxi drivers across the city were working under a zone fare system. Yellow cabs, liveries, black cars, limousines and commuter vans will now charge passengers depending on which zone they're picked up and where they're dropped off. Drivers will charge an initial fee of $10. To enter another zone, that's another $5.
"We don't know how to work because there supposed to tell at least 2, 3 days before, so we would know. A lot of companies have thousand cabs and nobody don't know," said taxi driver Pemba Sherpa.
Sherpa also said he doesn't want to work a full day because he's worried about the rain and wind.
Hospitals
Ambulances were coming and going from Coney Island Hospital on Friday, shuttling more than 200 patients to other public hospitals around the city – and away from possible danger from Hurricane Irene.
The Brooklyn hospital is one of five in what the city designated Zone A -- low-lying waterfront areas that could sustain the brunt of extreme weather.
Two others are in Manhattan -- the NYU and V.A. medical centers, in Kips Bay. And the remaining two are Staten Island University Hospital North and Staten Island University Hospital South.
Additionally, five nursing homes in Brooklyn and three in Queens are slated for possible evacuation. Some of their names tell why: Sea-Crest, Oceanview, Shoreview and Shorefront.
Con Edison said that extensive outages were possible if strong winds toppled trees and power lines. The utility recommended residents avoid any downed lines and to turn off lights and appliances if power was lost to prevent an overload once it becomes restored.
The Long Island Power Authority said it had hired 900 extra workers to deal with the storm.
It's been seven years since a major storm — Hurricane Jeanne, a Category 3  — slammed into the East Coast. The last hurricane to hit the U.S. was Ike in 2008.
Governor Andrew Cuomo said he had requested the state's emergency response team to begin preparing for Irene to impact the state on Sunday. He also urged New Yorkers to take stock of their emergency supplies and check in with neighbors, the elderly and the disabled who might need assistance.
With reporting from Brigid Bergin, Fred Mogul, Beth Fertig, Ailsa Chang, Tracie Hunte and the Associated Press