Niche Market | Welding Supplies
New York is a city of specialists from foodies to academics, laborers to shopkeepers. Every Wednesday, Niche Market takes a peek inside a different specialty store and showcases the city's purists who have made an art out of selling one commodity. Slideshow below.

McKinney Welding Supply
600 W. 52 St.
New York, NY 10019
Ever wonder where those huge nitrogen gas canisters on the sidewalk come from?
In most cases, they originate from McKinney Welding Supply, and the giant cans are purchased by Verizon. "We pump nitrogen underground at a very low pressure to keep the phone signals dry," said Al Dickon, 53, McKinney's store manager.
McKinney, the only welding supply shop left in Manhattan, is a hub for people who keep the city ticking — those who erect skyscrapers, those who maintain the infrastructure and those who roam the streets. The door, between 11th and 12 avenues in midtown, swings open constantly, and large men, with well worn boots, walk in and out. 
A recent scene: a Con Edison worker searched for heavy cable. He was interrupted by loud-mouthed Marcel Bochi, a steam fitter supplier on his first visit of the day "for acetylene, nitrogen tanks, and to bust balls."  A driver for an air conditioner company swapped an empty gas cylinder for a full one off the truck parked out front and paused for a few minutes to make jokes. Throughout it all, there's a steady stream of food cart vendors brandishing a wad of $13 in cash to purchase 20 lb propane gas tanks that will help cook everything from chicken gyros or donuts.
Handling the motley crew of customers, always with a smile, is 83-year-old Nick Mattiace, president of McKinney. The people, he said, are what keeps him young. The work is just too much fun to stop. 
"They'll have to carry me out of here. At this stage in my life, I don't think about retiring, I'll just go on until I can't," he said. "I love it, I never get bored with it. Because people come in and out all the time and I've known some of these people for years."
Behind the counter, on Mattiace's left, sits Dickon, his nephew. Mattiace has owned the welding supply business for a staggering 49 years — and it's truly a family affair. He has a slew of offspring and relatives working at his three locations, in Manhattan, the Bronx and Westchester. 
The patriarch grew up in Hells Kitchen and started working part-time at McKinney when he was only 16 years old. After a break for military service during World War II, he took a job as a driver at the company, then worked his way up to ultimately buy the business from the original Mr. McKinney in 1962. 
McKinney's bread and butter has evolved over the years — as manufacturing decreased in the five boroughs and other industries grew. Gas has always been a component of welding, but Mattiace expanded that aspect of the business so he could sell to the medical industry (oxygen to hospitals, laughing gas to dentists), and the entertainment industry (he may be the one filling your helium balloon). Construction still makes up a big part of the pie, and Mattiace predicted the World Trade Center project, in particular, will keep them busy for a few years, since the buildings have steel frames. "Every building you see go up, somebody's welding in there. Whether they're plumbers, steam fitters, iron workers, you name it," Mattiace said. 
Interview with Nick Mattiace, President of McKinney Welding Supplies:
How has the business changed over the years?
New York is a service industry now, more or less, and we do a lot with the service industry. The business has really changed. New York is an entertainment town. We sell a lot of helium to balloon people and party people. We do some hospital business. It used to be strictly welding supplies at one time, but it has evolved into more than welding supplies. But a big part of our business is construction and when construction is busy, we're real busy. Right now, with the economy being what it is, construction is down a little bit, but there are a couple of big jobs going on — the trade center being the biggest — things seem to be picking up a bit. Can't complain at all.
Besides construction, is there a lot of welding that happens in the city?
Oh yes. Every building you see go up, somebody's welding in there. Whether they're plumbers, steam fitters, iron workers, you name it. Welding is a big part. We have a lot of people as hobbyists too. We have sculptors who come in and buy their equipment, we have schools, welding schools.
What's some of the specialized equipment that you sell?
We sell welding machines, we sell cables that go with the welding machines, we sell welding rods to weld with, we sell torches and regulators for the gas tanks — you can't just take gas out of a tank and use it — you have to have a regulator, you have to have a hose, you have to have a torch, all those things we sell. And we sell goggles and glasses, helmets, jackets and all the clothing that go with it, we sell an awful lot of gloves — welding gloves, work gloves.
Why did you have to move from your original location five months ago?
In 1970, eminent domain, the city took over our property, paid us $100,000 for it, and we were paying rent to the city from 1970 up until this year. Supposedly for subsidized housing. Somewhere along the line they gave it to a private builder. What they're doing with it now, I really can't say for certain. But they took the property and more or less told us it was time to get out, which we did. We knew someday it was going to happen. In fact, I never thought we'd be there for 40 years and we were. So it's nice that we have this store here so people can still come and pick up. Otherwise, they'd have to go to another vendor in Brooklyn, in the Bronx — where we are now — or in Long Island. So this is very convenient. We have a lot of contractors who come from out of the city — from Jersey, from way out in Long Island, from Westchester, and they come here because we're so centrally located, because most of the work is in Manhattan. The rest of the boroughs are not doing so well as Manhattan in construction.
What's the best part of the job?
Meeting people, talking to people and seeing how the business has grown over the years. We do as much now in two weeks as we used to do in a month. It's done quite well. It's been good to our family. I have also two daughters who work part-time in the business. Two sons, two daughters, a nephew, and a son-in-law in the business — it's really a family affair.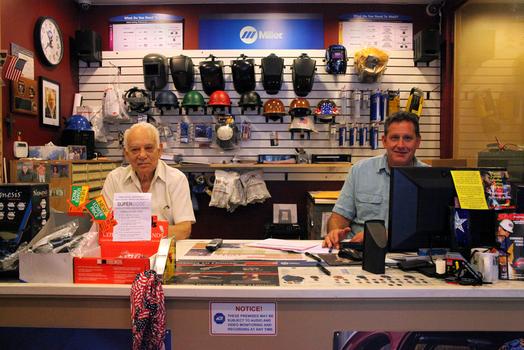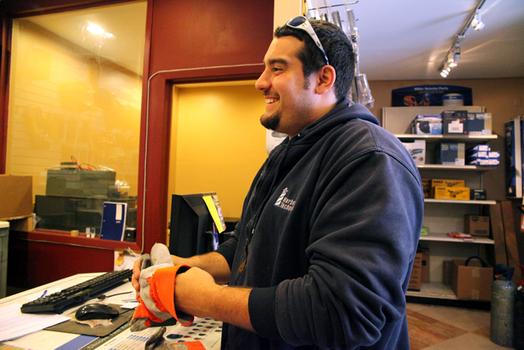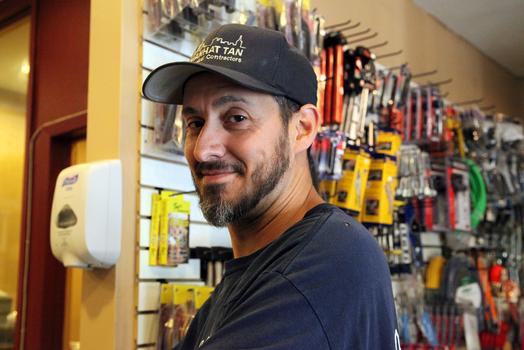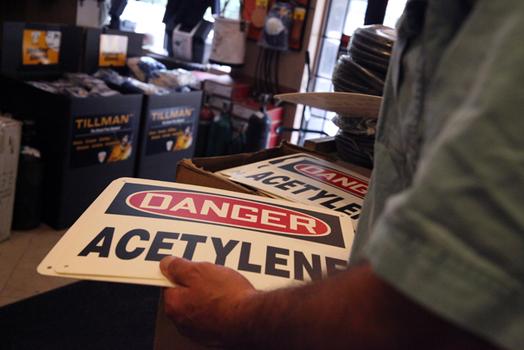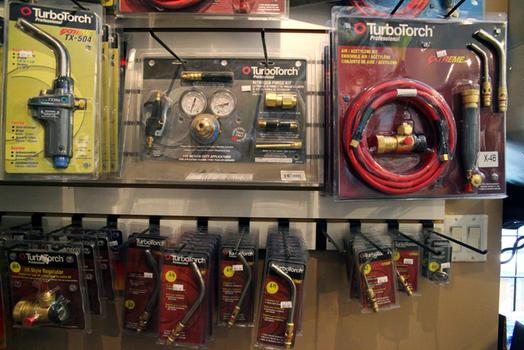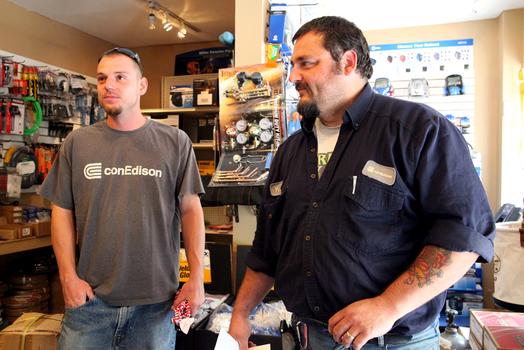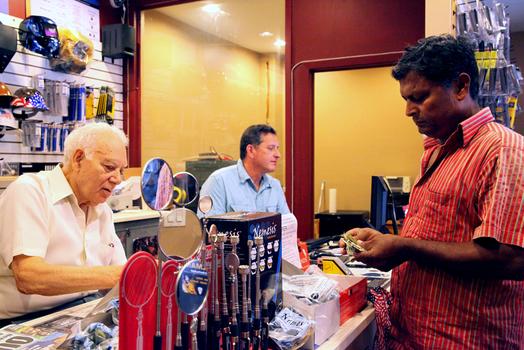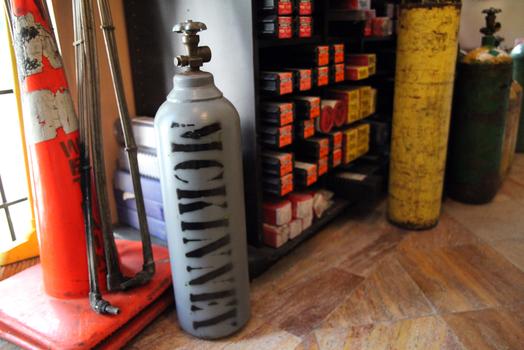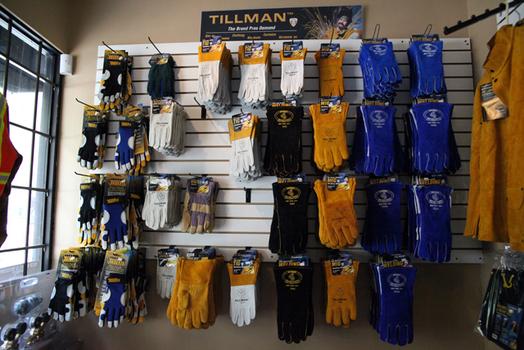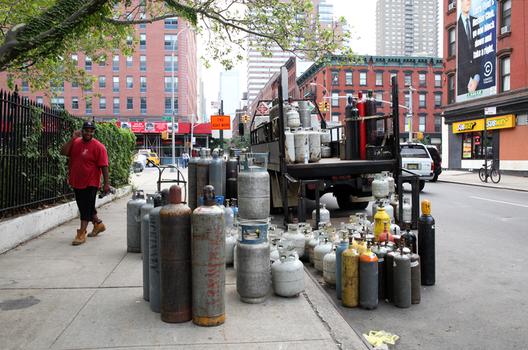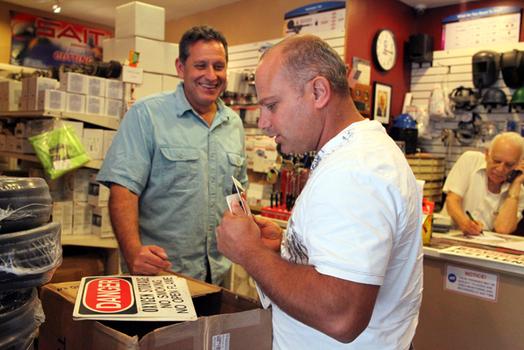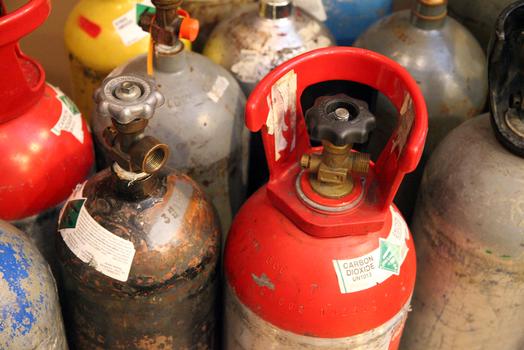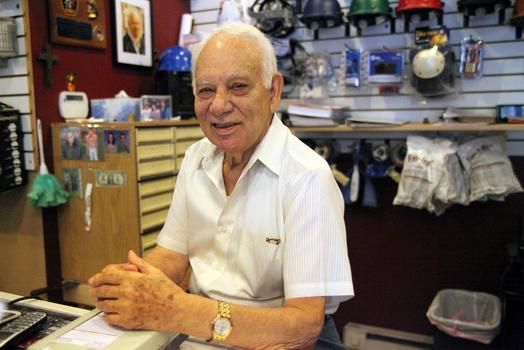 of