The People vs. Strauss-Kahn: How the Case Fell Apart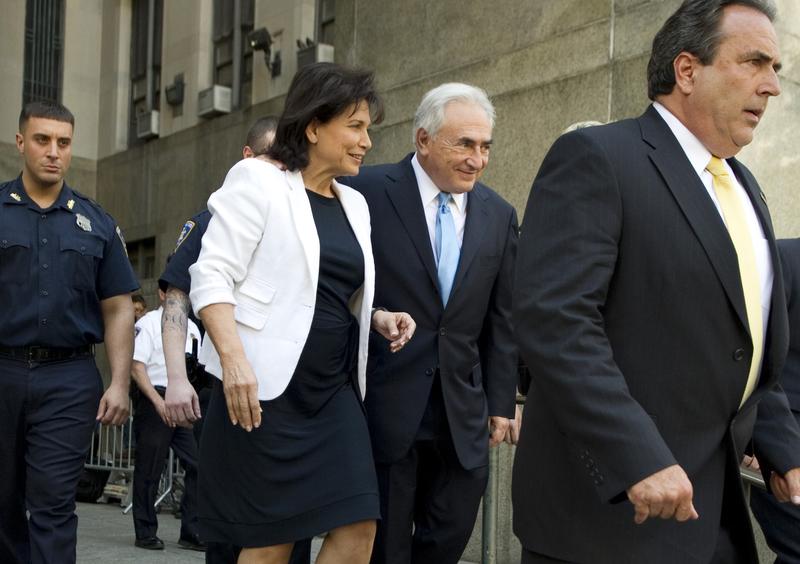 A modest housekeeper accused a renowned international banker of sexual assault while she was trying to clean his room. It was a case bound to make headlines.
But since mid-May, when the Manhattan District Attorney's office presented that initial account of an alleged encounter between Dominique Strauss-Kahn, former chief of the International Monetary Fund, and Nafissatou Diallo, a 33-year-old immigrant from Guinea, much has changed. So much that all charges against Strauss-Kahn were dropped on Tuesday.
"The nature and number of the complainant's falsehoods leave us unable to credit her version of events beyond a reasonable doubt," prosecutors wrote in recommendation for indictment dismissal filed in Manhattan Supreme Court on Monday. "If we do not believe her beyond a reasonable doubt, we cannot ask a jury to do so."

Legal experts said that, in retrospect, the DA's office moved too quickly with the case and that the alleged victim's lack of honesty in interviews with the Assistant Distract Attorneys compromised the case.

Allegedly a Perfect Case

Strauss-Kahn, 62, was considered one of the strongest possible candidates for French presidency before May 14. That day he was taken off of an Air France flight at John F. Kennedy International Airport, just minutes before the plane was supposed to depart for Paris.


Four days later, a grand jury indicted him on charges of criminal sexual act in the first degree, which carries a maximum sentence of 25 years in prison. He was also indicted on charges of attempted rape, sexual abuse in the first and third degree, unlawful imprisonment and forcible touching.

"The District Attorney's office moved quickly, and too quickly, and so quickly that it then lost confidence in its own ability to prosecute the case," said Suzanne Goldberg, clinical professor of law at Columbia University.

Goldberg said the DA's office "didn't solidify the foundation of its case early enough."

The District Attorney's office had 144 hours to secure the indictment after they decided Strauss-Kahn should be kept in custody. An alternative route could have been to agree to some kind of a bail package for Strauss-Kahn with his legal team, take a longer time to investigate what happened in the Sofitel on May 14 and then decide whether to bring the indictment.

But, at the time, prosecutors argued Strauss-Kahn was a flight risk, something legal experts said was a reasonable concern, since he is a French citizen and there is no extradition treaty between the United States and France.

Strauss-Kahn was released on $6 million cash bail and bond and set under house arrest that included 24-hour monitors and armed guards.

The prosecutors at that early stage also described Diallo as a credible witness, a statement prosecutors found themselves back pedaling on only a couple of weeks later.

Stunning Revelations

The key moment in the case, experts said, came at the end of June. An extensive background investigation on Diallo by the DA's office raised serious questions about her credibility.

The investigators discovered she had lied about the exact sequence of events following the encounter with Strauss-Kahn and that she had previously made false statements on her asylum application and tax returns. The New York Times also reported Diallo discussed the incident with a friend incarcerated in an Arizona jail, and mentioned a possible financial pay-off in pursuing the case. (Diallo's attorney, Kenneth Thompson, has argued the translation of the conversation, which had been conducted in a dialect of Fulani, was not accurate.)

In a recommendation for dismissal, prosecutors said that Diallo had provided "shifting and inconsistent versions" of both the alleged assault and her background.

"In virtually every substantive interview with prosecutors, despite entreaties to simply be truthful," the recommendation for dismissal stated. "She has not been truthful, on matters great and small."

Goldberg said Diallo's statements determined the course of the case, and that it might have been in a different position today had she "come forward and said everything at the outset."

Dismissal in the Air

Following the disclosure of new information on Diallo, Strauss-Kahn was released on his own recognizance on July 1. Subsequently, the fate of the indictment was seriously brought to question, and dismissal seemed likely.


Thompson launched a media campaign, making Diallo available to the media in an apparent attempt to pressure the DA's office to continue with the case.
"That seemed to be more in the nature of a final effort in the face of overwhelming odds," said Ian Weinstein, professor of law at Fordham University.

The attempt failed.

Experts said there might be lessons in the case for everyone.
"Defense lawyers will take a lesson about how significant a press campaign can be with these kinds of stories early out there in the case," Weinstein said, referring to the fact so much of the case played out in the media.

Another consequence? The selection of cases might be under even more intense scrutiny.

"The DA's office will try to be even more careful in the future," Weinstein said.