Harlem Youth Paint Mural to Capture Flavor of the Neighborhood
A group of 30 teenage artists from Harlem is telling the story of the neighborhood with a colorful mural dubbed "Magic with Logic."
What was once a spare brick wall on the outside of P.S. 192 in Hamilton Heights is now a 120-foot-long hodgepodge of acrobats, dominoes, Harlemites and even elephants — an homage to John Bailey of the Barnum & Bailey circus, whose stately 1880s-era home still sits on the corner of 150th Street and St. Nicholas Place.
The artists are from the group Creative Arts Workshops for Kids. They make minimum wage to paint through the city's Summer Youth Employment Program, but the real aim of the 6-week program is to beautify the neighborhood, perform community service, and expand the kids' horizons.
"The program overall is incredibly transformative for teens who live in the inner city," said Lauren Jobson, as associate with Creative Arts Workshops for Kids.
Many in the group have never been to an art museum, and Jobson said the painting project builds confidence, hope and passion for the arts and — more generally — for new experiences.
The kids — who call themselves the "Prestigious Painters for Change Worldwide" — consulted local artists and civic leaders to create a design concept that would capture the day-to-day experiences of neighborhood residents, as well as a sense of its rich artistic heritage.
"Each drawing means something and tells a story," the kids wrote on their blog at the start of the project. "We knew we had to find these stories in the community."
The assistant principal at P.S. 192, Justin Kravetz, watched the painters toil for weeks in hot weather to finish their work and praised them as role models for his elementary school kids.

"It's a wonderful way to show the kids the value of community service and putting back into their local community," he said.

School officials plan to show a video of the teenagers completing the mural to K-5 students to teach them about community service and hard work early next year.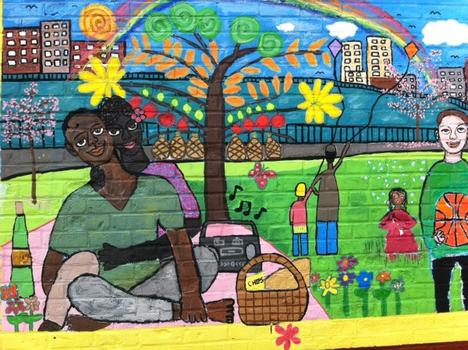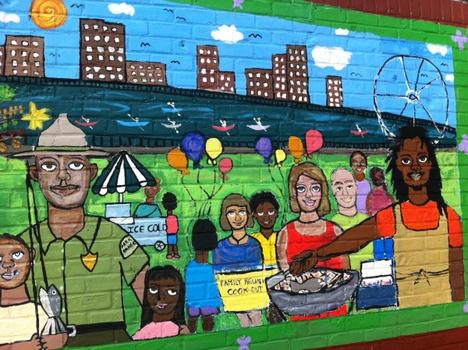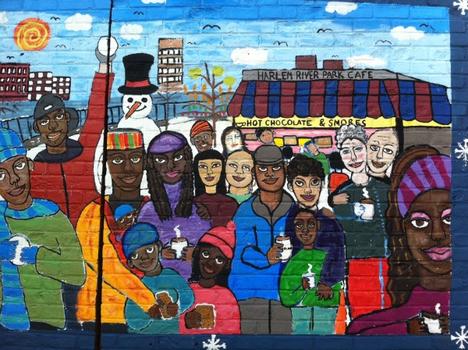 of