Studio 360
Public Art vs. the Public in Indianapolis
A work of public art is causing a stir in Indianapolis — and it hasn't even gone up yet. The dispute involves a monument of a freed slave that was supposed to be placed in downtown Indianapolis. The work, "E Pluribus Unum," is by the celebrated African-American artist Fred Wilson. 
Wilson based his figure of the freed slave from the city's Soldiers and Sailors Civil War Memorial, made in 1902. Positioned at the base of the older monument, the man is shirtless, sitting down, and holding up a flag. Wilson, who is known for recontextualizing existing art objects, tells Kurt Andersen that he wanted to replicate the figure but give him a prominent place of his own nearby, "so that he is a person, he is a man, and he can represent something else, something positive."
But some in Indianapolis' African-American community don't see it that way. In the last year, opponents have organized, protesting the work at civic meetings, in the media, and recently at the State Capitol. One opponent is longtime state representative Bill Crawford, who says that Wilson's statue — intended to correct stereotypes — instead perpetuates them.
Artist Fred Wilson and
State Representative Bill Crawford
"As long as we keep looking back to what we were," he tells Kurt Andersen, "we are never going to be what we ought to be and what we're going to be." He argues that the public should have a larger say in the matter of how they are represented. "Public art can be challenging, but it cannot be in your face without asking [the public's] opinion."
The private foundation that is backing the statue recently announced that it will not be placed at the original location. Although they're looking for another site, they acknowledged that the statue may never be installed. 
"Of course it doesn't make me happy that people are upset with this particular sculpture," Wilson says. "But I am really thrilled that people are in dialogue about imagery, the city, and how race is infused in that dialogue … In the end, the people of Indianapolis really have to come together, and I'll abide with whatever comes down the pike."
What do you think about the controversy? How much input should artists have to get from the public when they make public art? Is there a work in your community that you find offensive? Tell us in a comment below.
Slideshow: Fred Wilson's "E Pluribus Unum"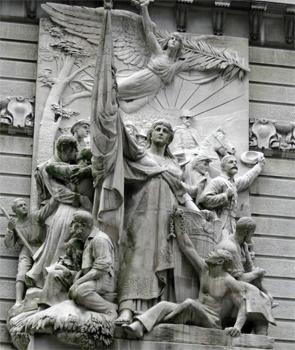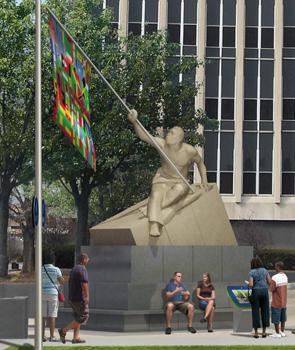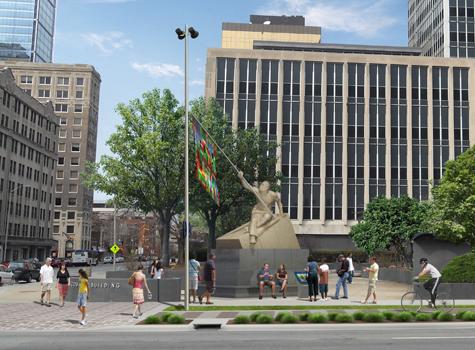 of