Brooklyn Cartoonists Make A Scene
 This weekend, cartoonists will get to escape their drawing boards for a day of artist signings, discussions and live music.
Over 50 vendors will sell their 'zines, comics, books, prints and posters as part of the Brooklyn Comics and Graphics Festival, which takes place at three Williamsburg locations on Saturday.
Comics critic Bill Kartalopoulos will preside over several panel discussions at the event.  "It's a totally amazing thing that happens here in Brooklyn," he said.  "You get all of these different artsists from different generations who work in very different ways, but who have this shared notion of comics as art, comics as self-expression, comics as culture."
Kartalopoulos discussed three of his favorite artists: Gary Panter, Gabrielle Bell, and Lisa Hanawalt, Click on the images for larger views.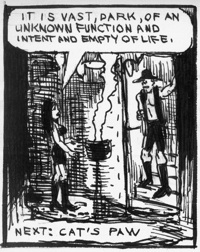 Bill Kartalopoulos: Gary Panter was inspired by underground comics but he emerged really out of the LA punk scene. He's been called King of the Punk Artists and King of the Ratty Line. He's had a vast career that's encompased comics, painting, and multimedia. Probably the work that he's best well known for is as the production designer for Pee Wee's Playhouse, but since then he has produced an enormous body of work: comics, paintings, and other forms of graphic art.
Gary Panter says: I started making comics as part of my painting activity, in the late 60s, after seeing ZAP comics. Now I paint and make comics and they are separate bodies of work that don't overlap much, but they are both related to painting.
---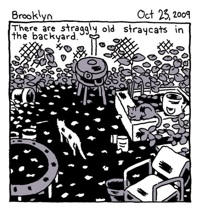 Bill Kartalopoulos: Bell is someone who works both in autiobiography and fiction but there is a shared sensibility between those two bodies of work beyond the obvious shared visual sensabilities in that she brings a laconic incisive point of view to all of her work so that her short fiction seems very personal even when its entirely fictional and there's a real sense of narrative craftsmanship even to her diaristic comics.

Gabrielle Bell says: It's true that cartoonists spend most of their time working at their desks, but I suppose, like any other kind of artist, they need stimulation and support from a community and other artists.  I do get together and hang out with other cartoonists when I can, and there are tons of really great ones in New York.  But it's getting fewer and farther between. The blog is a very nice way to share, but it's certainly no replacement for a good social life.  In fact, any hope of my having one has been wiped out by doing the blog!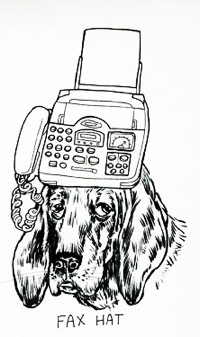 Bill Kartalopoulos: The combination of really original perverse humor combined with the extrodinary draftsmanship marks her as a really potent artist right out the gate.
Lisa Hanawalt says: I moved from Los Angeles to Brooklyn in May, and the comics scene is for real! I hardly ever go outside, but when I do there are drawing parties, panel discussions and slideshows aplenty. And everybody in this neighborhood is creative, so you can find totally amazing junk when you walk around on trash night.