Niche Market | Pizza Tools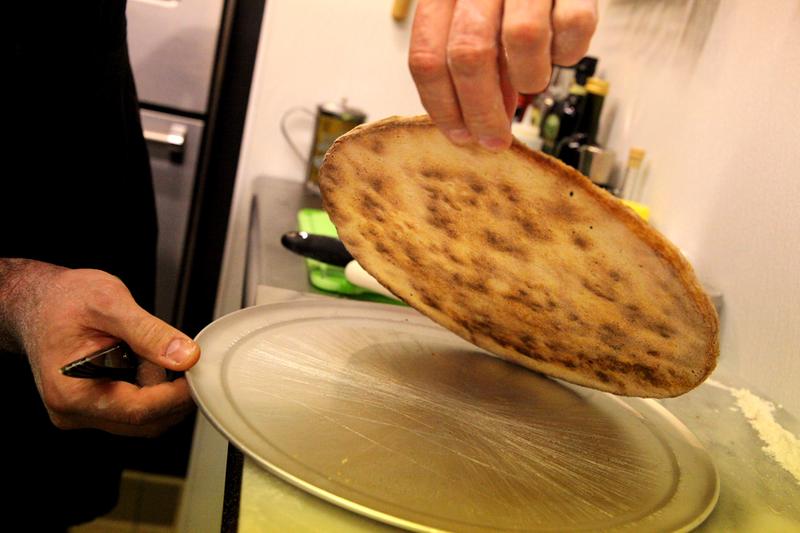 New York is a city of specialists from foodies to academics, laborers to shopkeepers. Every Wednesday, Niche Market takes a peek inside a different specialty store and showcases the city's purists who have made an art out of selling one commodity.

Pizza a Casa
371 Grand Street
New York, NY 10002
If there were a competition for New York's number one pizza fanatic, Mark Bello would probably win. Bello, 43, the owner of Pizza a Casa — the "Pizza Self-Sufficiency Center" — has gone to extremes. While home, on break from art school in Chicago, he would call his favorite pizza joints in New York and buy pies. He even developed an elaborate freezing system to transport the slices back to the midwest. "Then I had this whole rationing and resuscitation program set up till the next visit back," he said with a straight face, pointing to his bracelet which read, "death before deep-dish." 
After a few years teaching pizza classes around the city and out of his Chinatown apartment, Bello opened his "pizza school and pizza tools shop." Pizza a Casa, a phrase which translates to "pizza at home," opened its doors on the Lower East Side in April 2010. (Pizza a Casa is on the "round food" block; it also houses Kossar's Bialys and The Donut Plant.) Many customers are former New Yorkers who have relocated to places where the pizza is just not the same. Bello can relate. "The sauce flows through my veins," he said.
One goal of the business was to save pizza-lovers from the decade-plus it took Bello to perfect baking a pizza at home. He offers classes in which students learn the basics of pizza prep. Bello even installed a standard 525 degree electric oven in the shop/classroom to prove to students they do not need coal-ovens to create crisp, chewy crusts in their compact studio apartments. So far, 5,600 pizzas have been baked in the shop, and counting.
Do students learn how to toss a pizza pie? Of course. However, "centrifugal force doesn't make the best dough," Bello retorted. That and other pizza secrets are delivered in the four-hour long course.
Many first-time customers enter with tales of pizza failure: pies that are soggy, flat or tastes like cardboard. The most common mistake, Bello said, is overloading the pizza with too much stuff: cheese, sauce or toppings.
Former student Gaddiel Lopez, who still drops by for the tomato sauce on sale, suffered from such over-exuberance. "I'd tried different recipes and it would never come out. I would get something that was like a foccacia," Lopez said. "I never really made a pizza I was proud of." These days, Lopez attests to making a "perfect" pizza.
Patrons not only leave with knowledge of how to make a perfect pie, they often also leave with a purchase of specialty supplies: heavy round pizza stones on which the pie sits on while in the oven ($40-$50), pizza peels — the wooden blocks used to move the pie in and out of the oven ($20-$35), pizza wheels to cut pies or imported Italian herbs.
Another goal of Bello's was to promote the Italian tradition of gathering family and friends to make Pizza a Casa. "A group of strangers from all over the place come to the class. We're all united, we love pizza, and by the end of the class we're exchanging slices and taking pictures together," he said. "And that's something that I always feel, that cooking with friends and family is one of the best things you can do."
How did you come up with the idea for Pizza a Casa?
When I was out in Chicago there wasn't the pizza I love, so every visit home would be a visit to my favorite pizzerias, not just to eat pizza there but I had this whole system of transporting frozen slices back to Chicago, which involved carefully wrapping each slice tightly in tin foil to prevent freezer burn, labeling individual ziplock bags and storing them in my mom's freezer in Jersey until the return back to Chicago in my suitcase in a cooler bag, and then I had this whole rationing and resuscitation program set up till the next visit back. So, you know, this was getting a little ridiculous and making fun of me, and at the same time stealing slices out of my freezer, so a good buddy of mine, who had worked in the pizza business all his life on the West Coast actually, he taught me the basics of how to do it. So began this quest, not just how to make pizza at home, but how do you really get a dynamite thin crust pizza.
What are some of the specialized pizza tools you sell here?
The one thing that I tell people, above and beyond anything else, of all the little things that we play with in class, is to get a good pizza stone or baking stone. To get that brick oven, hearth-baked effect in your pizza is something you should invest in. And not a cheap $15 job that's thin and is not going to hold the heat, but something that's going to absorb a bunch of heat. It's going to crisp the bottom of your pizza and it's also going to act as a capacitor that's going to maintain the heat in your oven, so your pizza is going to cook properly. Then we sell the peel, which is that big spatula thing that you build your pizza on, then you load it into the oven and pull it out of the oven with, we sell a variety of pizza wheels…we sell the bottled tomatoes, a bunch of different herbs from Italy and we sell a scale. Measuring your ingredients by weight, as opposed to volume, is key to getting consistent results. 
Are you teaching people to make New York Pizza?
New York pizza has a number of definitions. One, there's the coal-oven pizza places: your Lombardi's, your Totono's, Grimaldi's, John's. Now, no one has a coal oven in their home, and actually nobody can build a coal oven because of environmental regulations. So, all your coal-oven pizzerias are places that have coal ovens that are grandfathered in. And then there are your New York slice places, which are different. What I'm teaching people how to do is how to do a thin crust, crispy, yet bready, yet chewy; a satisfying pizza with simple preparation. You taste the mozzarella, you taste the  tomato, you taste the garlic, you taste the basil, you taste the oil. They're all distinct, nothing overpowers. So, it's really teaching people a balance, how to understand. And when they leave class, if they prefer a thinner crust or thicker crust, they're armed with the sensibility of how to do this themselves.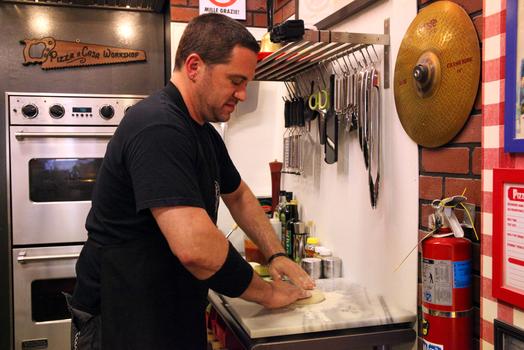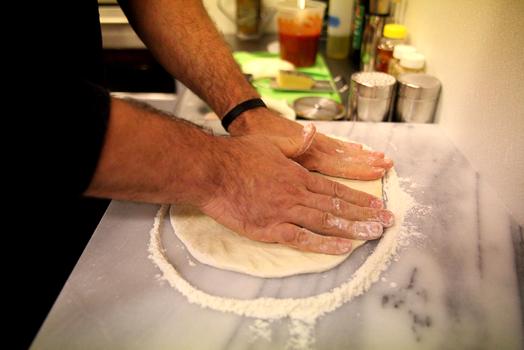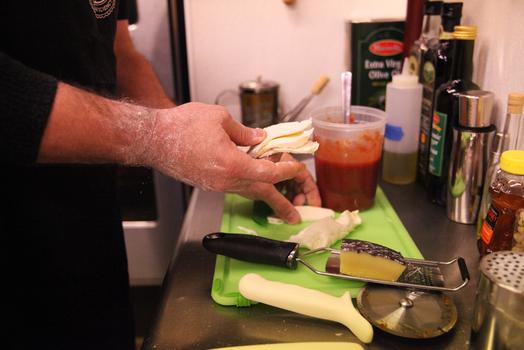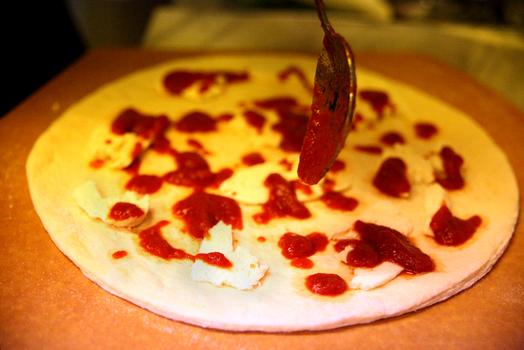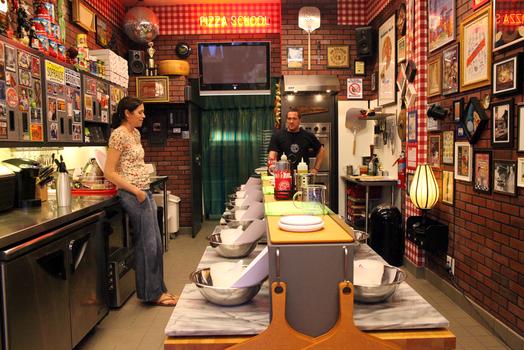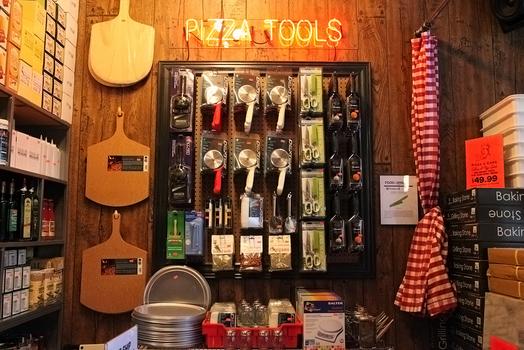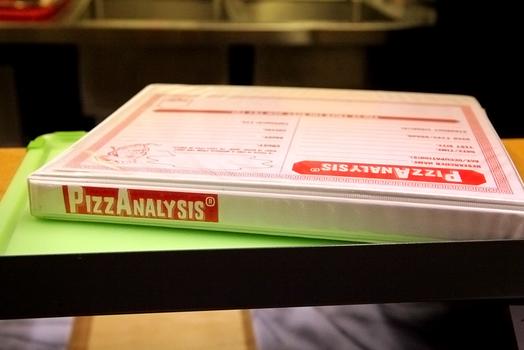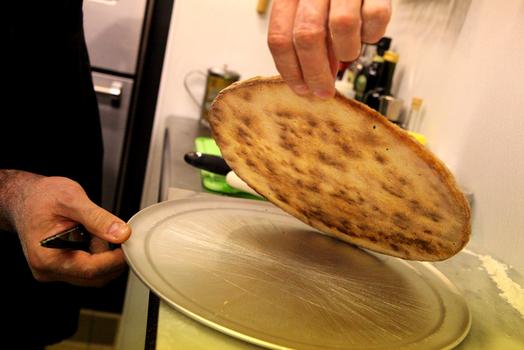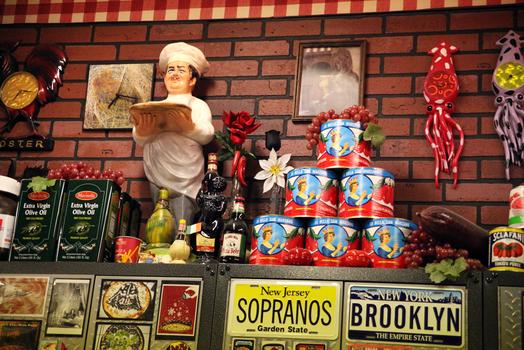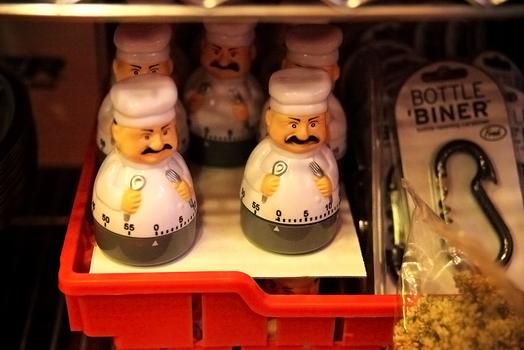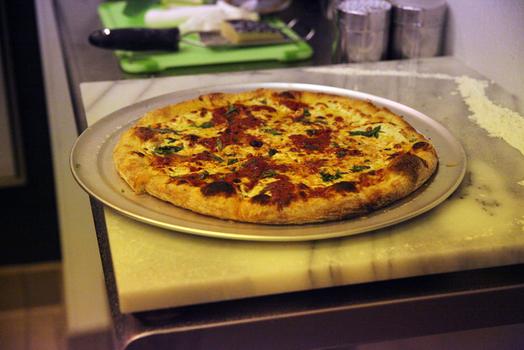 of