Selected Shorts: Tales of Terror
Sunday, August 14, 2011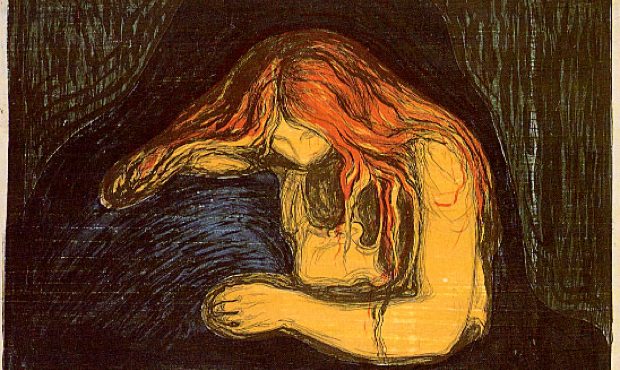 (Courtesy of the Whitby Dracula Society)
This program is devoted to two classic tales of terror by two masters of the genre. "Dracula's Guest" by Bram Stoker is read by Aasif Mandvi and "The Masque of the Red Death" by Edgar Allan Poe is read by Fionnula Flanagan.
"

…suddenly the moonlight broke through the clouds, showing me that I was in a graveyard, and that the square object before me was a great massive tomb of marble, as white as the snow that lay on and all around it. With the moonlight there came a fierce sign of the storm, which appeared to resume its course with a long, low howl, as of many dogs or wolves.

— Bram Stoker, "Dracula's Guest."
We begin with a piece by Bram Stoker -- the author who fathered the whole vampire genre that has now swept over every department of our bookstores, from vampire recipe books to teenage vampire slayers to Bloodsucking for Dummies.
"Dracula's Guest" was originally intended to be part of Stoker's novel Dracula, but didn't make it into the final draft. However, it's a powerful stand-alone tale, one that almost makes you hear the sound of the wolves on the windswept moor, as delivered by the Obie Award-winning Aasif Mandvi, who is also a regular performer on television's "Daily Show."
If Stoker established the vampire tale as a facet of popular culture, our next author, Edgar Allan Poe, is often credited with being the inventor of the murder mystery, and also of such gruesome and chilling fictions as "The Pit and the Pendulum" and "The Fall of the House of Usher."
In this classic, "The Masque of the Red Death," Poe makes masterful use of the convention that shows people attempting to escape plague and death by isolating themselves in a stronghold of privilege, only to be visited by an implacable avatar of the very force they are fleeing. The reader is Fionnula Flanagan. 
The musical interlude in this program is from "The First Walpurgis Night," by Felix Mendelssohn, performed by The Chamber Orchestra of Europe conducted by Nikolaus Harnoncourt. The SELECTED SHORTS theme is Roger Kellaway's "Come to the Meadow."
For additional works featured on SELECTED SHORTS, please click here. We're also interested in your response to these programs. Please comment on this site or visit the SELECTED SHORTS Web page.