FringeNYC: Five Questions for Playwright Arlene Hutton
Arlene Hutton was around for the very first FringeNYC festival and is back with her play, "Happy Worst Day Ever," which was inspired by this YouTube video of a group of tween girls breaking down about "American Idol." The comedy was commissioned by the Cincinnati Playhouse in the Park and was presented to a variety of young audiences in the fall of 2010. "Happy Worst Day Ever" is part of the FringeJr. program, which is tailored for young audiences.
Hutton is a full-time playwright who has lived on the Upper West Side "since it was the Williamsburg of its day" she said. She fell into playwrighting accidentally, writing plays so that she could perform in them.
WNYC's Julia Furlan: You participated in the first-ever Fringe festival in New York. What was that like?
Playwright Arlene Hutton: I couldn't believe that they pulled it off, but they did. The founders of FringeNYC [Alena C. Holy, who still holds the position of Artistic Director, John Clancy, Aaron Beall and Jonathon Harris] were actually asking me about the Edinburgh Fringe. At that time I had been at the Edinburgh Fringe two times with my work. The Edinburgh Fringe is the mother ship and I think every Fringe since then in some ways pays homage to that. Each Fringe -- Orlando, the ones in Canada, Australia -- they all have their own sensibilities. I think every Fringe is an opportunity for companies that aren't mainstream -- either edgy companies, brand new companies, young companies, or playwrights like me who are self-producing -- it's a place where all those self-producing companies come together which I think contributes to the wonderful variety of the New York and Edinbugh Fringe.
JF: What does the FringeNYC offer to participating companies?
AH: The best thing is that you're a group of companies all producing together. You're part of a bigger event rather than renting a little 99-seat theater and producing a play. The Fringe, especially the New York Fringe, is wonderful at walking new companies through the process. It's basically like taking a grad school course in producing. They have a manual and if you follow the guidelines and the deadlines you will find yourself opening a show. Even for me, one year is different than another. Some companies are looking for exposure, some companies are looking for a fairly inexpensive way to produce; a new company might be looking at a way to get started because they don't have their own venue and someone like me uses it as a place to try out new material, to premiere a show prior to publication. Some shows are hoping to be the next "Urinetown!" [Check out WNYC's Q & A with "Urinetown!" playwright Mark Hollmann for more.]
JF: You participated in the first two years of the FringeNYC, in 1997 and 1998 as well as in the past two years. What is it like, 15 years later?
AH: It's like coming home. The FringeNYC so well-organized now that it makes it much easier to produce than when you're not part of a festival. It is exciting to see so many of my friends now doing shows at the Fringe and we all talk about it and support each other and share information. It's really different than doing a show on your own. There's a collective energy that is very exciting. Also, the attendance is really good and gets better every year. The first year I was happy to have 20 people in the audience -- back in 1997. Now, a lot of Fringe shows sell out if people don't get their tickets ahead of time.
JF: What happens at the FringeNYC that doesn't happen elsewhere?
AH: I think they're brilliant at finding such a wide range of quality work. There isn't one aesthetic. There's a big range stylistically so there's something that appeals to everybody. I think there has been a collective improvement and it's probably more competitive now to get in. I see people with Broadway credits doing the Fringe, which is great.
JF: What's different about writing a play for a younger audience?
AH: After nine months in development, "Happy Worst Day Ever" played to over 50 schools and community centers in greater Cincinnati area. Kids are very honest -- you know, if they like something or don't like it. Your friends might pretend to like your play, but an audience of 200 school kids? 200 fifth graders? There's no pretending. It was so much fun to see them respond to the play. What the show's director Mark Lutwak and I tried to accomplish was first of all write a good play and make good theater. It just happens that the characters in this play are 10 and 11 years old. So, we tried to create a piece of theater that appeals to all ages. Frankly, I want people to have a good time.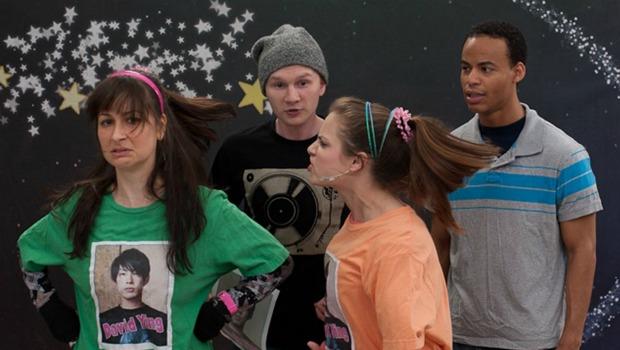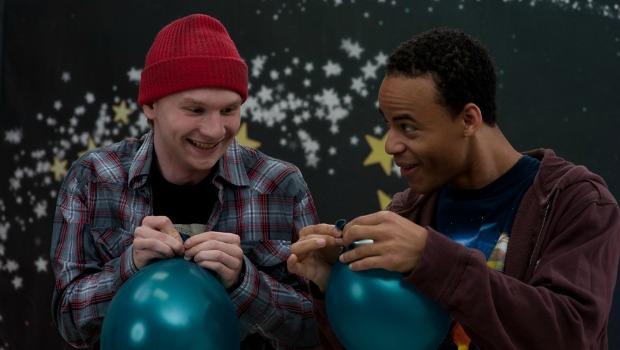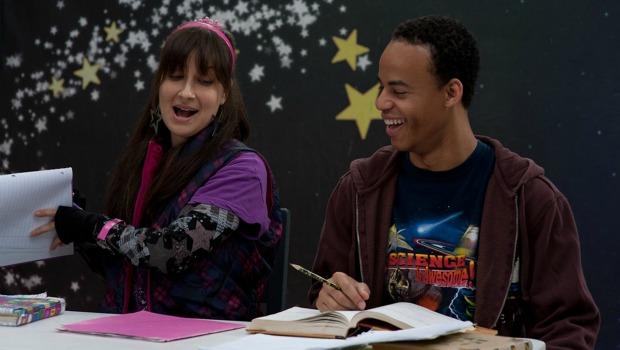 of