Niche Market | Model Cars, Planes & Trains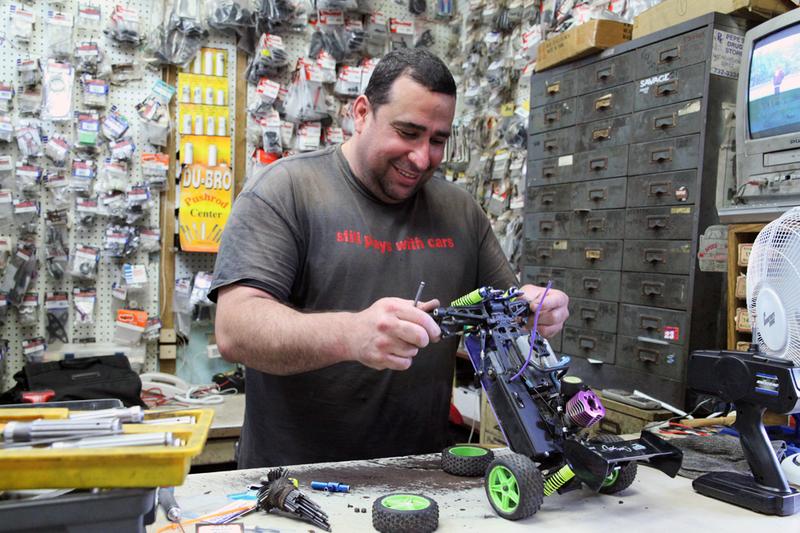 New York is a city of specialists from foodies to academics, laborers to shopkeepers. Every Wednesday, Niche Market takes a peek inside a different specialty store and showcases the city's purists who have made an art out of selling one commodity.

105 Hobbies
10440 Jamaica Ave
NY 11418
The high-pitched buzz of remote-controlled miniature race cars racing up to 60 mph down Jamaica Avenue competed with the rumble of the elevated J train in Richmond Hill, Queens on a recent afternoon. The car — making hairpin turns and occasionally flipping off the curb — was controlled by a customer of 105 Hobbies, a hobby shop and veritable neighborhood clubhouse.
This hobby shop — also known as Die Cast Collectibles from the days when it sold mostly die cast toy cars — has airplane graphics on the old store sign that date from at least 1964, when the father of current owner Peter Cernauskas moved the shop from Ridgewood.
The elder Cernauskas was an airplane and transit mechanic who fixed New York City buses for work and built model planes and cars as a hobby before he made it his business.
Peter, the current owner, grew up in the shop.
"Made my own scooters, roller skates, the whole deal. I didn't need no stinking skateboard, I made my own," he said on a recent afternoon, wearing the company uniform — a T-Shirt with the motto "Still plays with cars."
The 1,200-square-foot store retails remote-controlled vehicles, die-cast collectibles, electric slot cars and extensive model building materials.
"It's a thrill — the sound of the engines, the fun of controlling the plane by yourself; it's just something I love," said customer John Kelly, 64, who builds and flies control line planes at Flushing Meadow Park. "Build your own planes, fly your own planes, sometimes crash your own planes and rebuild your own planes."
But Cernauskas, the owner, said customers like Kelly who build from scrap are in the minority — most purchase fully constructed cars and bring them in for service: "They're willing to pay for instant gratification," he said.
Electric cars can run $150, but some spend thousands outfitting dream cars.
Hobby shop mechanic Camilo Aguiar Velez, 38, said he spent about $30,000 on his hobby over the years and races cars every Sunday at a track in Floyd Bennett Field. 
"It's something you work the whole week, and you want to be there, just hang out with the guys," he said. "I like it more than video games, and I love video games."
Most customers are older, but 13-year-old Joe Sperrazza is into the hobby and recently brought in a gas car (many vehicles take fuel, and can weigh up to 40 lbs) for repair: "I tried everything. I loosened it, I tightened it, and it worked for awhile and then it stopped working," he told the mechanic, who promised to fix it, as he has, many many times.
"This car gets a lot of use, and abuse," Aguilar noted.
Mechanic Camilo Aguiar Velez sitting outside 105 Hobbies in Richmond Hill, Queens. (Photo: Sarah Kate Kramer)
How are these cars similar, and how are they different from real cars?
They have four wheels, a motor. You can turn 'em, stop 'em. Some of 'em go in reverse. They're just smaller.  A lot faster.
Why is this called a hobby shop?
People used to have spare time and they would be looking for hobbies. Now there's no such thing as a hobby because there's no spare time, that's about it.
What hooks people into model cars?
It's fun. It's challenging. Competition — they race on weekends, and it's like any other competitive thing, when you get the bug, there's no end. They spend money like crazy to win.
Do you think hobby shops are a dying industry?
It depends. What they allow these people to do with these gas cars, I think eventually they're going to put a stop to it, because it's kind of dangerous, and you know how they like to make laws. I thought they were going to put a stop to it a while ago, but they're still going strong.
How has the business changed over time?
Kids are into video games so kids don't build models anymore like we used to build models. We used to build plastic models, airplane models. Kids now play video games. They build models on the computer. That's what they do. Then when they come in here they want their mother or father to buy them something. They want it ready to run. They want to start it up, and drive it out. They don't want to know anything, except for a few kids, but basically that's the story. Even with adults, nobody wants to build anymore, nobody has time, nobody has time for a hobby, they want instant gratification, that's what it's about. They're willing to pay for instant gratification.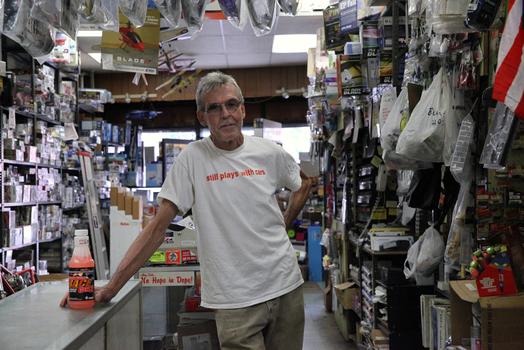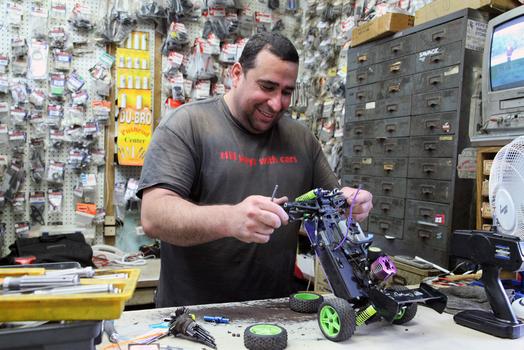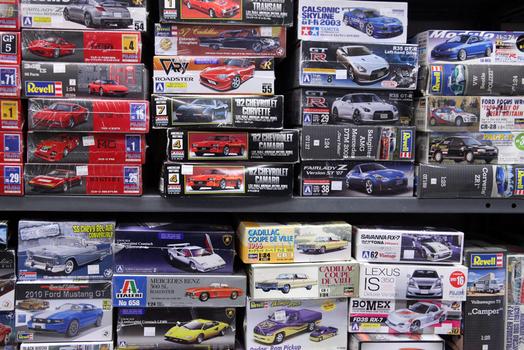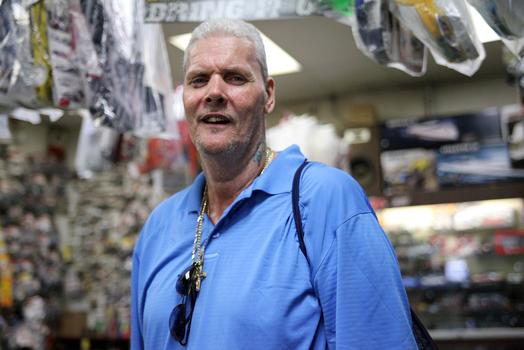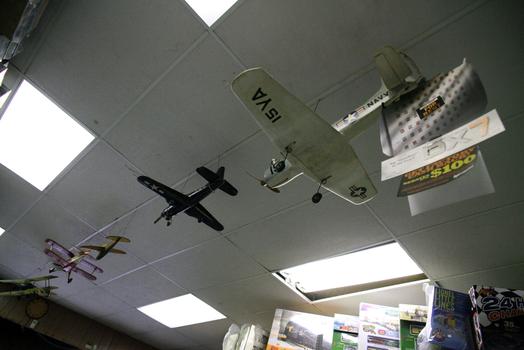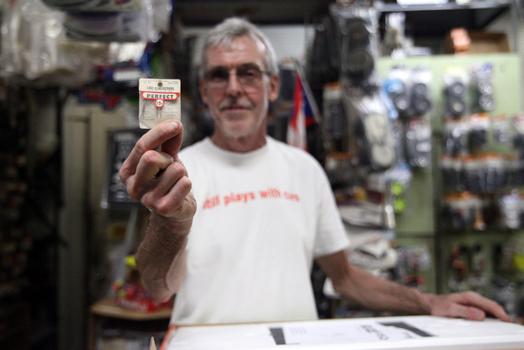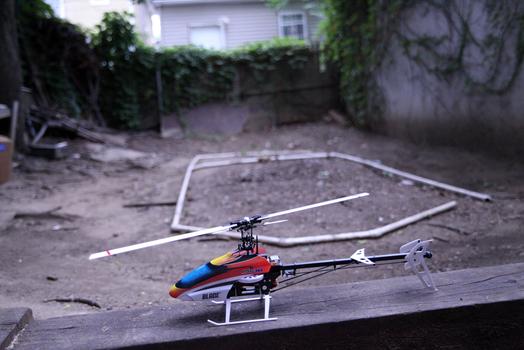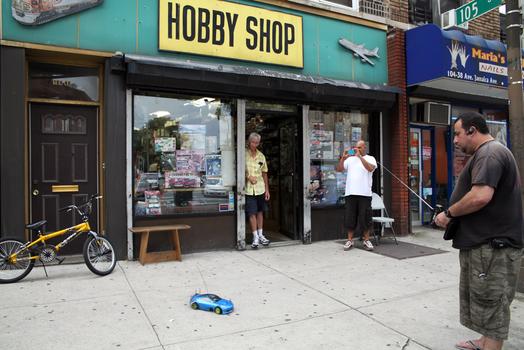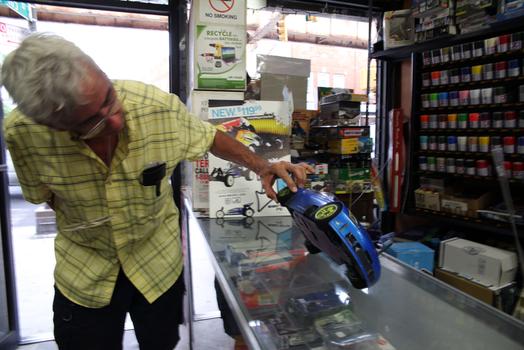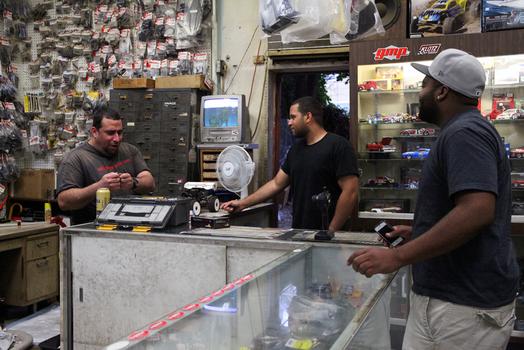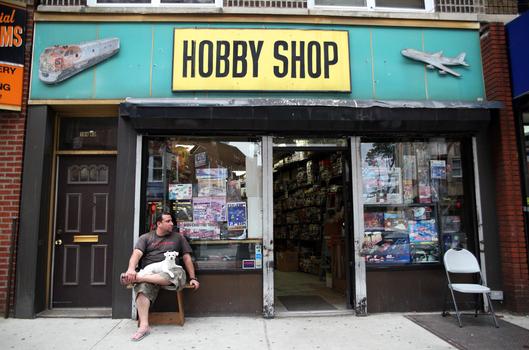 of