Leadbelly and Lomax Together at the American Music Festival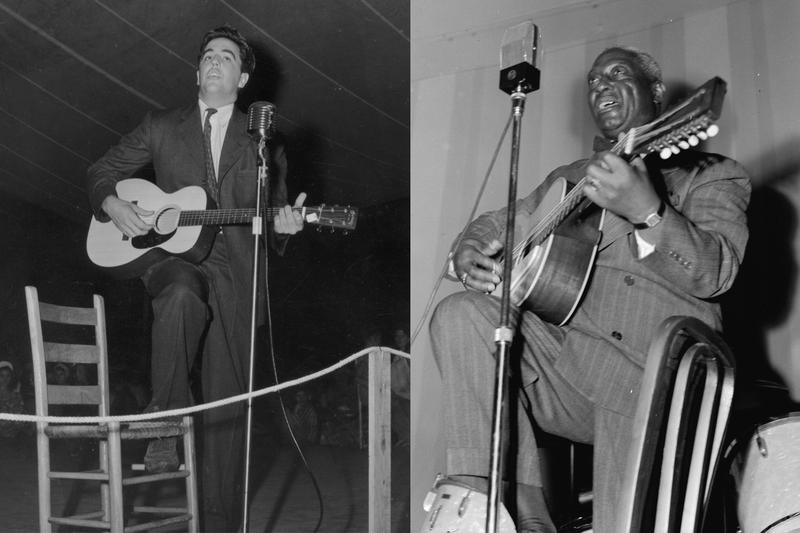 It's always exciting when we turn up an important long lost recording.  In this case, the unlabeled flip side of one of Mayor La Guardia's talks had half-a-show that's not been heard for 67 years. Hailing from February 14th, 1944, we hear two friends get together to share some music with each other and WNYC's listeners. And what better venue than the station's annual American Music Festival, eleven days of studio performances and concerts around the city dedicated to home-grown music and talent?  Talent indeed. Huddie Ledbetter, better known as Leadbelly, a renowned folksinger and bluesman, performed with pioneering folklorist Alan Lomax.

It was Lomax and his father John who brought Leadbelly from the deep South to wider notice. While on one of their early folksong collecting trips for the Library of Congress in July, 1933, the father and son team stopped at the Louisiana State Penitentiary at Angola. There, on a conviction of assault with intent to murder, was Leadbelly, whom they recorded on their "portable" disc-cutter. Released a year later for good behavior, Leadbelly wrote to John A. Lomax offering his aid. He was hired as an assistant to John while Alan was recuperating from an illness.
In December, 1934 the Lomaxes initiated a series of lectures and fundraising talks, where Leadbelly would perform. They appeared first in Washington, D. C. and then at the annual Modern Language Association meeting in Philadelphia, where Leadbelly caught the attention of newspaper reporters. This, plus the release that year of John and Alan Lomax's book American Ballads and Folk Songs, and the novelty of a black ex-con performing for audiences of prominent white academics, put Leadbelly on the road to fame. 
Not long after, John A. Lomax and Leadbelly had a falling out. But Alan and Leadbelly remained friends, and the younger Lomax, working as Assistant in Charge of the Library of Congress Archive of American Folk Song, recorded just about every song he could get Leadbelly to sing. He introduced him to an expanded circle of folksingers including Woody Guthrie, Pete Seeger, Josh White and Aunt Molly Jackson. Alan Lomax was also instrumental in getting Leadbelly commercial recording sessions with RCA Victor and Musicraft records.[1] Around this time (1940) Leadbelly got his own show on WNYC, Folksongs of America. The show was produced by Henrietta Yurchenco.
Alan Lomax wrote that Leadbelly was one of the" greatest folk song artists" he and his father ever came across.
"Leadbelly called himself 'de king of de twelve-string guitar players ob de world.' He wasn't modest, but he was right. From him we got our richest store of folk songs, over a hundred new songs that Leadbelly had heard since his childhood in Morningsport, Louisiana, and had varied to fit his own singing and playing style."[2]
Tragically, Leadbelly died in 1949 before he could become a commercial success, although his WNYC theme song, Good Night Irene, was a huge hit as released by the Weavers a year later. Still, Leadbelly's legacy is matched by few. He helped to keep alive scores of ballads that might otherwise have vanished while also bringing folk music and blues to a wider audience. 
Alan Lomax went on to travel the world as a folklorist, musicologist, writer and producer. In 1983 he founded the non-profit Association for Cultural Equity, "to explore and preserve the world's expressive traditions with humanistic commitment and scientific engagement." Lomax was concerned that mass communications and centralized education systems were blotting out local cultural expressions and languages. He argued that folklorists and anthropologists could not stand by while these voices and ways of living were marginalized and overrun by standardization and the powerful entertainment industry.
Alan Lomax died in 2002. In 2004 the Library of Congress acquired his collections.
[1] Harold, Ellen and Don Fleming, Lead Belly/Lomax Chronology, Association for Cultural Equity site.
[2] Lomax, Alan, "Music in Your Own Back Yard," Alan Lomax: Selected Writings 1934-1997, ed., Ronald D. Cohen, Routledge, 2003, pg.51  Music in Your Own Back Yard was first published in The American Girl, October 1940.

Audio courtesy NYC Municipal Archives collection.