FringeNYC: Five Questions for Playwright 'Rie Shontel
'Rie Shontel's one-woman play "Mama Juggs" comes out of the stories told by the women of her family, as they gathered at her great-grandmother's house in the Oakland, California projects. Shontel plays three generations of women as they speak frankly about body image and breasts at different stages in life — from puberty to old age. 
Shontel has performed "Mama Juggs" at various theaters in the U.S. as well as in Cameroon, Africa. When she's not onstage, she works as a journalist in North Carolina.
WNYC's Julia Furlan: Your show has been traveling around quite a bit. Tell me a little bit about what that's been like. 
Playwright 'Rie Shontel: My journey has been an adventure with many twists and turns that required the willingness to think outside the box of being a solo performer. I've been through it all. My show was shut down mid-sentence at a women's conference because my mama's character, who in the show is living with cancer, used curse words and I used the word "titty" when referring to breasts. I've performed in a big Vermont barn where an engineless Hemi was in my dressing room. "Mama Juggs" has received ovations from crowded living rooms, packed venues in California, and in the rainforest of Cameroon, Africa. Last summer, while performing Mama Juggs in Africa, I also traveled 10 hours to make [it to] the interior rainforest Tikar village of N'Ditam to reunite with my maternal ancestral tribe for the first time since enslavement. It took four months and 20 "Mama Juggs" performances to earn the funds needed to get there.
JF: After so many different experiences, what has it been like gearing up for your first FringeNYC?
RS: Being a part of FringeNYC is like being on an "Antiques Road Show" episode, where actors and participants bring their prized possessions for others to assess. We all hope that our jewels receive high appraisal from the audience and critics, but no matter what, everyone goes home with an enhanced story to tell about their experience. When I earned a slot to perform in the FringeNYC, I fully immersed myself in the experience. We were given a few weeks to come up with the $600 participation fee and hire a full staff who'd represent "Mama Juggs" at all five shows. I rode the (now-defunct) Chinatown Bus to New York, started an online fundraising campaign and I dipped into my savings to take full advantage of this opportunity for "Mama Juggs" to be seen. Just the thought of performing in the FringeNYC gives me a rush of excitement because I'll get to once again introduce the ladies of "Mama Juggs" -- the women of my Oakland, California family -- to the Big Apple. It's a trip my mama only made once in her lifetime, and my great-grandma never did. I feel fortunate to have survived life in the Oakland Projects to become a journalist and recognized solo performer with the flexibility, strength and endurance to fully enjoy this FringeNYC experience.
JF: How is "Mama Juggs" different from other shows appearing in the Fringe festival?
RS: It's different because I grew up with these characters in an Oakland Housing Authority Project unit. Although two of them have since passed on from this earth, I feel their life essence on stage every time I perform. Through the years, we are able to better understand our bodies and define what role we wanted our breasts to play in the world for us. Sometimes we broke the rules. Other times we played along until we got sick and tired of being sick and tired. Either way, we came out on top in the end. "Mama Juggs" presents a multi-generational family of women who support one another through a'capella songs, old negro spirituals and hope. For me, "Mama Juggs" is not just a show, it's a patent for life that highlights our resilience as humans, healers and survivors.
JF: What, in your mind, are the benefits of a very open-format festival like the Fringe? What has your experience been at other festivals?
RS: I imagine that there are benefits for everyone performing since we're being seen by people who enjoy theater as well as those who have the ability to help further our careers. When you gather in a community of other creative people who've honed their crafts, only good can come from it. I had my first festival experience this past May when I performed at the M.A.L.I 2011 Women's Conference in Austin, Texas. It was intense. It seemed like "American Idol" and "Sunday Best" all mixed together. At 1:30 A.M., I was slotted to perform my mama's scene in a sectioned-off nightclub while house music blared through the walls and green/red strobe lights danced across my face. I refused to break character as I portrayed my mama living with cancer. We all cried and laughed that night, entangled in my mama's world of cancer confessions. At the end of the run, I was voted "Best of the Best" by a panel and took home the grand prize. This event reinforced for me that "Mama Juggs" is ready, and so am I, for the next level of performance.
JF: Your show carries a very specific and personal message. What kind of audience to you most want to see it?
RS: I hope folks who are ready to experience their raw emotions come to see "Mama Juggs." We are all one, and the women in my family always seemed to bring that to light when they spoke. The women in my family that I'm portraying in range from 17 to 100 years old and they are all unapologetically honest, especially when it comes to their breasts and bodies. "Mama Juggs" does not preach. Instead, it presents the audience with a safe space to laugh and ponder on the cultural taboos surrounding body image.
"Mama Juggs" will be at The Player's Theater on August 13 at 2:45 P.M., August 16 at 8:30 P.M., August 19 at 8:00 P.M., August 23 at 5:15 P.M. and August 24 at 7:00 P.M.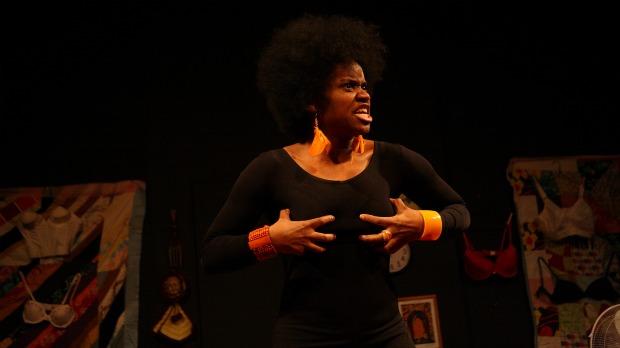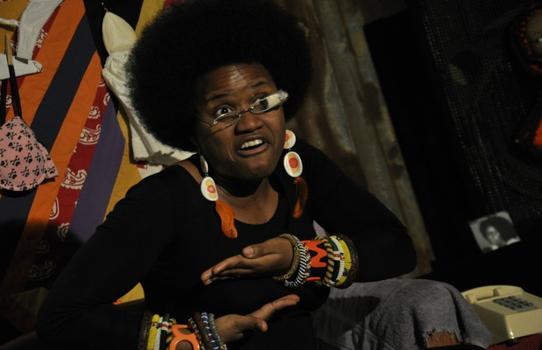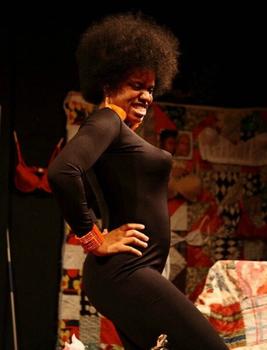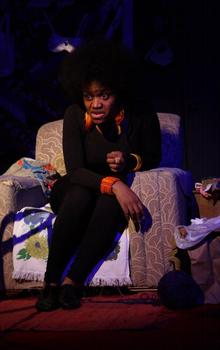 of