Verizon Workers Strike as Contract Talks Break Down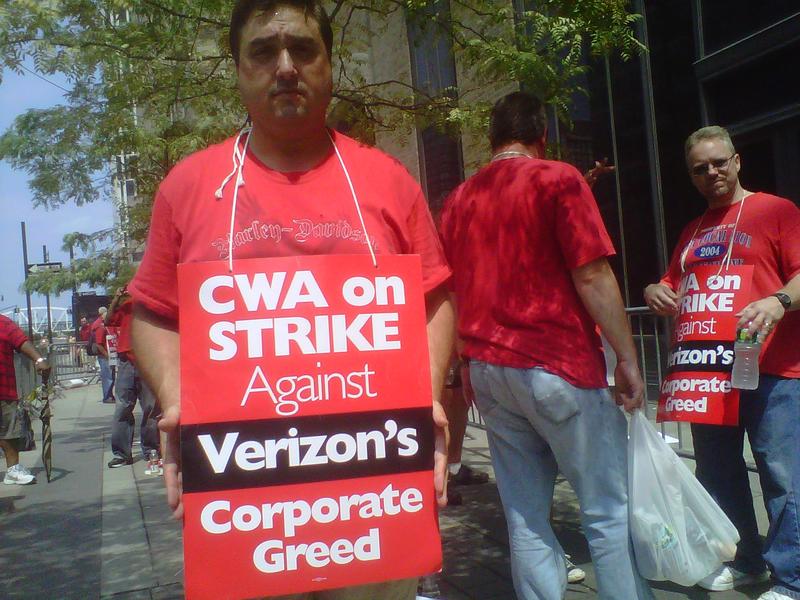 Thousands of area Verizon workers went on strike on Saturday night as contract negotiations broke down. They are part of a total of 45,000 Verizon workers now on strike across the country. At Verizon's downtown New York headquarters on Sunday, between thirty and forty union workers wearing bright red shirts manned a picket line and jeered at employees who entered the building.
"The company put a lot of proposals on the table that would actually bastardize our contract that we have currently," said Communications Workers of America union steward Al Russo, his voice hoarse from leading picketers in chants. "It'll take away 50 years of contract gains that we've gotten, and they want to just put it up on the table and take it away and they don't want to negotiate properly."
Verizon argues that its wireline division has been declining for years and that unionized employees have not had to contribute to health care premiums, a rarity in the industry.
But strikers pointed to strong corporate revenues and a $1.6 billion profit in the latest quarter, signs that the company doesn't necessarily require concessions. Doug LaTourette, a 28-year employee, claimed Verizon was "trying to take advantage of the political environment" that had resulted in public unions losing collective bargaining rights in Wisconsin.
"The attack is not going to end at public workers, that's for certain," he said. "You can see they're coming after us now."
Mike Paleski, a 23-year employee, said the union has not been making excessive demands of the company.
"Health benefits are our biggest issue at this point, because, in the past, we've lost a lot of money in raises, to keep our benefits intact, so we feel that we've already paid for those."
In a statement, Verizon said the company was confident that they had enough resources in place to keep up with customers' demands. Marc C. Reed, Verizon's executive vice-president of human resources added "We will continue to do our part to reach a new contract that reflects today's economic realities in our wireline business and addresses the needs of all parties. It's also our intent that under a new contract, Verizon employees will continue to receive competitive pay and benefit programs."