How September 11 Shaped our Laws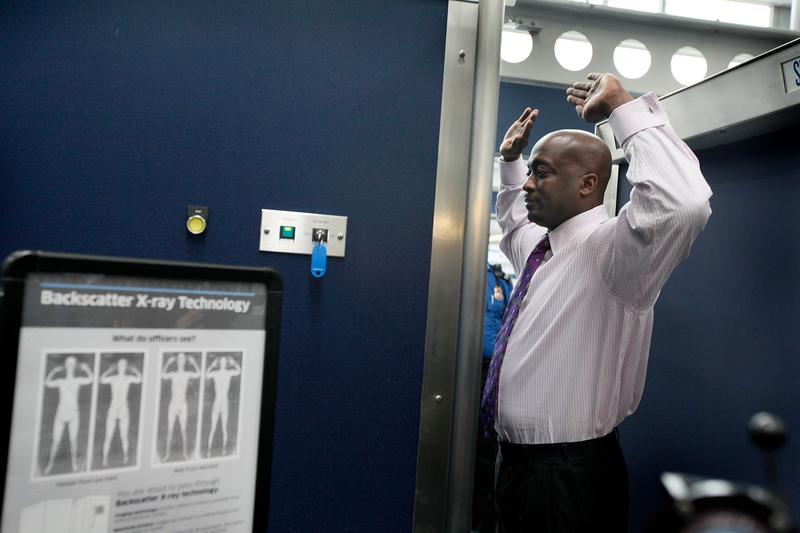 Remember before 9/11? When you could go through airport security without taking off your shoes and take a day trip into Mexico or Canada with only your driver's license?
Ten years and two wars later, It's A Free Country takes a look at some of the legal changes that have outlived Osama bin Laden.
HR- 3150 The Creation of the Transportation Security Administration

Established the Transportation Security Administration (TSA) at the Department of Transportation.
The TSA didn't exist before the attacks. Now there are 50,000 security officers, inspectors, directors, air marshals and managers looking out for weapons and  explosives at more than 450 airports nationwide, according to their website. No longer does air travel mean passing through a metal detector. Now it is standard to endure a full body scan, a pat down, removal of your shoes, inspection of bags, and the immediate rejection of any liquids or gels you may have accidentally packed greater than four ounces.
HR-5005 The Creation of the Department of Homeland Security
Eleven days after attacks, the White House created the Office of Homeland Security and appointed Pennsylvania Governor Tom Ridge to direct it. A little more than a year later the office was made into a freestanding department tasked with combining 22 federal agencies and departments, including taking over immigration enforcement. People traveling from the United States into Canada and Mexico are now required to show a passport, as borders tightened in response to security fears.
Under the Homeland Security Act, the Department of Homeland Security has partnered with Wal-Mart to spread the message "If You See Something, Say Something" nationwide.
HR -3162 The PATRIOT Act and Civilian Surveillance

The USA PATRIOT Act (Uniting and Strengthening America by Providing Appropriate Tools Required to Intercept and Obstruct Terrorism Act) drastically reduced restrictions on the ability of the government to intercept and monitor emails, phone calls.
The bill's purpose is "to deter and punish terrorist acts in the United States and around the world, to enhance law enforcement investigatory tools, and other purposes, some of which include: To strengthen U.S. measures to prevent, detect and prosecute international money laundering and financing of terrorism; To subject to special scrutiny foreign jurisdictions, foreign financial institutions, and classes of international transactions or types of accounts that are susceptible to criminal abuse; To require all appropriate elements of the financial services industry to report potential money laundering;To strengthen measures to prevent use of the U.S. financial system for personal gain by corrupt foreign officials and facilitate repatriation of stolen assets to the citizens of countries to whom such assets belong."
 

Tennessee SB 1028 Banning Sharia Law (under consideration)
Tennessee's bill is the harshest of the fifteen or so state bills introduced to ban Sharia law.  The bill would make material support for Islamic law punishable by 15 years in prison, leaving civil rights defenders concerned by the broad ambiguity of the wording. It defines Sharia law as equivalent to terrorism, and authorizes the attorney general to freeze the assets of organizations that have been determined to be promoting or supporting Sharia.
Missouri HB 708 Banning Sharia Law (under consideration)
HB 708 specified that "any court, tribunal, arbitration, or administrative agency decision or ruling which is based, in whole or in part, on foreign law or legal code that would not grant the parties affected by the decision or ruling the same rights granted under the Missouri Constitution or the United States Constitution will violate the public policy of Missouri and be void."
Oklahoma State Question 755 Banning Sharia Law (passed but injunction issued, currently under appeal)
A ballot measure legislative amendment, this would mandate that courts rely on federal and state laws when deciding cases, and forbids them from looking at international law or Sharia Law.
Pub.L. 107-40 Authorization for Use of Military Force Against Terrorists
Authorized the use of United States Armed Forces "against those responsible for the recent attacks launched against the United States", saying that onn September 11, 2001, "acts of treacherous violence were committed against the United States and its citizens" and "such acts render it both necessary and appropriate that the United States exercise its rights to self-defense and to protect United States citizens both at home and abroad. The authorization gives the President authority under the Constitution to take action to deter and prevent acts of international terrorism against the United States.
Whether you support or oppose the wars, with somewhere between $3.2 and 4 trillion dollars and 225,000 people killed, it has been a costly ten years. Energy and technology have seen enormous changes as well, many of them through the increased military funding. Not only has weaponry become more sophisticated, but civilian technology as well. In 2001, says Gizmodo Editor in Chief Joe Brown, you knew people who didn't have cellphones. Today you probably don't, unless they're in their nineties. Technology has become both more sophisticated and more ubiquitous, especially in the area of social media. Brown points out it has also become faster.
"The immediacy of social sharing is something that has changed so dramatically since 2001. I think it's possible that September 11th could have been a completely different kind of thing ten years ago. I mean, can you imagine if everyone was reacting without the moment of reflection—to actually take a minute and compose their thoughts before reacting to the event? I think that you would have seen some extremely interesting things on Twitter back then."
In the skittish days following the assault, the country took a hard look at other areas that could be vulnerable to attack. Security at ports, refineries and power plants was ramped up, and the increased costs of maintaining that higher level of security has been passed along to the consumer.
Director of Public Affairs for the National Association of Regulatory Utility Commissioners James Denn explained "A necessary part of the mission of the Department of Public Service in the post-9/11 world is to assure that robust physical and cyber-security programs are in place for the utilities it regulates... The cost of security for critically important utility infrastructure systems has been included in utility rates."