Andy Warhol's Favorite New York City Haunts
From 1949 up until his death in 1987, New York City was home to Andy Warhol. WNYC had a look through Thomas Kiedrowski's Andy Warhol's New York City: four walks uptown to downtown, published by The Little Bookroom, and mapped out some of Warhol's favorite spots in the city.
SPOILER ALERT: This is not an extensive map — for that you'll have to check out the book.
Andy Warhol Building, 57 Great Jones St. between Lafayette St. and Bowery: Warhol's film company bought these two buildings from the 1860s and rented space out to friends. In 1983, Jean-Michel Basquiat rented out both spaces.
Bloomingdale's, 1000 Third Ave. between 59th and 60th Sts.: One of Warhol's favorite places to stop and shop during his four decades of life in New York.
Cafe Nicholson, 323 E. 58th St. between First and Second Aves.: Warhol ate with Judy Garland and other literati in the '50s, '60s and '70s at this restaurant, which has now closed.
Edie Sedgwick's apartment from 1965-1966, 16 E. 63rd St. between Fifth Ave. and Madison Ave.: Sedgwick and Warhol were a pair around town after the two met at a party. She starred in his films "Poor Little Rich Girl" and "Beauty #2."
Elaine's Restaurant, 1703 Second Ave. at 88th St.: Warhol dined at Elaine's often after the restaurant opened in 1963.
Empire State Building, 350 Fifth Ave. between 33rd and 34th Sts.: Warhol had the idea to record a still shot of this iconic 1964 building for eight hours. Jonas Mekas was the cameraman for the movie that resulted called "Empire." 
Site of Hairpieces by Paul, 147 W. 42nd St. near Seventh Ave.: From the early 1970s to 1987, Warhol got hundreds of wigs from Hairpieces by Paul.
The Museum of Modern Art, 11 West 53rd st. between Fifth and Sixth Aves.: Warhol had his first group show at MoMA in 1956, "Recent Drawings—USA." The museum also has Warhol's films in its collection.

New York Public Library. Fifth Ave. and 42nd St.: Images found at the library's main branch were inspirations for Warhol's work. A library worker, Alfred Carlton, even became his boyfriend.
Plaza Hotel, 768 Fifth Ave. at Central Park South: Warhol ate and people-watched at the Plaza in the '50s and in 1966 attended Truman Capote's Black and White masked ball at the hotel. Other ball guests included Greta Garbo, Marlene Dietrich, Norman Mailer, Richard Avedon, Tennessee Williams, Frank Sinatra and Oscar de la Renta.
Rainbow Room, GE Building (formerly the RCA Building), 30 Rockefeller Plaza: In 1965, Warhol attended the Mod Ball, which was organized by a group called Le Cercle d'Or, in the Rainbow Room.
Solomon R. Guggenheim Museum, 1071 Fifth Ave.: Visitors only had to pay 50 cents to see Warhol's work at the "Six Painters and the Object" exhibition at the Guggenheim in 1963. Other artists included in the show were Jim Dine, Jasper Johns, Roy Lichtenstein, Robert Rauschenberg and James Rosenquist.
Stable Gallery, 33 E. 74th St. near Madison Ave.: Stable Gallery hosted Warhol's first solo "New York Pop Art" show in 1962 and his "Brillo Boxes" show in 1964.
Studio 54, 254 W. 54th St. between Broadway and Eighth Ave.: Warhol was one of countless celebrities to make Ian Schrager and Steve Rubell's discotheque the place to go in the late '70s.
Three Guys Restaurant, 960 Madison Ave. between 75th and 76th Sts.: Warhol and his assistant Benjamin Liu frequented this diner near the Carlyle Hotel.
Vito Gallo Antiques, 966 Madison Ave. at 76th St.: Warhol bought thousands of objects from the antique store of his long-time paid assistant Vito Gallo. The building has been re-purposed but the site still exists.
Warhol's home from 1960-1974, 1342 Lexington Ave. at 89th St.: Warhol purchased this, his first building, an 1889 rowhouse, in Carnegie Hill in 1960. He lived there with his mother Julia Warhola and their cats.
Warhol's home from 1974-1987, 57 E. 66th St. between Madison Ave. and Park Ave.: This 1902 five-story brownstone was home to Warhol, his boyfriend Jed Johnson and their dachshunds. He lived here till his death in 1987.
Warhol's Firehouse Studio (1963), 159 E. 87th near Lexington Ave.: This former firehouse closed in 1915. Warhol offered the city $150 per month in rent to use the 1865 firehouse as a studio.
Site of Warhol's Silver Factory (1964-1967), 231 E. 47th St. between Second and Third Aves.: Warhol's Silver Factory took up the fourth floor of the 1887 Peoples Cold Storage and Warehouse. His former boyfriend Billy Linich decorated the space with silver paint and aluminum foil. In addition to making art in the space, Warhol shot hundreds of rolls of film.
Whitney Museum of American Art, 945 Madison Ave. at 75th St.: In 1966, Warhol attended the opening of the museum in a black leather jacket and bow tie. The museum showed his work in 1971 and in 1979. The museum also has early Warhol films in its collection.
Check out the slideshow below of Warhol and friends hanging out in the Silver Factory, the Union Square West Factory and a monument to Warhol in Union Square.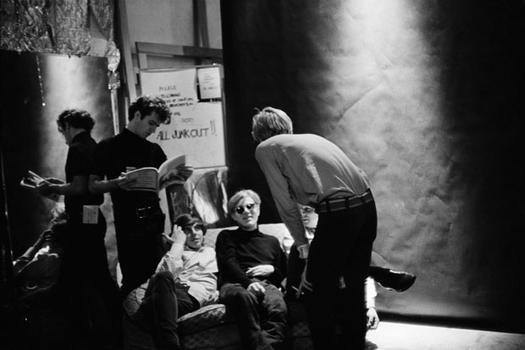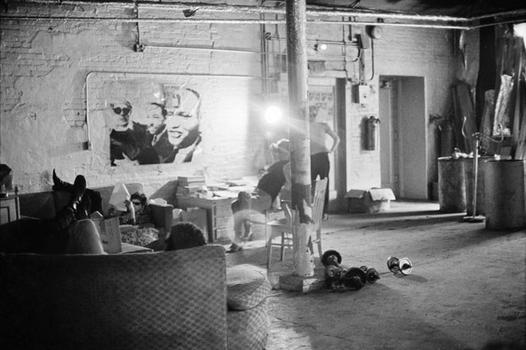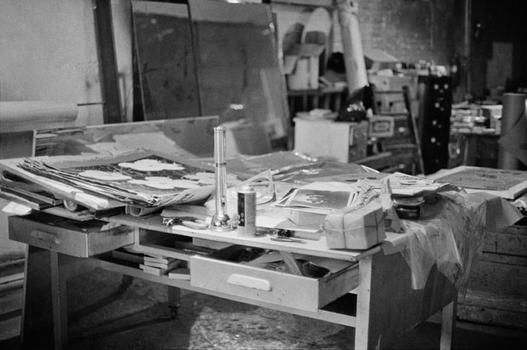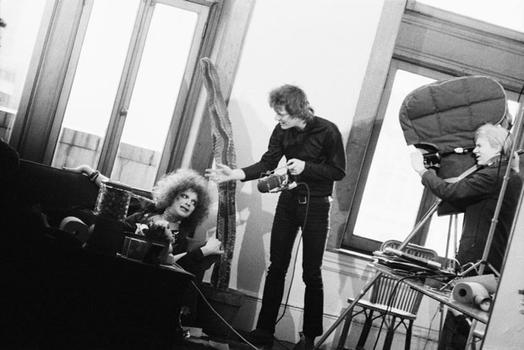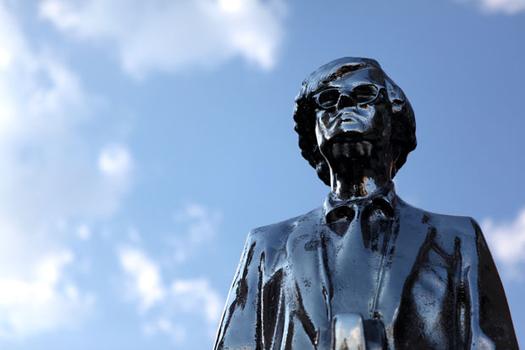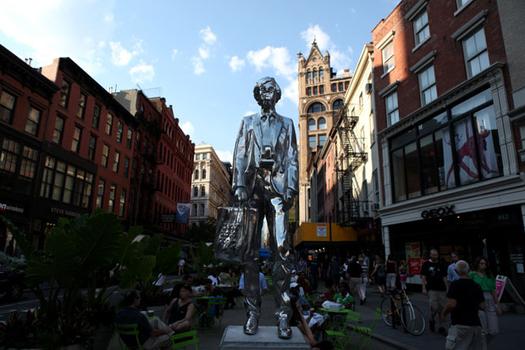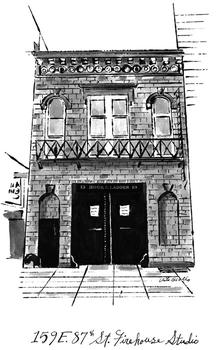 of