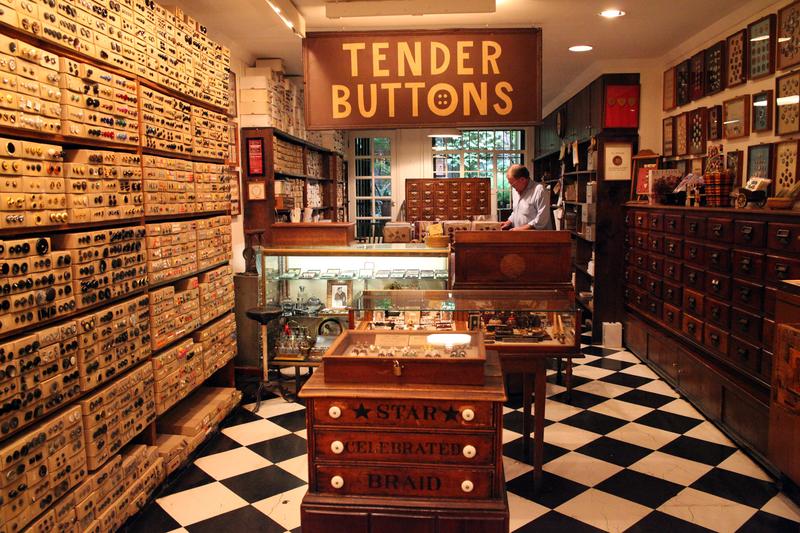 New York is a city of specialists from foodies to academics, laborers to shopkeepers. Every Wednesday, Niche Market takes a peek inside a different specialty store and showcases the city's purists who have made an art out of selling one commodity.

Tender Buttons
143 East 62nd Street
New York, NY
In 1964, a young artist and editor named Diana Epstein bought the entire stock of an old Hungarian button dealer on East 77th Street. She then invited her pop-art friends to peruse the boxes of tiny fasteners in an artistic "happening" she titled Tender Buttons, in honor of a book by Gertrude Stein.
Millicent Safro, a young art restorer stopped by one afternoon, and fell in love with the idea. As they sat inside the old store, playing with and organizing the buttons, people would knock on the window or the door and say, 'Oh, do you have this button?' and soon enough, they found themselves in business.
A few of the original buttons can still be found in the shop, but most of the current merchandise was purchased by Epstein and Safro in their travels around the world to button manufacturers and collectors. The last 300 years of button fashion is documented here. Each button, some plastic and smaller than a finger nail, others three inches in diameter, is kept in a small box on the wall and labeled with a few lines detailing the provenance.  
Epstein died in 1998, and Safro now runs the shop with a few part-time employees. She's an encyclopedia of button history, but when it comes to how many buttons are in her possession, even she doesn't know. 
"It's a number that I couldn't ever conceive of, it's like the stars, trillions, trillions," she said. Prices range wildly — from 40 cents for a standard shirt button, to $17,000 for an 18th century collector's engraved metal button.
There are myriad miniature designs: red plastic squares from the 1980s (one of the "golden ages" of buttons, according to Safro), wooden Italian art deco, pearl shirt buttons, Russian lacquer painted with fairy tales, carved elk horn buttons from the Black Forest. Most sold in sets of seven or nine.
Some customers come in to replace a lost button, or in the hopes of finding a snazzy accessory.
"Let's say if it's an older coat and you're sort of like, I'm bored with it, you can put some really nice buttons on it and give it a whole new look," said Diane Van Laer, who selected a $4 cut glass iridescent button for a new Missoni dress.
Button styles change over time, and in this decade, Safro said, buttons tend to be utilitarian. But her fascination with the buttons that began almost 50 years ago has never ceased, and she still considers them miniature works of art.
"They're tiny delights of an infinite variety of design, color, period and material, and it's an endless visual pleasure," said Safro.
What kinds of buttons do you sell?
Well of course 'Many kinds,' would be the first answer, but there are modern buttons and vintage buttons and antique buttons and every conceivable material and design and every collectible material. If you said 'Wedgewood,' we could produce a wedgewood button. If you said, 'Eighteenth century miniature,' we could produce a button. If you said, 'A pearl shirt button' that you just popped off your shirt on the way to work, we could produce the button. Or if you said, 'Pajamas that come from Brooks Brothers,' we could produce that pearl button and know its size.
Where do you find the buttons?
I travel all over, and I traveled with Diana to wherever buttons were produced. Or where we thought buttons were produced. Or where buttons were produced at that time and they're no longer produced. We're always having an adventure in the pursuit of a button, which is very amusing. 
Who are your customers?
People who've lost a button. People who are replacing buttons and updating buttons. People who have wonderful clothes who are really interested in every detail of what they're wearing and the buttons are not quite up to the quality of the clothing that is being worn. Knitters, designers, craftspeople, decorators who are incorporating buttons in curtains and quilts, bead makers.
Has the style of buttons changed over time?
Always. From the large size of the 18th century, which were mainly made for men, to the industrial revolution of the 19th century where decorative buttons were used by all classes, and now, the size and material defines the period in which it was made. So if you look at fashion now there are very large buttons and that means you just bought your jacket.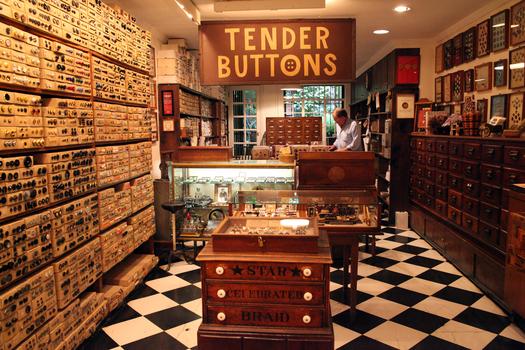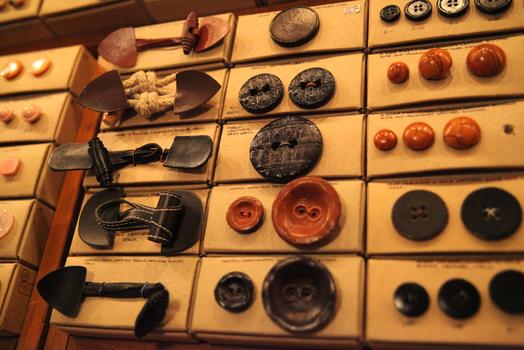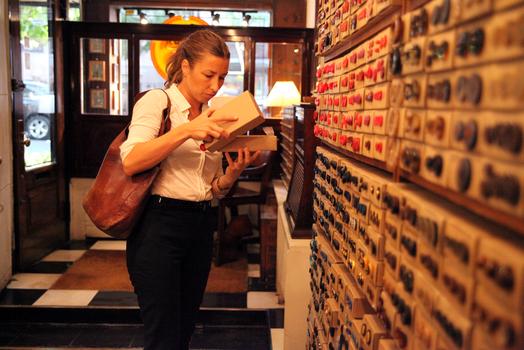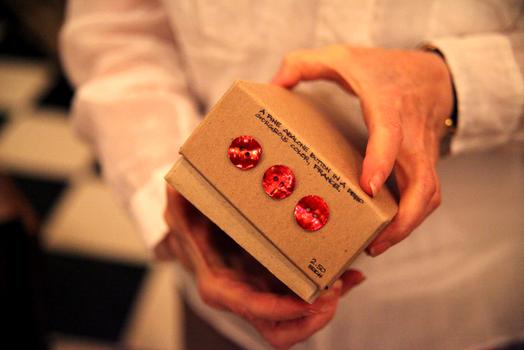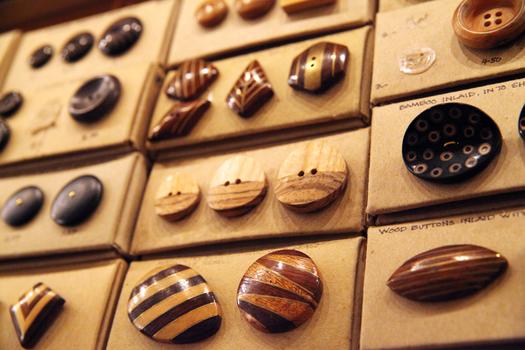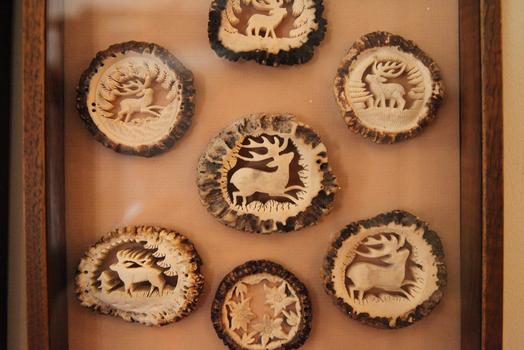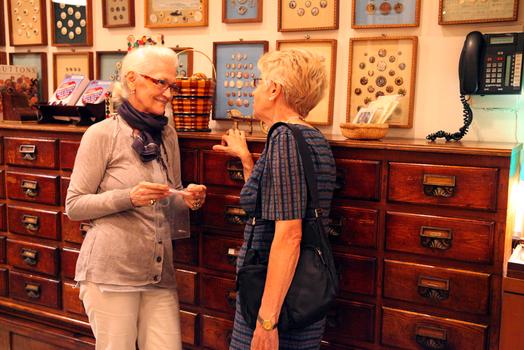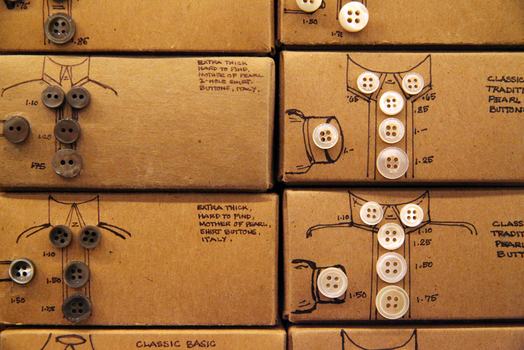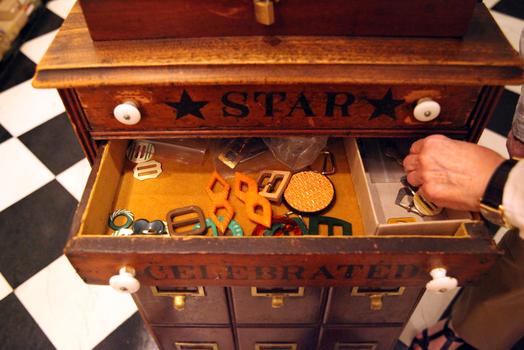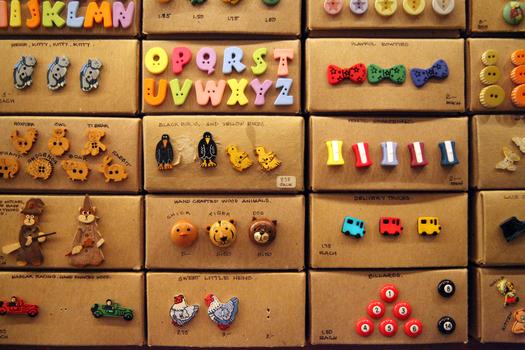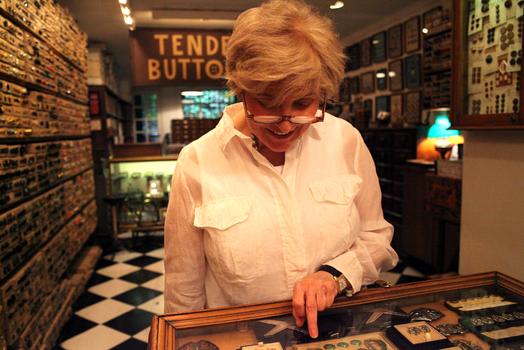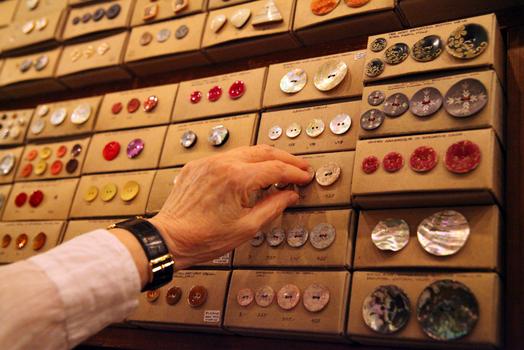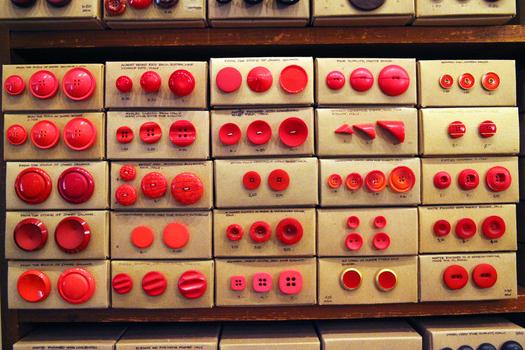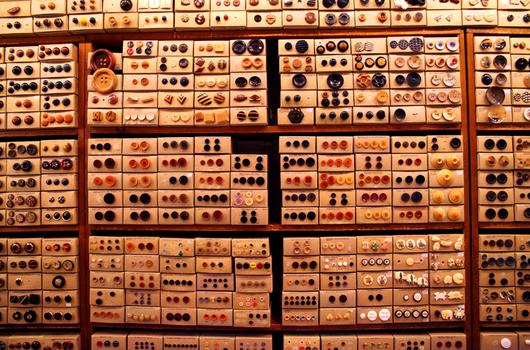 of