Grilled Cheese Sandwiches Go Gourmet
Meatballs, macaroni and cheese, and bacon have all had their makeovers in the kitchens of top chefs. It was the humble grilled cheese sandwich's turn this weekend at a community garden fundraiser in Brooklyn.
My colleague, WNYC reporter Ilya Marritz, is one of the leaders of the Amazing Community Garden on the corner of Carroll Street and Columbia Street in Columbia Heights. I drive by the colorful, flower-filled spot regularly on my way to Fairway in Red Hook. The Best Grilled Cheese Sandwich in Brooklyn Competition was Ilya's brainchild.
"I thought it'd be better than the usual flea market fundraiser," he told me.
It sure was.
The event featured fellow Amazing Garden member Evan Hanczor of Egg in Williamsburg (familiar to me because Egg's co-owner George Weld was a guest on "Last Chance Foods" in 2009); Ash Fulk, a participant in Season Six of Bravo's "Top Chef"; and Rick Hauchman of the Van Horn Sandwich Shop.
Their job was to grill and assemble two kinds of sandwiches -- a vegetarian one and a steak-and-cheese one -- and those who paid $20 to attend the fundraiser got to judge the results, with the assistance of WNYC's top foodie, Leonard Lopate.
The Web site of Rick's Van Horn Sandwich Shop speaks of its "down home cooking," and Southern influences, and that was evident in his vegetarian offering: a grilled pimento cheese-and-peach sandwich with watercress. My first sample (yes, I had seconds!) had too much pimento and not enough peach, and it was HOT.
The second sample was more to my liking, and, I imagine, to Rick's vision. It had a big, thick slice of grilled peach. Its sweetness balanced the heat of the pimento.
It was my favorite until I bit into Ash's sandwich of grilled summer squash-and-halloumi cheese, with fennel and Greek yogurt on challah bread.
Halloumi cheese is made from a mixture of goat and sheep's milk cheese and has a high melting point, making it a natural for grilling. Ash put slices directly on the grill. (Try doing THAT with a slice of American cheese.) It was almost al dente, compared to the soft, grilled green and yellow squash slices, making a pleasing combo in the mouth. 
I wasn't happy with Evan's cucumber-and-tomato salad sandwich with feta and herbs on grilled challah bread. There wasn't enough of the salad or salty cheese on the sandwich, and I mostly got a mouthful of sweet challah bread. (Which was great, in and of itself, but not the point of a sandwich.)
I didn't get enough of the steak sandwiches to weigh in on that sector. And -- opinion alert -- I also think a grilled cheese sandwich should just be cheese.
Can I just say this was the first time I've had cheese, OR bread, in 35 days? I paid for it later with a stomach ache. I don't know which one was the culprit. I'll have to experiment, after I recover! Lots of detox juices are on the menu for me for the next few days...
The winner? I thought the most applause was for Rick's grilled pimento cheese-and-peach sandwich, but Leonard thought it was for Evan's coffee-rubbed steak sandwich. Both were declared the Best Grilled Cheese Sandwich in Brooklyn for 2011.
The grilled cheese benefit raised the garden more than $1,000, according to Ilya, and the money will go towards improvements like a new composting system.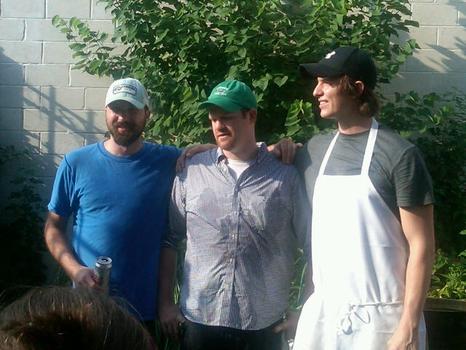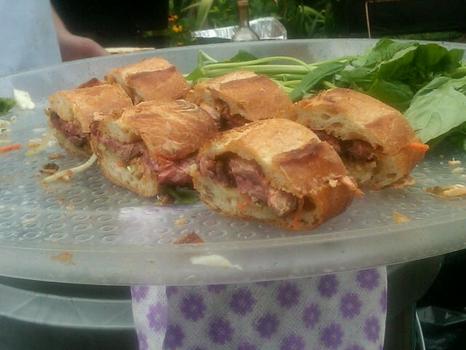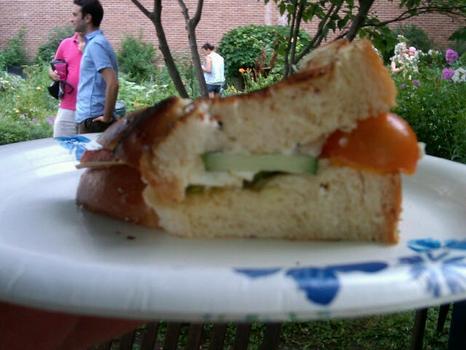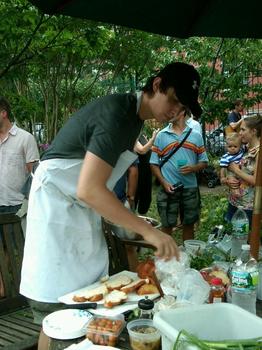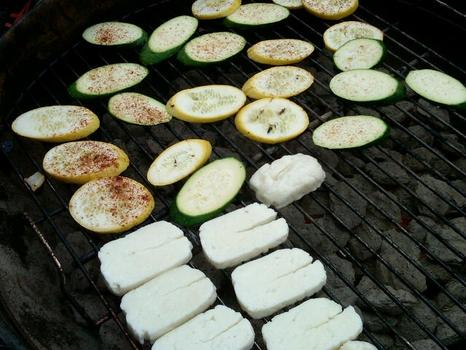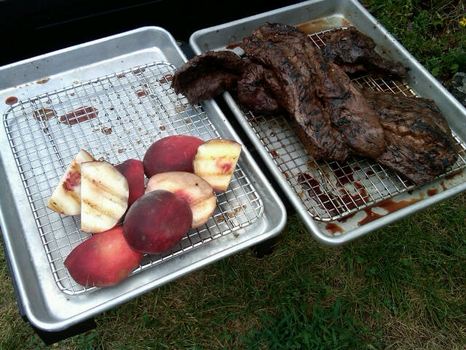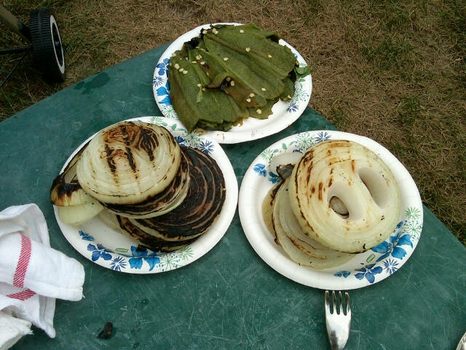 of