Power Couple: Rudy Giuliani and Rick Perry?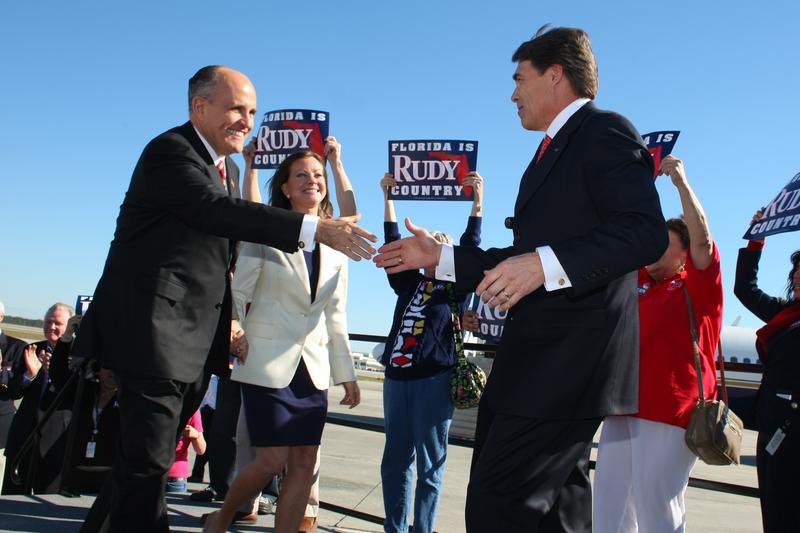 Could Rudy Giuliani be the key to a successful presidential run for Texas Governor Rick Perry? The Washington Post's Chris Cillizza floats the possibility, noting that the two men are friends, and Giuliani could vouch for the Texas governor and boost his fundraising potential.
"Rudy would be an awesome asset to any campaign," Perry consultant Dave Carney told Cillizza, noting that "folks of the mayor's stature bring lot of value added to any effort."
Perry and Giulini met in New York last month for breakfast as Giuliani explored his potential run. Perry endorsed Giuliani for president in October 2007. "As a voter, I'm not looking for somebody with the best soundbite, or an individual out there just talking over my head. I'm looking for a proven leader," Perry said at the time. Perry also joined Giuliani on the campaign trail in Florida in the days before that must-win primary for Giuliani. After a disappointing third place finish there, Giuliani dropped out, and Perry endorsed John McCain within a few days.
Of course, the two men be competitors this time around, should they both decide to hop into the field. A Gallup poll this week found that both men ilicit warm positive feelings from Republicans. While Perry doesn't have the same name recogition edge that Giuliani does, Perry has a slight edge over Giuliani when it comes to how positively he's viewed. And both guys are viewed more favorably than Romney.
Or they could both sit it out, and wait for the Vice Presidential search.
Look Back: Texas Gov. Rick Perry endorses Rudy Giuliani for president in 2007.