Comic Book Masters at the Whitney Museum
Listen to Art Spiegelman, Chris Ware and Gary Panter talk comics at the Whitney.
Thursday, July 21, 2011 - 11:29 AM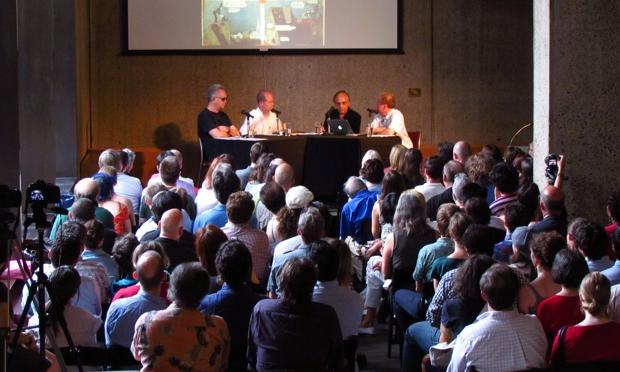 (Carolina A. Miranda)
Three of the biggest names in comic books gathered at the Whitney Museum on Wednesday evening for a roundtable to discuss the intersection of fine art and comics: Gary Panter, the auteur behind the underground Jimbo series; Chris Ware, the creator of Jimmy Corrigan; and Art Spiegelman, the award-winning creator of Maus. The panel was moderated by John Carlin, one of the curators behind the incredible Masters of American Comics exhibit that landed at the Jewish and Newark Museums five years ago. (If you're at all into comics, the catalogue from that exhibit is a must have.)
The topics of discussion at the hour-long panel were wide-ranging. The artists talked about the work of early cartoonists such as Winsor McCay and Lyonel Feininger (the latter of whom is currently the subject of a sprawling retrospective at the museum). And they discussed hippie comics and the theoretical perils of art school. Things loosened up at Minute 29, when Spiegelman began to rant about how irritating he finds the comic book appropriations of pop painter Roy Lichtenstein. The group also debated the merits of using digital media to create and display their work. Some of the artists embraced technology, others not so much. (Panter likened drawing with a computer mouse to trying to draw with a pencil sharpener.) Overall, the panel offered an honest, insightful view of how each of the artists visually arrived at some of their most important works.
Note if you listen to the audio of the panel above: Spiegelman is garrulous. Ware is self-deprecating. And Panter is cool as a cucumber. Carlin opens the session and is followed by Spiegelman. Ware's voice is a little high pitched, while Panter's is more gravelly. For the record: there was a bit of a problem with the audio on-site (hence the slight scratching sound), but you can still hear everything the panelists have to say, loud and clear!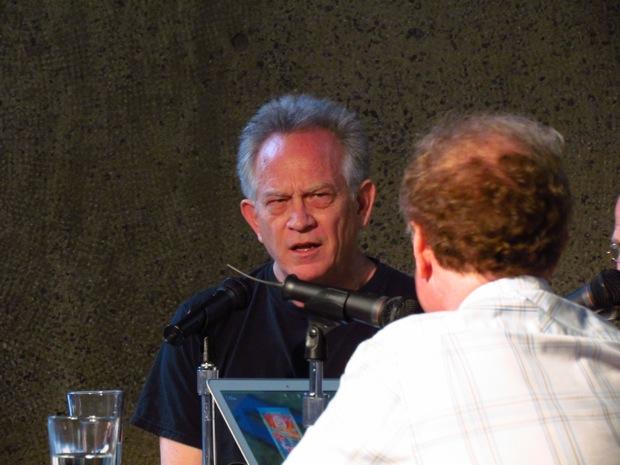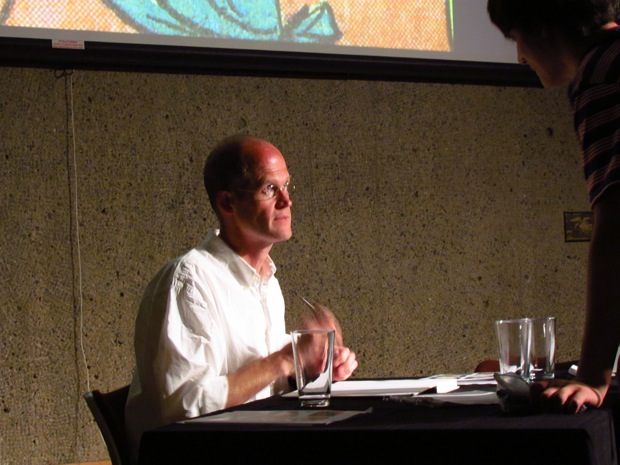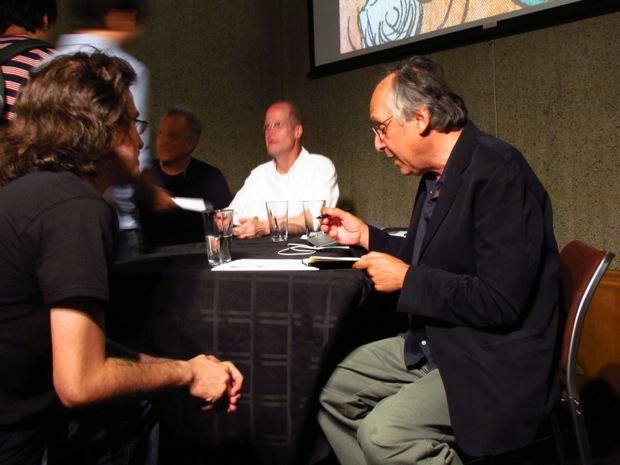 More in: