When you hear the word "genius," you might think of Einstein, Mozart, or Da Vinci. But how they became geniuses is the subject of debate. Where they born that way? Or does it come from sheer tenacity? 
We begin a week-long conversation about genius and how any of us can get that way. David Shenk, author of "The Genius in All of Us: Why Everything You've Been Told about Genetics, Talent, and IQ is Wrong," tells us about some surprising research about what it takes to, as he puts it, "get good at stuff." Turns out it's not as hard as you might think.
David Shenk answers your questions all week in our blog.
Read the first chapter of "The Genius in All of Us."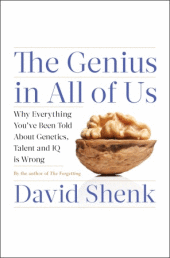 Excerpted from THE GENIUS IN ALL OF US by David Shenk Copyright © 2010 by David Shenk. Excerpted by permission of Doubleday, a division of Random House, Inc. All rights reserved. No part of this excerpt may be reproduced or reprinted without permission in writing from the publisher.