Five Key Moments From The Obama Debt Presser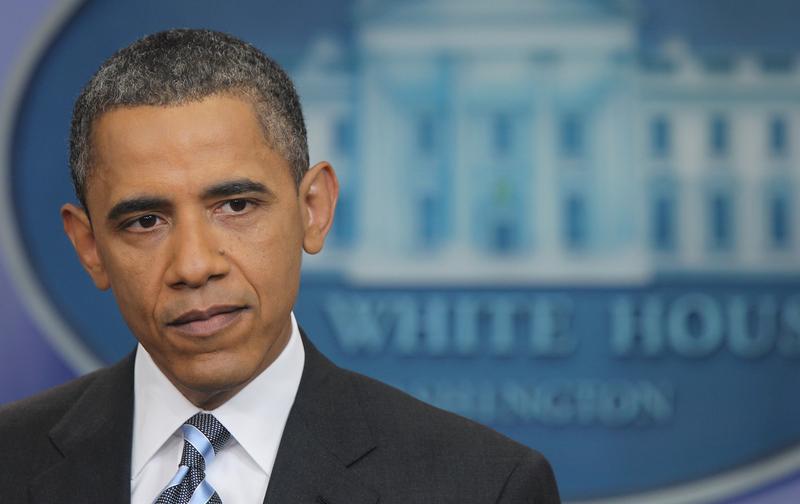 We won't bury the lead - there wasn't much new in President Obama's morning press conference on the debt ceiling negotiations. But at the end of a long week of highly partisan standoff (and ahead of what looks to be a working weekend in Washington) here are five talking points that caught our ear.
Effectively, a tax increase for everybody.
Given how insistent Republicans - and particularly House Majority Leader Eric Cantor - have been on not including tax hikes in the debt ceiling plan, President Obama tried to steal that talking point for himself. Not raising the debt ceiling could have "a whole set of adverse consequences. We could end up with a situation, for example, where interest rates rise for everybody all throughout the country - effectively, a tax increase on everybody - because suddenly, whether you're using your credit card, you're trying to get a loan for a car or a student loan, businesses that are trying to make payroll, all of them could end up being impacted as a consequence of a default." Will this rhetorical strategy work? For now, it looks like most in Washington are focused on the short-term bickering, not the underlying question.
The American people are sold.
President Obama portrayed the debt ceiling debate as a pitched ideological battle between insulated Washington camps. Referring to a recent Gallup poll, he said that "eighty percent of Americans support a balanced approach that includes revenues and also includes cuts. The problem is members of congress are dug in ideologically." However, much the polling over the debt ceiling is a little unclear, with some polls showing a split public over whether it should be raised at all. And of course if there was bipartisan agreement over exactly what "balanced approach" means, we wouldn't be here.
Show me a serious plan, and I'm prepared to move.
Of course, the question is, what counts as "serious"? Republican House leaders indicated Friday morning that they planned a vote next week on a plan that would increase the debt ceiling in exchange for $2.4 trillion in spending cuts and passage of a balanced budget amendment. But several key leaders said they would not support any plan that featured tax increases. The President's response? "If you're trying to get to $2.2 trillion without any revenue (increases), you are gutting domestic spending that will be too burdensome and not something I will support." In other words, the President is saying - you can't be serious. As for a balanced budget amendment? "We don't need a constitutional amendment to do our jobs. The Constitution already tells us to do our jobs."
We should look at what can we do in the out years so that, over time, some of these programs are more sustainable.
When asked to get specific about what structural changes the President would be willing to make to Social Security and Medicare, Obama was very clear that "we should make sure current beneficiaries, as much as possible, are not affected." That said, he did brush up against the idea of means testing Medicare, and acknowledged that "making some modest modifications in those entitlements can save you trillions of dollars." This is close enough that he will surely make many on the left nervous. As for the retirement age? "You know, I'm not going to get into specifics."
The McConnell approach solves the first problem, but it doesn't solve the second problem. I'd like to solve the second problem.
President Obama is referring here to Mitch McConnell's stopgap approach that would create a purely political exit from the debt ceiling negotiations. Crisis would be averted, and President Obama would take full political responsibility for the decision. But the "second problem" the president has his eye on is debts and deficits themselves. Not addressing the fundamental issue would be a loss all around. But the President did seem to indicate he knows there is a safety valve in the McConnell plan if negotiations continue to go nowhere.