Building A Case Against Murdoch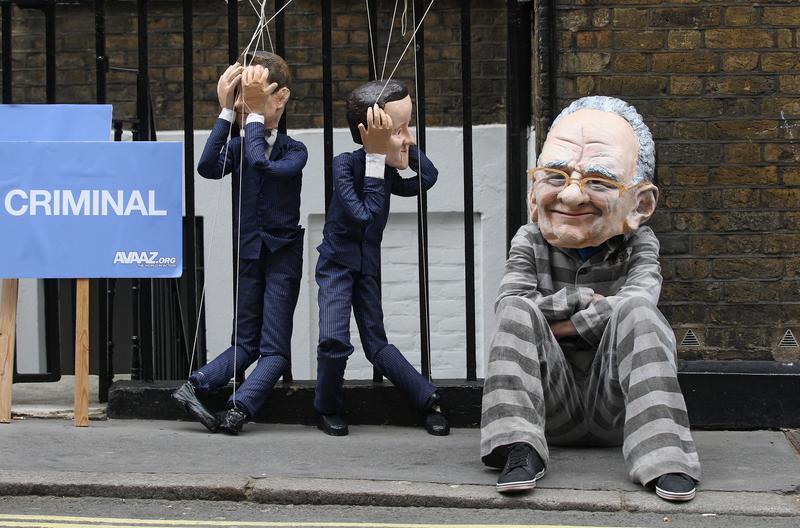 Welcome to Politics Bites, where every afternoon at It's A Free Country, we bring you the unmissable quotes from the morning's political conversations on WNYC. Today on the Brian Lehrer Show, Jake Bernstein, business and financial reporter for ProPublica, and Jeff Jarvis, the man behind buzzmachine.com, professor at CUNY Graduate School of Journalism, and author of What Would Google Do?, look at what laws Rupert Murdoch may have violated.
→ More on News Corps Holdings: Reuters Graphic | Wikipedia List
Yesterday embattled media giant Rupert Murdoch dropped his bid for the full share of television giant BskyB, following a series of revelations of unethical and unlawful practices at News of the World.
For many, the allegations against Murdoch raise the question of how much behavior at News of the World reflects on the behavior of his other news holdings. including those here in the US.
Murdoch owns not just the Wall Street Journal, Fox, and 20th Century Fox in the United States, but also is a partial owner of Hulu, Harper Collins Books, National Geographic, FX, and the Brooklyn Paper, among others, as well as numerous specific-interest magazines. 
Congressman Jay Rockefeller (D-WV) has called for an investigation into allegations that News of the World employees may have hacked the voicemail of 9/11 victims and attempted to bribe a New York Police officer. The Foreign Corrupt Practices Act bans foreign companies from engaging in corrupt behavior abroad.
Jake Bernstein says the Foreign Corrupt Practices Act is to prevent companies from engaging in bribery abroad to further their business. While it historically hasn't been used very much, it has recently become more popular, and the SEC has used it to investigate business practices it finds suspicious. Last year the Act was used to bring in 54 prosecutions and the SEC brought it $530 million in corporate settlements. He said under the Act, the government can go after individuals as well as corporations.
In this case, although it's not a typical Foreign Corrupt Practices Act case, they would go after News Corp, because its subsidiaries—in this case the News of the World—engaged in bribery.
Bernstein finds it unlikely that an investigation under the Act would target reporters or editors, but he thinks the SEC could go after the company for civil fines.
Jeff Jarvis said there are already shareholder suits in the U.S.
I think that Murdoch's Humpty-Dumpty-ish fall will be accelerated more in the market than in the law.
Even before the prosecution is finished, Jarvis expects that the organization will unravel, ultimately driving News Corp out of the news business.
At its essence it is an entertainment company, and we kind of expect entertainment executives and companies to be rapacious, but not news executives. And in a sense the news expectations are weighing down the company and it's financial performance. So though news has been dear to Murdoch's heart, I think that money will be dearer to his heart and certainly his heirs.
Jarvis said it would be a mistake to paint all British journalism as unethical. especially as it was British journalists who broke this story.
This was a tacky, skuzzy tabloid, and it acted in tacky, skuzzy ways… But it was Nick Davies of The Guardian who really dogged this story… and made it happen, and really is bringing down the empire of Murdoch.
Jarvis differentiated between the criminal acts and the merely unethical ones. The alleged criminal acts include the phone-hacking, bribery of police, pursuing confidential medical records. He said at the same time "political idiocy" was also an issue, with the British Prime Minister ignoring multiple warnings not to hire former editor of the News of the World Andrew Coulson.
Companies being investigated under the Foreign Corrupt Practices Act are often required to do a world-wide review of all their holdings to look for similar behavior in other places. Jarvis predicted that if News Corp is required to do this, it could take years and be extremely expensive for the company.
Bernstein said he would be surprised if the sort of behavior in question in the UK were going on in the U.S. Rep. Peter King has asked the FBI to investigate that question, he said, so the world will find out soon. Additionally, he said, the investigation in the US has an extra incentive.
Under the new financial reform, Dodd-Frank, there's a whistleblower provision, and a whistleblower can get up to 30% of any fines or disgorgement that is levied against a company.
Jarvis said he thinks the legal problems will not be Murdoch's worst.
This case is so awful that the issue here isn't the law, it is the reputation of the company and where it goes.
He to work for News Corp at TV Guide, and said it was very decentralized. He believes that this wasn't a question of someone at the top ordering that phones be hacked, but of a culture of poor management, where employees felt free and possibly encouraged to do so.
It is a very Australian seat-of-the-pants kind of company, where people do what they want to do, and I think the culture is the issue here.