Video artist Omer Fast tells stories of love, war, and displacement that blend fact and fantasy. 
His 2003 installation "Spielberg's List" was set in Cracow, Poland, where the movie Schindler's List was filmed.  Fast interviewed Poles who played extras in the movie, intercutting their memories of the film with memories of the German occupation of the town during WWII, and mixing photos of the film set with photos of German labor camps. At the 2008 Whitney Biennial, Fast presented "The Casting," a four-channel video projection.  On one side of the screens, a U.S. soldier tells a Hollywood-style love story about romantic encounter gone awry, and a war story about an Iraqi who was shot accidentally. On the other side, the viewer sees Fast interviewing an actor who is auditioning to play a soldier.  As much as anything, Fast's work is an intellectual project about memory and narrative.
Click here for more from Omer Fast on his notion of storytelling:
On December 10, The Whitney opens a new exhibition: Omer Fast: Nostalgia.  The piece is a three-part film installation that intermingles one man's account of his struggle for asylum in Britain with a re-enactment of his story in the style of a low-fi science fiction movie.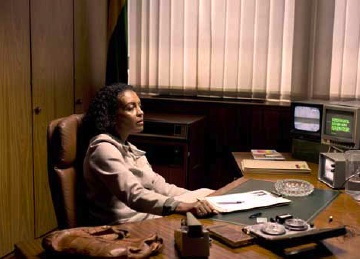 Production stills from Nostalgia III, 2009. Super 16mm film transferred to high-definition video, color, sound; 32:48 minutes
Fast says he began the project interviewing immigrants seeking asylum in the UK, but he became distressed with the dynamics of the interviews. He channelled his doubts into the work. "I am a very uncomfortable person," he said. "The many voices that continuously chatter away and scream at you 'Stop what you are doing, you can't do it like that.' And part of the way that I deal with this problem...is to externalize it, to write it into the piece."
The video below is a segment from the fantasy section of Nostalgia.