Behind the Scenes: Exploring Tugboats and Barges in Brooklyn
Thursday, July 14, 2011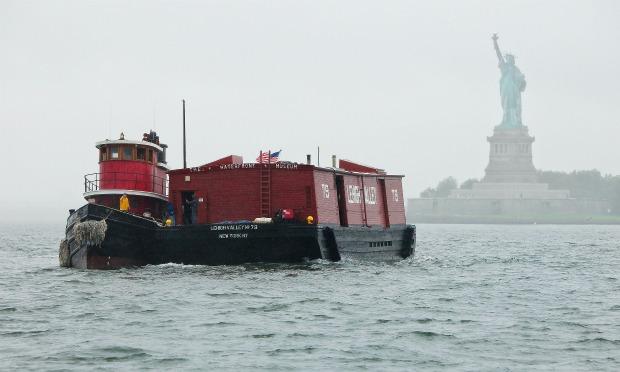 (Etienne Frossard)
In addition to exploring the boats themselves, visitors can attend knot-tying demonstrations and circus shows onboard. Almost all of the Tug and Barge Week events are free, and are meant to get New Yorkers informed about the city's waterways. (View a schedule of activities here.)
The Tugboat Pegasus and the Lehigh Valley Barge no. 79 were built in 1907 and 1914 respectively. Both are on the National Registry of Historic Places.
Captain Pamela Hepburn, who has been working on tugboats in the New York Harbor since 1976 and is one of the few women in the business, said tugboats are interesting to people for all kinds of reasons — from their iconic look to being the unsung heroes of the water.
"They are not acknowledged so much because they just do their work," she said. "They all look alike, no one distinguishes them, but everyone has some kind of fascination with them."
Activities on the Tugboat Pegasus and the Lehigh Valley barge no. 79, which is home to the Maritime Museum, will be going on as part of Tug and Barge Week through July 26 at Pier 6. The nautical events are organized by the Waterfront Museum and the Tug Pegasus Preservation Project.
More in: