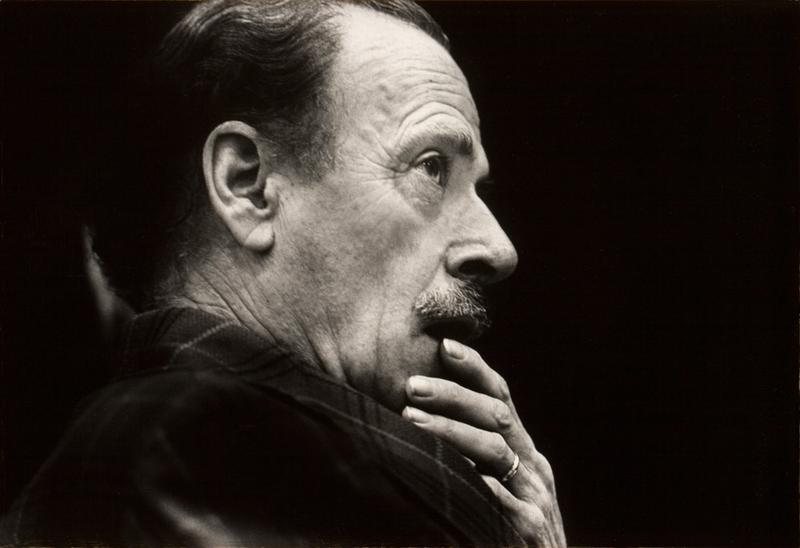 Professor Marshall McLuhan rose to stardom in the 1960s as a pop culture guru. In honor of the McLuhan centenary next week, WNYC's Sara Fishko takes us back to McLuhan's futuristic thoughts…in this edition of Fishko Files.
There was so much fascinating Marshall McLuhan material that we weren't able to feature in this episode of Fishko Files.


McLuhan addressing the Books and Authors luncheon in 1966.

We were struck by one archival clip in particular, in which McLuhan discusses some discomfort with the modern world. He comments on the "simultaneous, instantaneous, all-at-once electric world" that he calls "Echo Land," which sounds pretty similar to our world today. He also mentions the residents of Echo Land, the "Yippies and Hippies and Beatles who've crawled out from under things like Kafka's bug in The Metamorphosis." He begins these musings, though, by saying that he never makes value judgments, but instead "probes" and "pokes away, here and there" to see what he can find.
Below: Marshall and Corinne McLuhan at the University of San Francisco in October 1970.
McLuhan made several appearances on Tony Schwartz's "Adventures in Sound" radio program. Schwartz, a renowned master of electronic media in his day, created thousands of radio and television programs. Throughout McLuhan's many appearances on "Adventures in Sound," which ran on WNYC for more than 30 years, Schwartz and McLuhan discussed radio, television, technology, and the impact of these media on the world.
We've selected three excerpts of McLuhan from "Adventures in Sound."
From 1970 –McLuhan considers how youngsters and adults listen to radio. According to McLuhan, young people use radio to create a private, visually-intense world for themselves. Adults listen to the radio in the car for weather and news reports. Schwartz cautions listeners to look at McLuhan's thoughts not as pronouncements, but as "free-associations of a man who is good at observing what's going on around us…"

From 1967- Schwartz tells us how electronic advancements have changed the nature of songs, using Frank Sinatra and The Beatles as examples. Schwartz follows up his musings with a quote from McLuhan: "Storyline seems to be fading away due to the use of technology."

Undated -- In this episode of "Adventures in Sound," a high school student talks about the meaning of the New York Times' slogan, "All the news that's fit to print." McLuhan also analyzes the slogan. Schwartz creates a "sono-montage" of their answers.

For more information on Tony Schwartz and "Adventures in Sound"
==> Read this article (published in 2007) from the WNYC Archives.
For more on McLuhan
==> A one-hour special "Marshall McLuhan at 100" airs on WNYC-FM on Thursday, July 21st at 8 PM.
Fore more from the speakers in this edition of Fishko Files
==> Cecelia Tichi is a writer and a professor at Vanderbilt University. One of her books, Electronic Hearth: Creating an American Television Culture, is available here. Tichi also appeared in another episode of Fishko Files: Cultural Glue.
==> Richard Kostelanetz is an author and critic living in New York. You can see his website here.
==> Douglas Coupland is a writer and artist. His biography about McLuhan, Marshall McLuhan: You Know Nothing of My Work!, is available here.
WNYC Production Credits
Mix Engineer: Wayne Shulmister
Assistant Producer: Laura Mayer
WNYC Newsroom Editor: Karen Frillmann
Special Thanks: Matthew Barton, Library of Congress.