Milwaukee Public Schools Alumni and Homeless Community Gospel Choir Tours New York City
Wednesday, July 13, 2011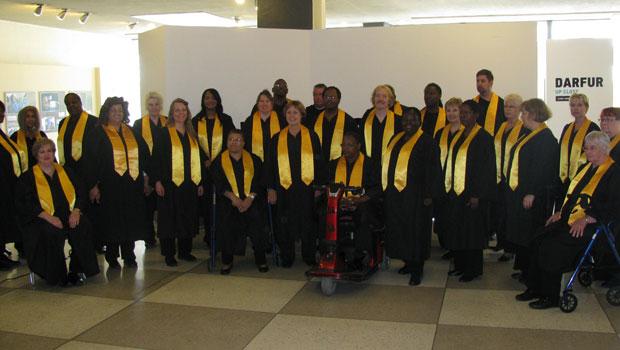 (Photo by Barbara Meyer-Spidel)
Arlene Skwierawski, an indefatigable former nun from Milwaukee, and her former student, the country music singer K.C. William, fulfill a longtime dream this week: the co-directors of the Milwaukee Public Schools Alumni and Homeless Community Gospel Choir are touring their choir on the streets of New York. The choir, which has performed around the world, has been singing from Harlem to Ground Zero since its arrival in the city on Saturday.
The choir's final performances are Wednesday -- at an outdoor concert on the steps of St. Luke's Church at 1 P.M. and at Trinity Church at 3 P.M. The singers have also sung in soup kitchens, at the Seafarer's Internationals House (its former chaplain has been unofficial tour guide), and on tug boats in the Hudson.
One of the choir's best moments came on Tuesday at the U.N. plaza when the crowd joined in.
"It's been wonderful ... we've had people from all over the world, join us," said Skierwaski, a red-haired dynamo. "People have joined us in song form Africa, the Dominican Republic, China, Spain and California, Brazil."
The choir is made up of 33 singers from Milwaukee, some of them disabled and some of them homeless, who've met New York on its own terms: in buses, taxis, subways.
More in: