The Word as Sword: Reza Aslan at Poet's House
Tuesday, July 12, 2011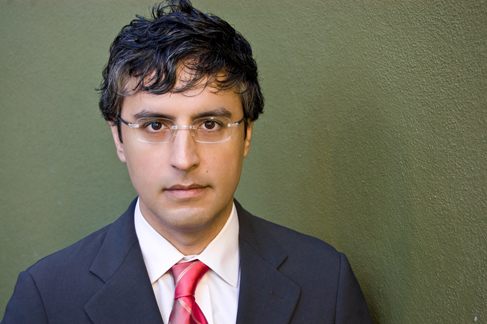 (Filckr/---)
As the Middle East continues to feel the tremors of revolution from all across the landscape, Dr. Reza Aslan's book "Tablet and Pen: Literary Landscapes from the Modern Middle East" offers a timely look at the role of literature in modern Islam. It was the source of a talk Aslan led at Poet's House this past May. 
Talk to Me brings you downloadable readings and conversations with writers, artists, and scholars – from author Joshua Ferris to choreographer Mark Morris to poet Sharon Olds – recorded at cultural institutions in New York City and beyond. Stream, download, or subscribe to the full-length podcasts here.

More

Recommended Links
The scholar, who is Associate Professor of Creative Writing at the University of California, Riverside and the author of "No God but God: The Origins, Evolution and Future of Islam," pointed out that today's dissidents are using poetry as their weapon of choice against tyrannical regimes, and that this reflects the powerful historical role of literature in the Islamic tradition. The most striking example, of course, is Islam's core text, the Koran.
"It's God's dramatic monologue," noted Aslan. 
He also cited the works of some of the seventy-odd 20th and 21st-century Middle Eastern poets featured in his anthology, noting how, inspired in part by a credo shaped by Khalil Gibran, they moved away from fussy, excessive traditional poetry, and began to help shape the national consciousness of the region as it evolved in the 20th century. And there was often a price to pay — most of these writers spent some time in prison.
"Being a poet is a dangerous occupation in most parts of the world," said Aslan.
In a sense, that is good news.
Bon Mots
Khalil Gibran on "imitators" in poetry
It is better for you and for the Arabic language to build a poor hut made of your own humble selves than to erect a lofty palace made of your borrowed selves.
Aslan on poetry as revolution
The young people on the streets of Egypt were borrowing these verses, turning them into political chants, and using them…as a weapon against the Mubarek regime.
On the role of The Koran
The Koran is to Arabic what Chaucer is to English; what Homer is to Greek—the quintessence of the language.
 Listen to Aslan's talk by clicking the link above.
More in: