Gillibrand's Bipartisan Partisan Pitch to Women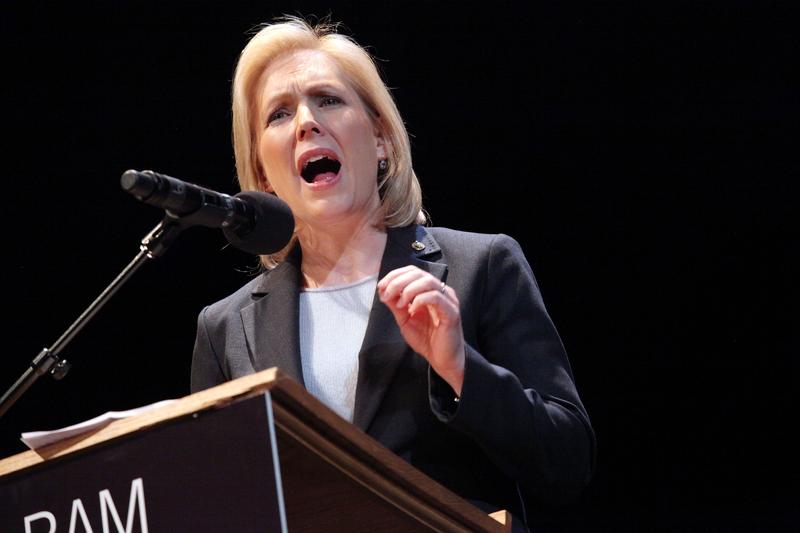 When House Republicans made defunding Planned Parenthood a central talking point in passing their budget cuts, Senator Kirsten Gillibrand seized the moment.
"You may not balance the budget on the backs of women. Period," she said on the floor of the Senate in April. "The election last November was not about a mandate for these social issues."
A month later, she laid into Congressional Republicans at a May event in New York, where she was honored by NARAL Pro-Choice New York for her defense of abortion rights. She blasted them for advocating cuts to women's health programs under the banner of opposition to abortion.
"It had nothing to do with abortion!" she shouted. "They like to blur the issue and confuse the issue so they use the abortion as the way to defund prenatal care, precancer screenings, breast exams."
"They also, while they were at it, defunded early childhood education, nutrition for women and infants," she continued. "Everything that women care about in this country has been placed on the chopping block. Everything."
Fiery feminist leader is just the latest role for Gillibrand, who's preparing for her campaign for her first full term in the U.S. Senate. No longer the upstate NRA darling who was appointed to the seat, nor the advocate of 9/11 First Responders who drew unabashed praise from New Yorkers, including Jon Stewart. Now she's making a play for a bigger power base: Women voters nationwide.
After the budget battles created this opening, Gillibrand has been leading a coordinated defense on two fronts. There are her policy positions, which start with unreconstructed feminist priorities — parity in health care and in the workplace along with abortion rights — but she's grounding that in a broad call for more participation from women that sounds more like Oprah than Hillary.
It's a savvy play to fill the vacuum for a generation of women who don't see themselves in feminist lobbying groups that have defined Democratic women's issues for decades.
"There is a group of women looking for their charge, said Kiki McLean, a Hillary Clinton campaign alum and fan of Gillibrand's. "And I think that's a real leadership role opportunity for her."
Her Style
Even as Gillibrand has become a leading voice for feminists, she brings a different tone — and different optics — to the conversation.
Part of that is generational: Gillibrand graduated college in 1988, well after the defeat of the ERA the last time around. At 45, she's less "The Feminine Mystique" and more "Working Girl."
Another part is biographical. A mother to two young boys — her youngest was a year old when she was appointed to the Senate — Gillibrand did not wait until her children were grown to launch her political career, like the women a generation before. 
"I have a lot in common with most women. I have kids, I'm a working mom. We have to juggle my schedules every day, like every working parent all across this country," Gillibrand said in her Washington office recently. "So I think that commonality and that understanding of some of the real challenges in our society, I think makes a difference."
It gives her arguments like including child care in the debate about jobs a certain authentic resonance, while underscoring her authority on policy. 
"When she talks about being a working mom, I think it plays in two directions," said Janet Jakobsen, the director of the Center for Research on Women at Barnard College. "It enables her to confirm certain people's expectations of femininity, and at the same time, she then talks about that as a women's issue that is crucially important for women all across the United States."
Another thing is her style. Even when ticking off the nuances of different policy alternatives, her voice never veers far from bubbly. She is likable, approachable, and relatable.
"One of the things that I think is unique to the way Senator Gillibrand is approaching this is her call to action for others to take this up. Not to be the lone champion," summed up Kiki McLean. "She wants women to invest themselves in this process."
This isn't about me, it's about you, goes the argument. Power player, with femininity intact.
And as her political organization shows, Gillibrand sees an opportunity. 
"I want to try to help get more women engaged so that their voices can be better heard in electoral politics," Gillibrand explained last month. "I believe that enough women aren't off the sidelines fight for the things they care about. And it's not just about reproductive health and about women's rights. It's about every issue women care about."
She readily admits there's room to lead here, where the momentum of Democratic women's groups has sputtered.
"We have to take responsibility as a generation to do something about this, because the women's movement is stalled. They are not moving forward," Gillibrand said on MSNBC in May. "We are literally fighting the same battles as our mothers and our grandmothers. And if we don't wake up and we don't start engaging, we will not like what we find."
Gillibrand's website aimed to women — www.offthesidelines.org — a national effort that's paid for and raises money for her Senate reelection campaign. With a soft blue background, it features videos of women — Gillibrand and others — talking about what motivated them to get more involved in their communities.
There are instructions for hosting a house party or writing letters to the editor or registering to vote. And as the Buffalo News has pointed out, its benign-sounding outreach efforts commingles with raising cold, hard campaign cash. That, of course, will pay for her own campaign and pad her ability to play kingmaker with other candidates.
And her approach is also rhetorical. Gillibrand's increasingly making the case that narrowly defining women's interests hurts the debate and policy results.
"If we change this debate, we can engage more women," Gillibrand said in her office. "Because it's about every issue, every issue that affects women's lives are women's issues."
For Janet Jakobsen, that demonstrates a confidence to step out of ahead of opinion polls.
"This willingness to take on women's issues when, the types of things she's talking about—which are good quality day care, women's health care – these are not things that are in this moment, popular, but she's making them important," Jakobsen said. "That matters."
Her Rise
It wasn't always like this.
When then-New York Governor David Paterson plucked Gillibrand from her upstate Congressional district to fill Hillary Clinton's Senate seat, she was met with suspicion and derision, particularly among old-guard feminist activists. Manhattan Rep. Carolyn Maloney blasted Gillibrand's position on guns — and her character — and laid plans to challenge Gillibrand for the seat.
"She's, to my knowledge, never passed anything," Maloney said at the time. "She spends all her time fund-raising. I spend my time doing things."
Gillibrand was just beginning her second term in Congress, and her profile as an NRA-endorsed upstater did not sit well with some in New York's political feminist political establishment.  
Maloney set her sights on winning the seat in the next election. At time time, the New York Observer cast it as "Hillary Clinton feminist" versus "the working-mom, post-Steinem-generation feminist." For some Maloney supporters, that translated to the earned achievement versus an inherited prize.
"I think there was a feeling that when women politicians become overly associated with women's issues, particularly in Maloney's generation, that they have to pay a political price for that," said Barnard's Janet Jakobsen. "Because Maloney had been willing to pay that price, there was a strong feeling that she should get support in this moment."
The golden ring in that election was the endorsement of Emily's List, the Washington lobbying group that recruits and fundraises for women candidates who support abortion rights. Supporters of Maloney, a stalwart voice for abortion rights in Congress, were pushing back on the Gillibrand supporters who wanted Maloney to stand down, since both were pro-choice.
"This is the same stupid argument they used to try to stop my mother from running in the Democratic primary in 1976 against Daniel Patrick Moynihan," Liz Abzug, Bella's daughter, zinged in a letter.
Emily's List stuck with Gillibrand, and from that point on, Gillibrand had the seat locked up. Her primary challenge from Gail Goode, with her criticism of New York's "unelected junior Senator," went nowhere in 2010.
A glossy Vogue spread followed during the general election campaign, which touted both her 40-pound weight loss and "heavyweight" potential in Washington. On Election Day, she trounced Republican Joseph DioGuardi in the general by a nearly 30-point margin.
In the U.S. Senate, meanwhile, Gillibrand's been polishing her credibility on liberal social issues. In a stunning turnaround, she quickly fell out of favor with the NRA and secured the 2010 endorsement of the pro-gun control Brady Campaign against Gun Violence. ("Kirsten Gillibrand either lied to her constituents in the 20th district, or she's lying to all New Yorkers today. Either way, the operative word is 'lie,'" an NRA spokesman said last fall.)
Her reelection last November was followed in quick succession by out-front leadership on the 9/11 Health bill and repealing Don't Ask, Don't Tell, legislative victories that earned her lavish praise from Jon Stewart. "You've been there two years," Stewart shrieked when she appeared on The Daily Show. "Gillibrand, what's your game?" 
"I think she has really found her strength," said Stephanie Schriock, president of Emily's List, which has supported and helped groom Gillibrand since before her first House run in 2006.
"I see her, because she had both those experiences, representing a fairly conservative district and now representing a very diverse state with her old district and New York City, as a really wonderful voice for all of these issues, and can speak to a variety of backgrounds of people," she said.
She's also emulated Hillary Clinton's Senate tactics as she's made built her reputation. Gillibrand has focused on bipartisan legislative accomplishments, most prominently with the repeal of Don't Ask, Don't Tell, and the 9/11 First Responders Bill.
Gillibrand credits her women colleagues on the other side of the aisle with helping usher in much of that bipartisan cooperation. It's another reason she laments the dropping number of women serving in Congress. "I've always been able to reach to women Republicans, because they want to come to the table," she said. "They want to consensus build."
And building a record of concrete policy achievements, in the footsteps of Hillary Clinton before her and in the shadow of more senior Senator Chuck Schumer, has helped cement her reputation as an effective legislator.
"That move, where focusing on specific legislative victories rather than simply on national press profile for example, is something that is crucial for her emerging leadership," said Jakobsen.
And it's all but eliminated those old tensions from by New York's established feminist players.  
Gloria Steinem herself called Gillibrand "our senator and our future" at the May dinner honoring Gillibrand for her defense of abortion rights.
"Like Bella Abzug and Shirley Chisolm, she doesn't hold her finger to the wind. She is the wind," Steinem said.
Her Game
Gillibrand came up in politics as a fundraiser, and she gets the mechanics of accumulating power.
She's lent her name and behind-the-scenes advice to other women candidates, in and out of New York. She was an early champion of Kathy Hochul, the Democrat who scored the surprise win in the May special election in New York's 26th House District. She helped to recruit and supported Terri Sewell, the only African American woman ever elected to Congress from Alabama. Gillibrand even got involved in an election to support a woman candidate for Suffolk County legislature.
Publicly, Gillibrand talks about the decline in representation of women in Congress — a bipartisan appeal. But activated women have also historically given Democrats the edge in presidential elections. For example, in 2008, women made up 53 percent of voters, and they voted for Obama over McCain by a 13 point margin, according to exit polls.
Democrats lost their edge among women voters in 2010 — when they split 49-49 between Republicans and Democrats in House races in what ABC News called "the best for Republicans among women in national House vote in exit polls since 1982."
"That wasn't about women's issues," summed up former George W. Bush Press Secretary Dana Perino said. "That was about jobs."
So maybe the level of engaged women is not Washington's problem, but the Left's problem. Conservatives have already shed the narrow framing of women's issues that are a legacy of the feminist movement, Perino said.
"Typically, Republican women and conservative women don't just say that this is a women's issue. They just talk about helping all people."
At the same time, Perino lauds Gillibrand's efforts to get more women engaged ("I absolutely respect her. I think she's fantastic."). She dismissed the suggestion that Gillibrand has partisan aims behind her efforts as cynical.
"I think there's more that everyone can do," Perino said. "I don't think anyone's necessarily winning a message war when it comes to women."
The Democratic Party and its allies, however, are not being shy about their plans to make a direct appeal to women voters.
In 2012, Democrats are aiming to make up that ground. Democratic National Committee head Rep. Debbie Wasserman Schultz (D-FL), a close friend and ally of Gillibrand's, has vowed there "will be an unprecedented, robust aggressive presidential campaign and the outreach to women."
And after the House budget votes, traditional Democratic powerhouses like Emily's List are preparing for a big fight. 
"We are in an interesting, critical time, in crisis, but it's also a huge opportunity to engage and educate women that their voices have to be heard, if they stand up, get off the sidelines, whether by voting, running for office, time for women of all generations to get involved in politics," said Emily's List's Schriock . 
The echo, then, between Gillibrand's personal effort, and that of her historic political patrons, appears not to be coincidental. And with her ever-rising profile and strident-while-palatable appeal, it's helpful positioning and good politics.
"We go to Washington and we do our absolute best, but all the other people are louder. They're louder about issues they care about. Their needs are being met first. They lobby more. They lobby more frequently, and they lobby more effectively. We have to change that," Gillibrand told the crowd of abortion rights supporters in New York in May.
"Frankly, it is up to us, and if you think somebody else is going to fight this for us, forget it."