Niche Market | Natural History Emporium
New York is a city of specialists from foodies to academics, laborers to shopkeepers. Every Wednesday, Niche Market will take a peek inside a different specialty store and showcase the city's purists who have made an art out of selling one commodity. Slideshow below.

Maxilla and Mandible
451 Columbus Avenue
New York NY, 10024
Troy Jones' eyes swooped across the fossils, dinosaur bones, shells, framed insects and skulls with the hunger and tangible excitement of a child. This high-rise window washer visiting from Seattle peered at tiny vials containing a thin, twisted silver material resting in a sandbox.
"What are those?" Jones asked Mike Douggan, the manager of Maxilla and Mandible, who is someone who takes joy in answering such questions.
"That's lightening!" Douggan said energetically. He then presented a verbal definition of fulgurites, the glass-like formation formed when lightening hits sand, in this case, in the Moroccan Sahara desert.
At Maxilla and Mandible (which refers to upper and lower jawbones), a curio cabinet selling scientific specimens culled from all over the world, people walk in and just stare with wonder. Then they ask questions. Children, in particular, return over and over again.
"Children are natural born scientists. Their predisposition towards science is apparent even before language," Douggan theorized.  "But when adults are in the store, it brings out the child in you, the child scientist, and you become curious, and fascinated as you look around you."
A network of buyers and paleontologists supply the shop with dinosaur bones dug up in Wyoming, millions of years old fossils from Bali and Indochina and shells from the world's coasts. Originally, it was strictly bones. The owner, Henry Galiano, who worked as a paleontologist at the American Museum of Natural History (located around the corner) decided to open Maxilla and Mandible in 1984. He calls the store a "Victorian Revival," referring to the 19th century hobby of creating cabinets of curiosities.
Douggan, who is not a scientist but an artist and comedian (rapidly apparent in conversation), curates the items into artistic displays. Unique objects fill every inch of wall and shelf space — even the ceiling is decked with posters. There's an entomology section, an anthropological section of hominid skulls (reproductions) and vintage taxidermy grazing the ceiling. Baroque music plays gently in the background. 
"It's the best contemplative music," Douggan said. "So you can focus on all these amazing things that you're looking at."
Prices range widely: three shark teeth for a dollar or $850 for a giraffe skull. 
Trilobite fossils (extinct arthropods) are the oldest in the store — more than 250-million-years old. Those are the first creatures in the fossil record to have vision, Douggan explained, while resting a preserved trilobite on his palm. He paused to ponder why people are fascinated by the shop's remnants of natural history.
"I just think it cultivates your brain, it awakens your senses. It's the stuff of life, the miracle of the engineering that you see in nature." 
Who are your customers?
We do get a lot of professional scientists and artists and very esoteric, knowledgeable people, from day one back in 1984. But we also just get regular people who are either visiting the Museum of Natural History around the corner. They're in the neighborhood, they stop in, and it brings out the scientist in people. Because most of us love science, and when we were children we were great scientists. And when we get kids in the store, children are natural born scientists. They're predisposition towards science is apparent even before language, if you really look at the kid... And it's scientific in nature, the specimens are technically science specimens, but most of what you're looking at reads like art.
Dentists like to come into the store because the name is Maxilla and Mandible and that's their stock and trade, so I find a lot of dentists will come in very delighted just at the name of the store. And then people walking by come in and they're converted. They'll say, 'I love this,' and they didn't realize they were going to leave with a 55 million-year-old fish fossil but they do.
What's the most valuable item in the store?
One of the rarest things are these sea lilies. It's a distant relative of starfish. It's a crinoid. They go all the way back nearly to the beginning of the fossil record. ... It's believed that these creatures, after they died, fell apart very quickly, so to have one preserved is quite rare and they usually do fetch a decent price. They're absolutely beautiful. And the calcified ossicles that you see that make up this look like a flower but it's an animal. Those compose most of the world's limestone. Like the white cliffs of Dover, or the substantial limestone layer that you see in Germany and France — actually the limestone that makes their wine so interesting, these are dead crinoids, dead calcarious material from deceased creatures. But I digress. The sea lily, I would say is one of the rarest and higher priced. 
Why do you think people like bones and fossils?
It's very popular these days to have things that are strange or macabre. It's very fashionable — whether its Lady Gaga or Gothic music. Maxilla and Mandible was doing this way before any of that. As a company, our primary focus is scientific. We have a sense of humor about it, but I just think that it awakens, it cultivates your brain. It wakens your sense. It's the stuff of life. The miracle of the engineering that you see in nature when you examine bones, or malacology. The science of shells, when you stop like a little kid will do at the beach to actually look at a sea shell and just realize what takes place. That thing was built by a little small animal that has a very small brain — if it even has a brain. Sometimes a mollusk is just a nerve ending with eyes, and it can build this beautifully engineered shell and has been doing it for millions of years, this is the kind of thing that fascinates people. Manhattan is a very cultured and intelligent place, and I think we fit right in, it just delights people to see this stuff and to handle it and buy it.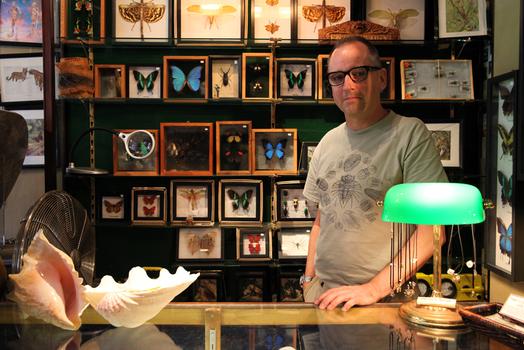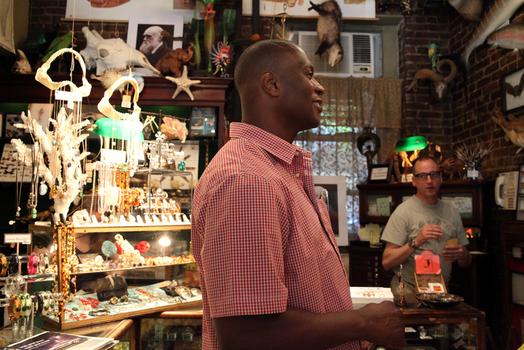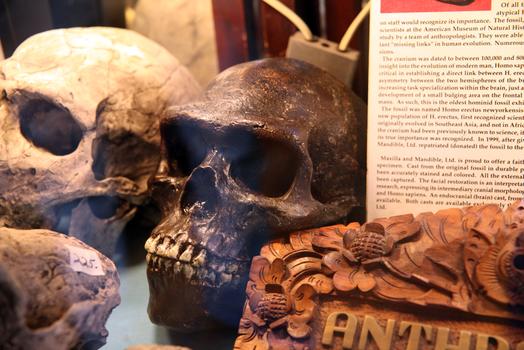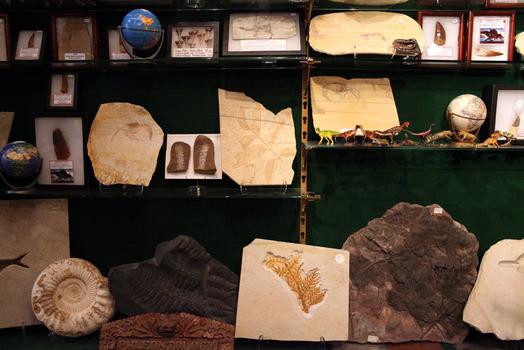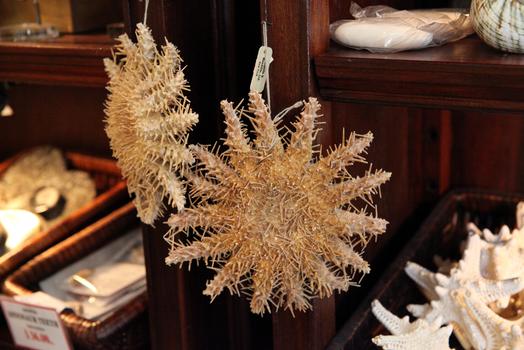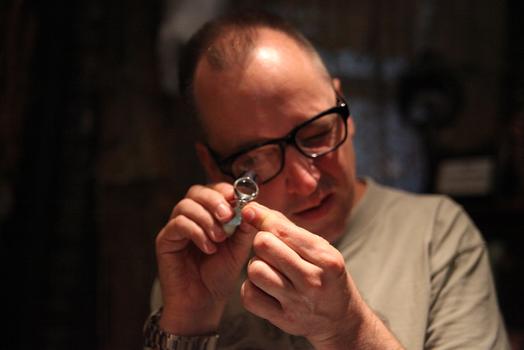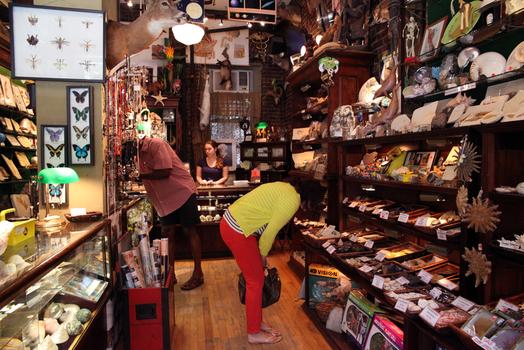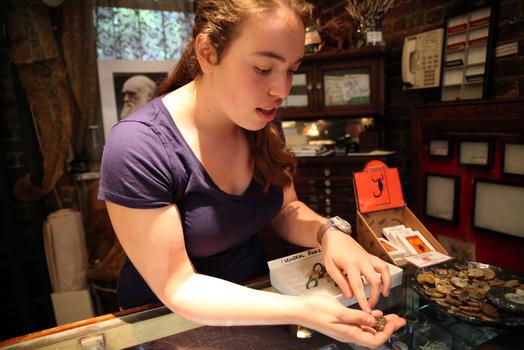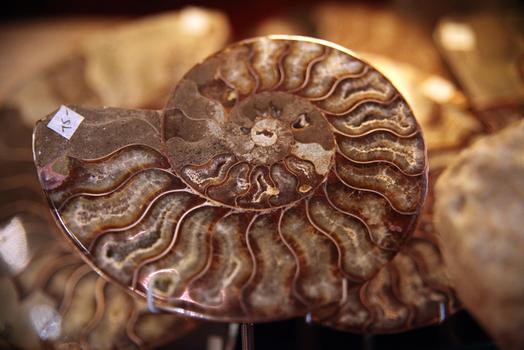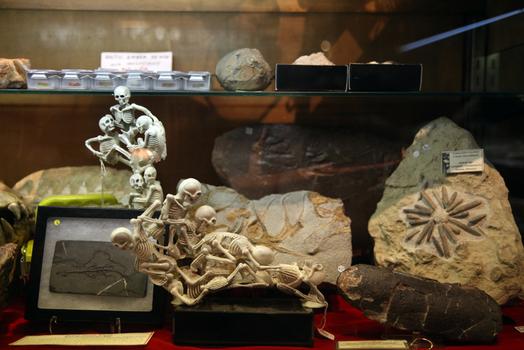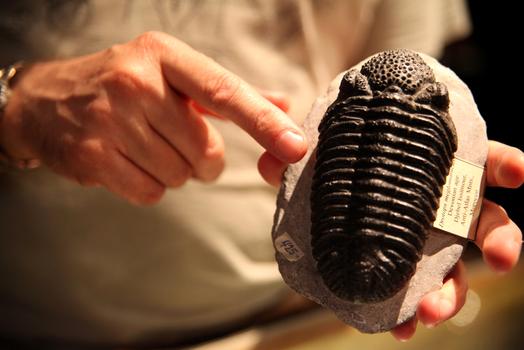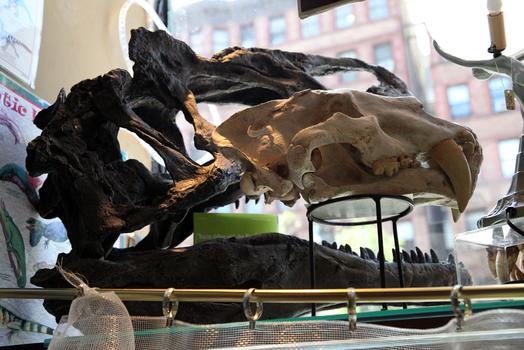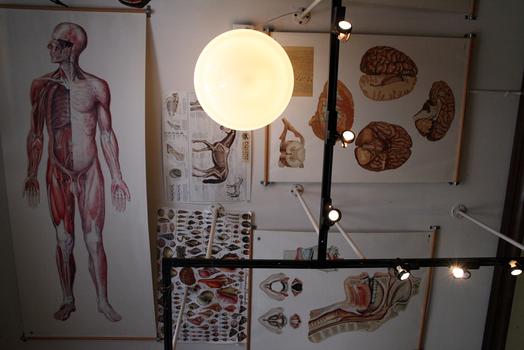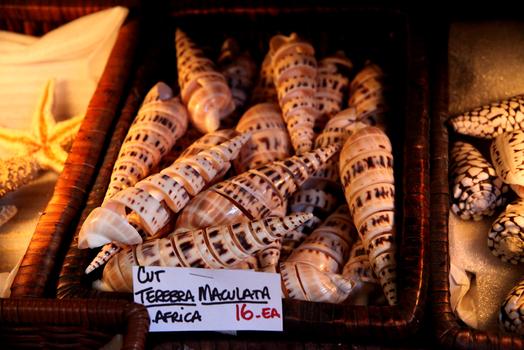 of