Stucknation: Xanadu Gets Legislative Boost From NJ Leaders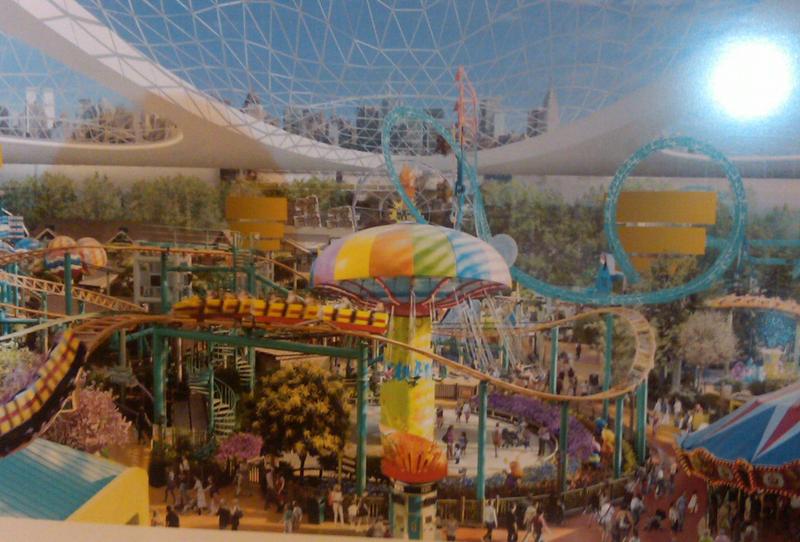 Earlier this year, New Jersey Governor Chris Christie pledged to the Triple Five Company – owner and developer of the Mall of America - $200 million dollars in sales tax backed revenue bonds as an incentive to get the world-renowned developer to commit $1.3 billion to complete and re- brand the moribund Xanadu shopping complex project as American Dream Meadowlands. Christie needed the Democratically controlled legislature to follow through with enabling legislation. And enable they did.
Between the bitter debate over the rollback of NJ's public employee benefits and the partisan kabuki surrounding the $30 billion budget, it was easy to miss the passage of the Xanadu redo bill. Bill S2972 was priced to move, and move it did with tallies of 36-0 in the Senate and 71-6 in the Assembly.
Legislators upped the ante, and now Xanadu's rescuers will be able to claim as much as $350 million in state help. But that is not all that the bill does. Democrats used the opportunity to radically alter the state's Urban Transit Hub Tax Credit Act, which offers significant tax credits to developers undertaking residential construction near mass-transit in urban centres like Camden and Newark.
Under the current program, developers had to commit to set aside 20 percent of developments for affordable housing units for low and moderate income households. In return, they would get a state tax credit equivalent to 20 percent of the cost of their investment.
Hanging onto the Weathy
Under the new legislation, developers are now going to be able to get a 35 percent tax credit for their construction costs, and they will no longer be required to provide affordable housing.
The Assembly sponsor of the bill, Democratic Assemblyman Albert Coutinho, told the Star-Ledger that it was essential to get stalled projects in Newark, Camden and Jersey City moving. Coutinho did not return a phone call to his legislative offices. His Democratic colleague, Assemblyman John Mckeon, sees the state support for Xanadu and the re-casting of the Urban Transit Hub Tax Credit as critical to spurring economic development in the state.
McKeon says he is sympathetic with Governor Christie's desire to turn the two-million-square-foot Xanadu eyesore into something the state can be proud of.
"The governor inherited a colossus there, said McKeon. "It was ill-conceived from the beginning, should have never gone forward in the format that it did." But McKeon said the options were limitied. "It is not very practical to just shutter it as its been, or demolish it and just say 'nevermind.'" For McKeon, the linkage between Xanadu and other stalled projects was obvious.
"At least with the Xanadu bill, we were able to take a couple of shovel-ready projects - in particular those in cities like Jersey City and Newark'" and get them moving. He said by backing off the affordability requirements, a key "impediment to moving forward with those projects" had been removed. "We get people back to work, " reasoned McKeon.
Odd Bedfellows Share Opposition
Assemblyman Michael Carroll, a Morris County republican, was one of the only six votes to oppose the bill, which got near unanimous legislative support. For him the Xanadu bailout was wrong on principle.
"I don't believe that the government ought to be bestowing special favors on selected supplicants," said Carrol. "If the private developers can't make a go of it, tear it down - it's hideously ugly anyway. But under no circumstances should competitive advantages be bestowed upon one politically connected development. Instead of picking and choosing particular folks to get tax breaks, give everyone a tax cut and let the market determine which developments will thrive, and which will die."
Interestingly enough, on this issue the NJ Sierra Club Chapter Director Jeff Tittel agreed with Assemblyman Carroll.
Tittel, a longtime critic of the project, points out that Xanadu is built on state land and has already received hundreds of millions in state subsidy and infrastructure investment. "This ugly building is now a dirty deal for the taxpayers and it is kind of like the Vietnam of malls," said Tittel. "We just keep getting sucked in deeper and deeper to no end and into a bigger calamity."
He is also deadset against the changes to the Urban Transit Hub program. "This transit hub bill is a direct tax credit out of the corporate business tax - up to $1.5 billion, and that is a 35 percent tax credit now. So you've got 35 percent of your project in cash out of the taxpayers of New Jersey."
Tittel says the state economic development subsidies shift the burden for paying for infrastructure and the impact of development away from developers and onto taxpayers. "That tax revenue they get to keep actually hurts the rest of us, because we are still going to have to pick up the trash," he said. "We are still going to have to widen roads. We are going to have to find a way to get more mass transit there and we are going to have to pay for the police and fire and everything else that that site is going to need."
Few Good Options
In an interview with WNYC, Gov. Christie distanced himself from the initial decision to build Xanadu but said spending "$100 million dollars" to tear it down was not an option. He insisted that taxpayers would come out ahead in the deal he has cut with the Triple Five developers to deliver American Dream Meadowland before the 2014 Superbowl arrives at the new Meadowlands Stadium.
"The state is going to become a partner - a small partner in the project, but a partner nonetheless - and we are going to get our money back once the project is successful," he pledged.
As of Friday afternoon, Gov. Christie's press operation did not know if he intended to sign the bill.
Adam Gordon is a staff attorney with the Fair Share Housing Center, a statewide non-profit that pushes to increase the state's affordable housing stock.
He said affordable housing advocates did not see bill S 2972 coming. Gordon called the substantial changes to the Urban Transit Hub tax credit, which ended the link between providing affordable housing and the lucrative tax credit, "a last minute manuever"
"Working families throughout New Jersey – middle-class families - are going to be paying tax dollars to help support the development of luxury condos in Hoboken and Jersey City. In fact, $150 million dollars are available from the state for these purposes," said Gordon.
Gordon says the bill had brought both parties together like nothing else this session.
"This was a bi-partisan effort to take taxpayer money and give it to politically connected companies that are building condominiums. In some areas there is bi-partisan cooperation in New Jersey."
Attorney Gordon says Fair Share may challenge the bill in court, assuming it gets signed by the governor.
A Sinking Feeling?
While Christie mulls the Xanadu redo bill, the Triple Five Company is fending off press reports the vacant mall is "slowly sinking" in the Meadowlands.
Triple Five spokesperson Maureen Bausch says the fact the shell of Xanadu has been vacant for so long without proper utilities and climate control has taken an expensive toll on elevators and escalators throughout the sprawling complex. " No one is to blame or anything. Its just the result of the building not being opened and operational when it was scheduled to do so," she said.
But she says the project is not sinking and the structure is sound. Instead, she said the parking lot surface is settling "because it is built on wetlands, the way it was constructed," said Bausch. "You will have to replace the asphalt, because the land does continue to sink for awhile. "I think that is true of the Meadowlands.
"I think that is true of the Meadowlands. It isn't the upper structure at all. It is just the surface of the lot that tends to sink and you have to go back and put on asphalt every few years."
The State: The Banker of Last Resort?
While this bill can be cast as a giveaway to private developers, its actually also a sign of quiet desperation on the part of state lawmakers who experience the pain of idle workers and regularly encounter stalled work sites in their districts.
At least the local Jersey ward healers are not in the same kind of denial as the Obama White House. NJ leaders are resorting to tax giveaway financing because they've become the banker of last resort.
For President Obama and Treasury Secretary Tim Geitner, the kind of prolonged suffering on Main Street is anecdotal and abstract. They do staged events, ship in some real people, while their "recovery" shrivels on the vine. America is Xanadu.
So just where is the private-sector capital to complete these projects? Why isn't Main Street USA enticing to the very banks it bailed a few years back?
That capital is abroad making its owners fabulously rich while keeping their U.S. tax burden as light as legally possible. Main Street USA just can't give them the rate of return they can get in other countries.
Nothing personal. Its just business. Happy Independence Day.