Summer Shakespeare: Coming to a Subway Car, Park or Parking Lot Near You
Summer in New York City can smell like garbage and barbecues, but it sounds like the 17th century. "Hither" and "thither," the Bard's plays dominate the city's subway cars, parking lots and parks while air conditioning units are working overtime.
The tradition of free outdoor performances of Shakespeare in New York City dates back to the late 1950's, according to Columbia University Shakespeare professor Jim Shapiro, and exists in large part thanks to the efforts Joseph Papp, founder of the Public Theater.
"This guy just hammered away and broke down resistance to this and succeeded," said Shapiro.
And so, the Public Theater's Shakespeare in the Park was born. Each year, the lines for free tickets to the often star-studded presentations of Shakespeare snake from the Delacorte Theater in Central Park neatly down the park's concrete paths. According to Shapiro, waiting for tickets over a picnic lunch before catching a show in the evening is a quintessential New York experience.
"We've done it ever since the '60s," said Norm Gordon, who sat at the front of the senior's line on Tuesday to watch this year's production of "Measure for Measure." Gordon's Mets cap shaded his eyes while he killed time watching a family of birds nesting above the theater's ticket counter. "Now that we're over 65 we have a special place to wait, so it's a little easier. It's a long wait, but it's worth it."
Others waiting in line languorously stretched out and enjoyed a game of Uno or a kung fu lesson. The cachê of Shakespeare in the Park is, for many, worth braving hours in line or even missing a day of work.
"It's not really summer to me without Shakespeare in the Park," said Isake Smith, who arrived before 5 A.M. on Tuesday to claim her pair of tickets. It was her first time being first in line in eight consecutive years of attending.
"Sometimes you get here at 5 A.M. and there are people stretched around the corner," she said. "Sometimes I get here at 9 A.M. and I can still get tickets, so it really depends."
For all the snacking and relaxation that happens in the ticket line, Columbia Professor Jim
Shapiro said that producing Shakespeare outdoors is a huge challenge.
"Staging Shakespeare in Central Park is like staging a Beatles concert in Shea Stadium," he said. "Energy, sound and tension all drift away over the great field and it's a large stage."
In addition, he said, the actors work double-time to conceal the venue's biggest menace.
"I don't know whether the mosquitoes have something against Shakespeare, but they are flying into the eyes, noses and mouths of these actors," Shapiro said. "It is heroic, it is unsung and it does not happen on Broadway."
Smaller companies with fewer or no marquee names also spend their summer months cashing in on the popularity of Shakespeare in the Park by staging productions across the five boroughs.
"It gives younger actors a chance to strut their stuff," he said. "You can do Shakespeare outdoors without a home, without renting the space. It brings costs down considerably."
Shapiro also said there was a historical precedent for Shakespeare in the summer. The playwright's own theater company fought hard to get an indoor theater, finally succeeding in 1608 with its Black Friar's theater. But when the summer rolled around, the Black Friar's closed.
"They performed at the Globe [Theater] outside," he said. "Even back then, people liked Shakespeare outdoors in the summer." 
Not in the mood to wait in line? Here are some of this year's other Shakespeare offerings in the city.
"Henry V" in St. Nicholas Park The Manhattan Shakespeare Project isn't leaving the gender-bending to the Bard. With this all-female production of "Henry V," the company will likely live up to its tagline: "We're cute. We're talented. We play with swords." In Harlem, from July 6th through 8th at 6 P.M. (If Harlem's not convenient, the troupe will perform in Brooklyn's Sunset Park on July 14th and 15th at 7 P.M.)
 "Henry V" in Battery Park and Governor's Island Being on a boat is pretty fantastic in the summer, but pretending it's the English Channel and getting some marine entertainment makes this New York Classical Theater production of "Henry V" extra exciting. Performances leave from the aptly-named Castle Clinton in Battery Park and head to Governor's Island for the exciting Battle of Agincourt on July 6, 8-10, 12, 13, 15, 18-21 and 24 at 7 P.M.
"Much Ado About Nothing" in Central Park If Shakespeare in the Park's offerings don't pique your interest, the Boomerang theater company will have performances just a few minutes' walk from the Delacorte Theater. Near the 69th Street entrance, the company will give one of Shakespeare's best-loved plays the Off-Off Broadway treatment on July 9th, 10th, 16th and 17th at 2 P.M. In Manhattan.
"The Comedy of Errors" in the Municipal Parking Lot at Broome and Ludlow It's the 20th season of the city's most cleverly-named celebration of the Bard. "Shakespeare in the Park(ing Lot)" puts on "The Comedy of Errors" in a modern-day pizzeria in Little Italy, featuring actors clad in loud printed shirts and the occasional bowler hat. If it sounds like the height of hipster schtick, just remember that the tradition is older than many of the legions parked in the coffee shops of Williamsburg. Plus, a little youthful enthusiasm never hurt a theatrical tradition. Thursdays through Saturdays at 8 P.M. from July 7th through 23rd. In Manhattan.
Scenes from "Macbeth," "Romeo and Juliet" and "King Lear" on the L, R, F, G, J, M and Z trains Paul Marino and Fred Jones' take on free summer Shakespeare is a little more, uh, underground. The two actors take their audiences captive by diving into scenes between announcements to "stand clear of the closing doors, please." Their performance schedule is left to chance, but don't be alarmed if you catch some high drama of the classical ilk while straphanging Thursday and Friday evenings and Saturdays and Sundays before 2 P.M.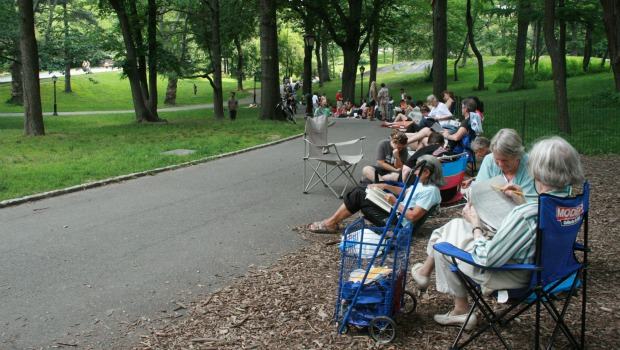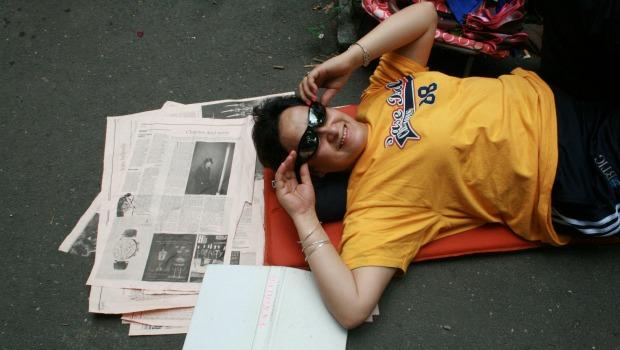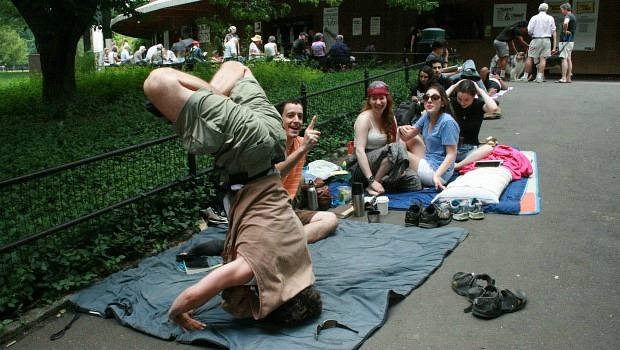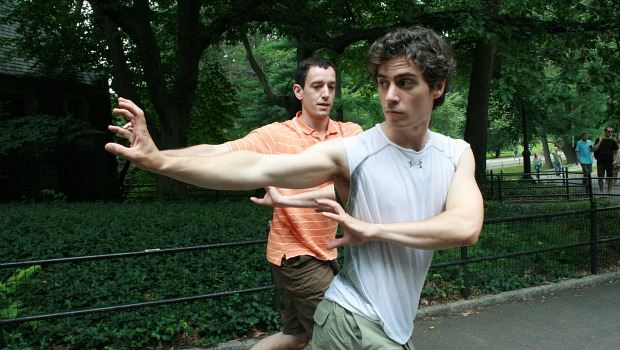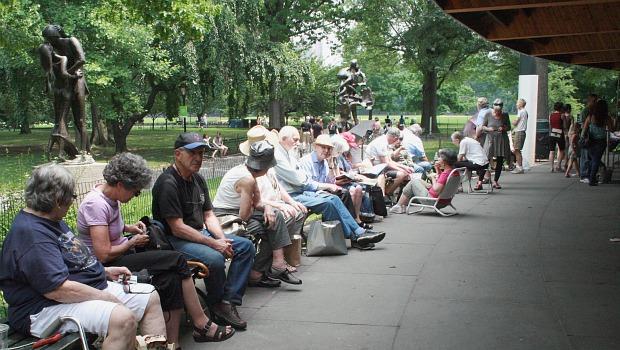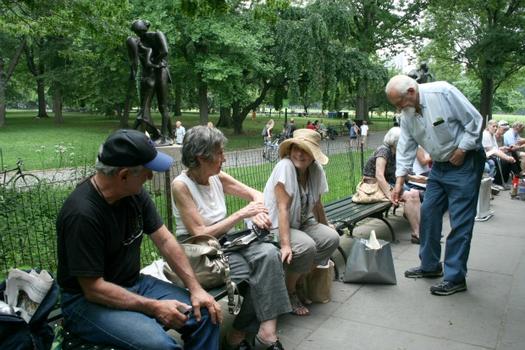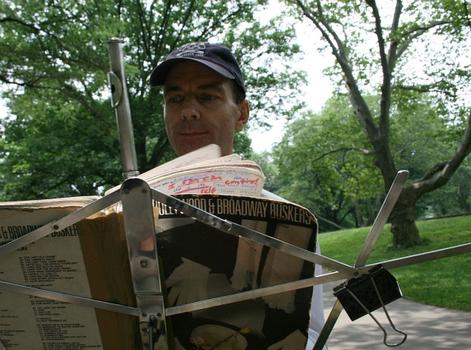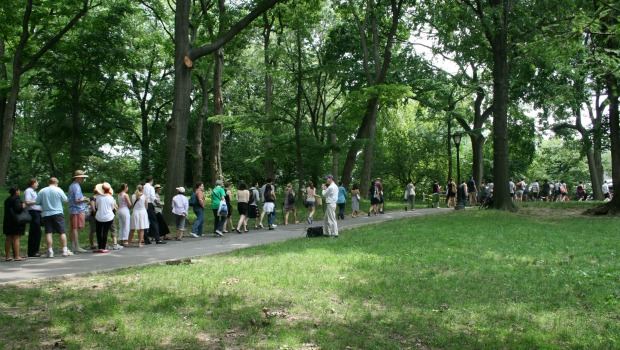 of