New York is a city of specialists from foodies to academics, laborers to shopkeepers. Every Wednesday, Niche Market will take a peek inside a different specialty store and showcase the city's purists who have made an art out of selling one commodity.
J.J. Hat Center
310 Fifth Avenue
New York, NY 10001
Rod Springer, 72, has been working at J.J. Hat Center in midtown for 22 years and has no plans to change that. "You know why I love it?" he said, "because I meet people."
It's clear that Springer has a way with the customers. One of his regulars, Marcus Kiersted, walked in on a recent rainy afternoon. They greeted each other with a loud 'Hello!' and then got right down to business trying on caps. When Kiersted had one he liked, Springer sent him to the three-way mirror for a three-dimensional look at the hat.
Springer's tenure at J.J. Hat Center even outlasts that of shop owner, Ida O'Toole. She's been running the place since the late 1990s and said many people on the sales team precede her. According to O'Toole, business has remained strong over the years because of the relationships her salesmen have with customers.
O'Toole said a good hat should last a lifetime if you take good care of it. These days, fedoras are a pretty popular hat and though styles have changed over the years, business has been fairly steady. O'Toole said, in a slow week, they usually sell at least 1,000 hats.
The hat center first opened in 1911 — 100 years ago this year. O'Toole said there may be some time to celebrate their century of business in the fall, but these days, she and her team are pretty busy just selling hats.
One of your hat maintenance tools is this steamer. How does it work?
Hats will often get steamed in the winter time. They get steamed so the dust will come off the hats, and it makes the hats look brand new. After they sit on the shelf for a while, sometimes dust will settle on them so it actually lifts the fibers and gets everything off. In the summer time, we'll do it to. Let's say if you have a crease in your hat, the steam will actually help un-crease it — just like you would steam a shirt or anything else. But the steam that comes out of that steamer is much, much hotter, and it comes out in a precision sort of cone-like shape so that it will hit exactly where you want it to hit. It's a steamer that's meant for hats.
How have hat styles changed over the years?
Back in the day, if you look at pictures — you're looking back in the '20s, '30s, '40s, '50s — everybody had a hat on their head. Every man had a hat, and you're talking about Manhattan so everybody was going off to work. It didn't matter what job you did. If you were walking the streets of New York, you had a suit on, you had a hat on your head, that's just the way it was. The 60's changed that. And what we're seeing now is young men, very young men, are coming back and they are the ones that are really fueling hat sales. They love the hats, they see them as giving themselves a different personality. I guess it's sort of like shoes for women. Men love hats.
How much do hats cost?
I would not say we are inexpensive. I would say some of the hats here are quite expensive but we do give you a selection, so you can go from a $55 wool fedora all the way up to a $700 or $800 Borsalino that is coming from Italy. That's like the Prada of hats.
Where do you get your hats from?
Our hats are all authentic. Let's say if we're looking for a French beret it's going to come from France and from the premiere French beret maker. We have hats from all over the world and we still have hats made in the USA that we're very proud of. There are very few hats left made in the United States.
When people walk in the store, can you tell what kind of hat they're going to want?
I would say that now almost everyone in here can do it. You can pretty much pick out what hat the person is going to take. You can envision it on their head before they can and asking them a few simple questions — what are they going to wear it for? What color do they like? This and that — you can pretty much tell what kind of hat they're going to pick. Younger men will come in here because they've seen somebody else in a hat, and I always say to them, 'Who did you see? What did they look like? What's the look you want to look like?' If that's the old 50's Frank Sinatra look, that's easy. That's simple. There's a few hats that look like that. If you're looking for more of a gangster-y look, you're going to pull out a bigger brim for them, a higher crown.
How do you fit someone for a hat?
You can measure their head, take a tape measure and you go right around their head, above their eye brows, above their ears where the hat would sit. You can do it to the nearest eighth of an inch or you can do it in centimeters and then we can translate that into hat size. But the best way is to try them on because what happens is you may be one size in one manufacturer and you may be a totally different size in another. The other thing that people don't realize is if you lose weight or if you gain weight, your head size changes. So if you've lost a lot of weight, your hat may feel very big on your head, but not to worry. You bring it in and we'll make it smaller for you. If you gain weight, we'll make the hat larger. There's no reason to ever throw out a good hat.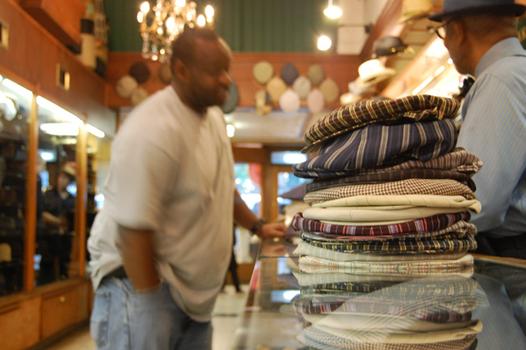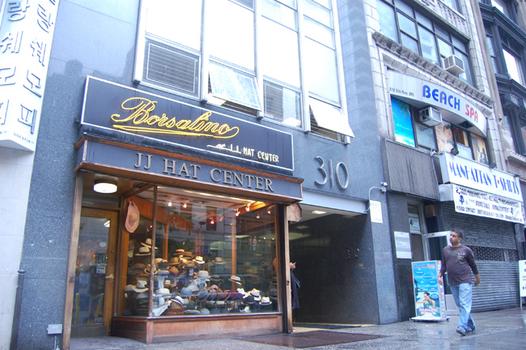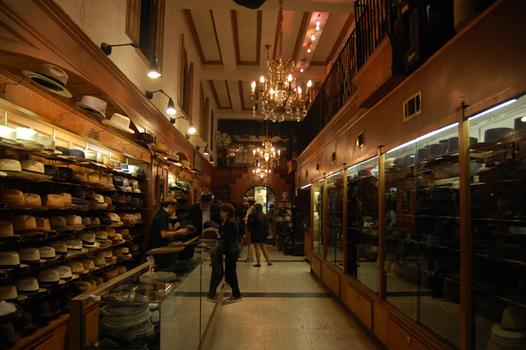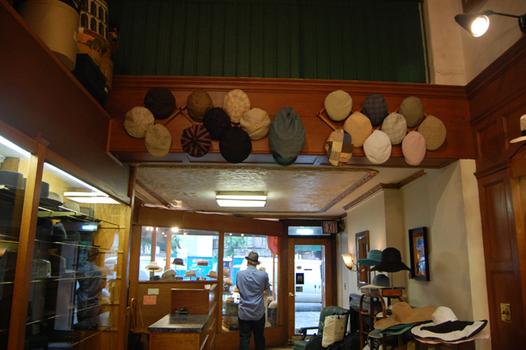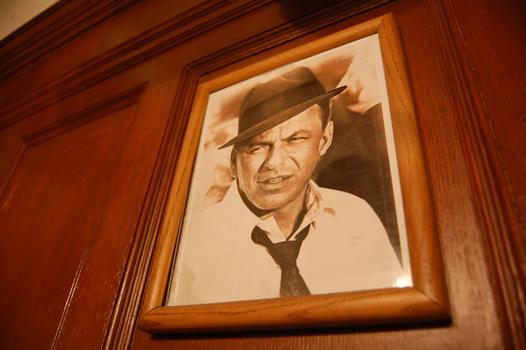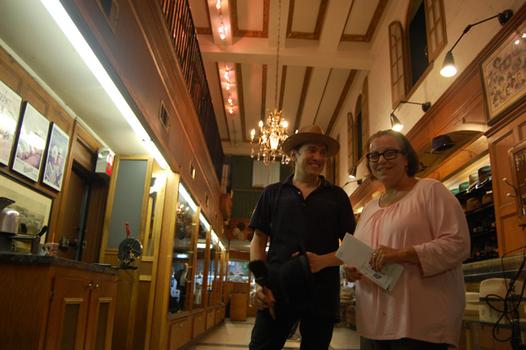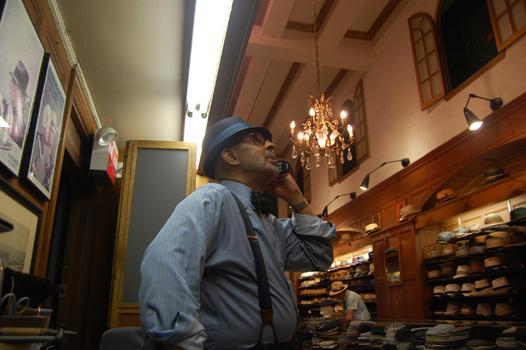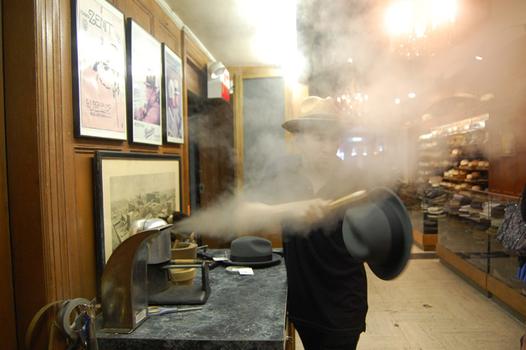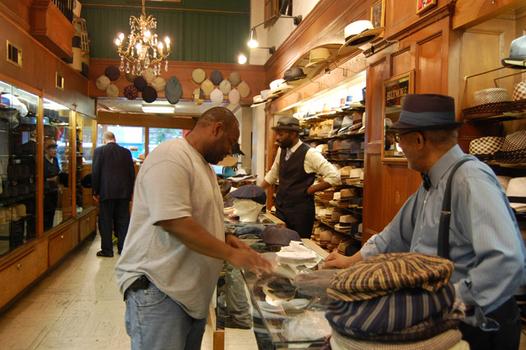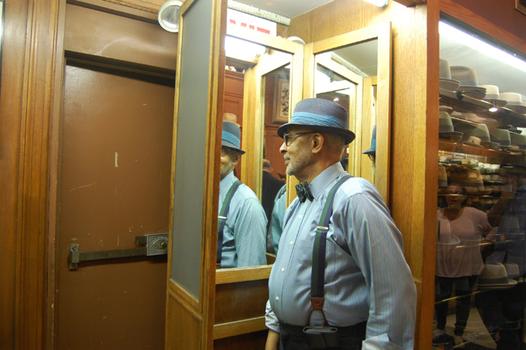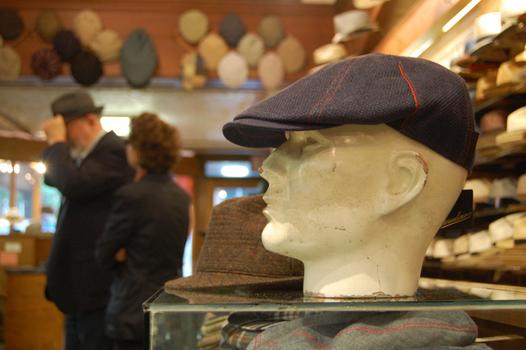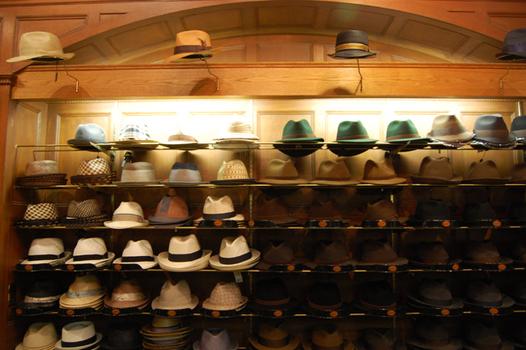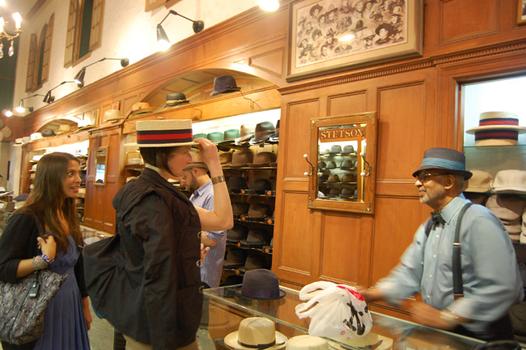 of