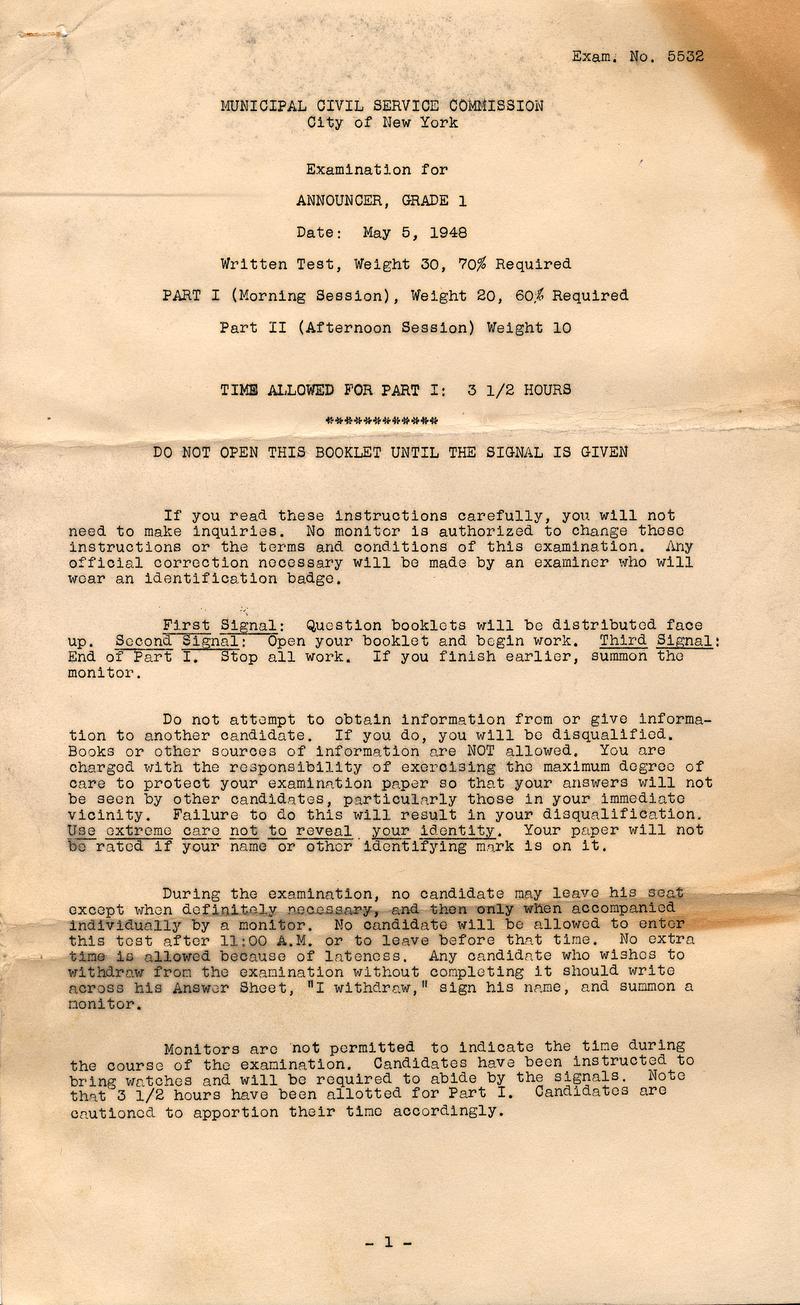 The Municipal Broadcasting System was created as an agency reporting directly to the mayor in January, 1938.
At that time, it was established that anyone applying to be (or intending to remain as) a WNYC announcer had to take a specific civil service exam. Prior to that, positions were filled through the station's parent agency, the Department of Plant and Structures, in a far less formal way. By the end of 1938, the test was in place, and there were four vacancies to fill. More than 1,000 applicants took the written portion of the test. Those passing were then eligible for the oral exam scheduled in February, 1939. But the written test was no simple matter: a six-hour ordeal in which the applicant was warned that "a WNYC announcer must be more than a voice." In fact, he must be "a walking encyclopedia." Some of the challenges included:
Can any radio program be entirely devoid of propaganda?
Silence is one of the best of all sound effects. Is this a valid statement? Why or why not?  
Write a 50-word announcement on the purpose of the Lima Conference in introduction to the radio presentation of a talk on Pan-American relations.
Explain briefly the following musical terms: oratorio, concerto, fugue, symphony, sonata, tone poem.
Write a 50-word announcement on Liszt suitable in introduction to the radio presentation of the Hungarian Rhapsody No. 2.
Write a 50-word announcement on the extent to which New York City has developed a public housing program, in introduction to a talk on housing in New York City.
State the nature of three amendments to the New York State Constitution which were approved in the recent election.
Every radio program should be an entity, which is complete in and of itself. Do you agree?
By 1948, little appears to have changed. Part I of the written test was to be taken during a three-hour-plus morning session; Part II (a copy of which is not owned by the Archives) was allotted to the afternoon session. That year there were reportedly 12 open positions between the AM and FM stations. The starting pay for a WNYC announcer ranged from $2,400 to $3,000 annually, with the opportunity for advancement to a higher classification at a yearly salary running between $3,000 and $4,200. The cover sheet for that 1948 test is pictured above and, should you dare to try it, the complete Part I of the multiple choice test can be viewed at: WNYC ANNOUNCER EXAM. Remember, you have only three-and-a-half hours, and use a No. 2  pencil! Answers will be posted with the next History Notes.
Still, the 1948 test must have been a little easier in light of a 1941 City Council committee investigation of the Municipal Civil Service Commission. The inquiry found that the commission had spent $10,000 over two years on the announcer's exam but produced only one qualified candidate for an $1,800-a-year job. 
In addition, Station Director Morris Novik testified that WNYC lost three extremely good candidates because that first test was just too difficult. Among those who moved on was Ted Cott, who brought radio dramas and the first music quiz show, Symphonic Varieties, to WNYC. He took the quiz show idea and went to CBS, where So You Think You Know Music became a hit. Tony Marvin left and started announcing for Major Bowes Amateur Hour and then The Arthur Godfrey Show. Novik noted there were candidates who passed the written test but flunked the oral exam because their voice quality was poor. 
Despite their difficulty, the test questions speak volumes about the standards and expectations the city had for WNYC, its principal voice from the late 1930s through the '40s. They also provide a window on which news events and laws were shaping the New York world view.
Special thanks to Cara McCormick.
__________________________________________________________________________________
Broadcast on WNYC Today in:
1957: Eleanor Roosevelt reads her answer to a Leningrad housewife's letter, addressed to the managing editor of the New York Times, about the paper's interview with Premiere Khrushchev.
1960: Alfredo Antonini conducts the Stadium Symphony Orchestra in an all-Puccini program at a Lewisohn Stadium concert, with performances by Lucia Albanese and Richard Tucker.