Amy Eddings' Food for Thought: Practicing the Art of Artichoking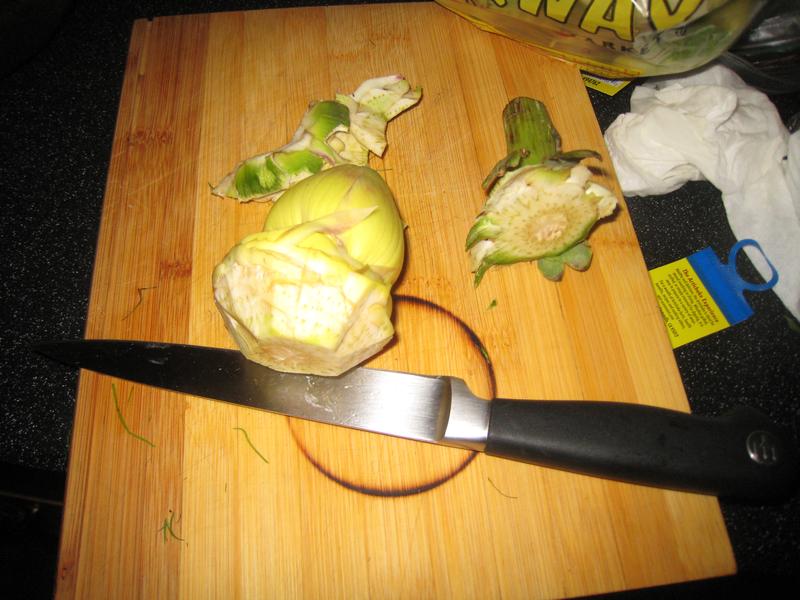 New York Times writer Melissa Clark's cheerful video on preparing artichokes gave me the courage to try them myself. But I have a long way to go before I can subdue the prickly veggies with as much aplomb as she.
I followed her process several weeks ago, using baby artichokes. It was pretty easy. No choke, and there were lots of tender little leaves. 
This morning, I used larger artichokes. They were not cudgel-sized, globe artichokes. (I'll leave those to Melissa.) But they were big enough to have chokes, and a lot more tough outer leaves. I followed her suggestions, peeling off the leaves until I got to what I thought were ones that would cook up nice and creamy. I cut off the stems, ruining one artichoke because I was too aggressive, and took out most of the heart as well. Drat.
I boiled them for about 15 minutes in water seasoned with a little salt, olive oil, a mashed clove of garlic, and a few sprigs of fresh thyme. Then I put them in a bath of really good olive oil, with more garlic cloves and salt and a little bit of lemon juice.
I didn't peel the leaves down enough. They were tough, and I ended up spitting them out into my hand. Double drat.
But the hearts were sweet and tender and totally yummy (as anything covered in olive oil is).