Host, The Leonard Lopate Show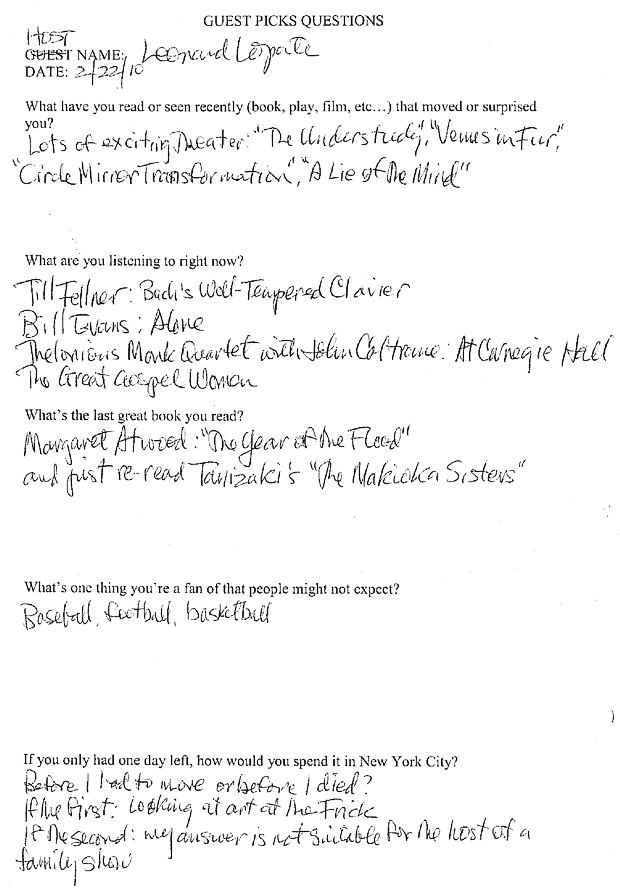 What have you read or seen this fall (book, play, film, etc…) that moved or surprised you?
Lots of exciting theater: "The Understudy," "Venus in Fur," "Circle Mirror Transformation," "A Lie of the Mind."
What are you listening to right now?
Till Fellner: Bach's Well-Tempered Clavier
Bill Evans: Alone
Thelonious Monk Quartet with John Coltrane: At Carnegie Hall
The Great Gospel Woman
What's the last great book you read?
Margaret Atwood: The Year of the Flood
And just re-read Tanizaki's The Makioka Sisters
What's one thing you're a fan of that people might not expect?
Baseball, Football, Basketball.
If you only had one day left, how would you spend it in New York City?
Before I had to move or before I died? If the first: looking at art at the Frick.
If the second: my answer is not suitable for the host of a family show.