Former Musical Director, NY Philharmonic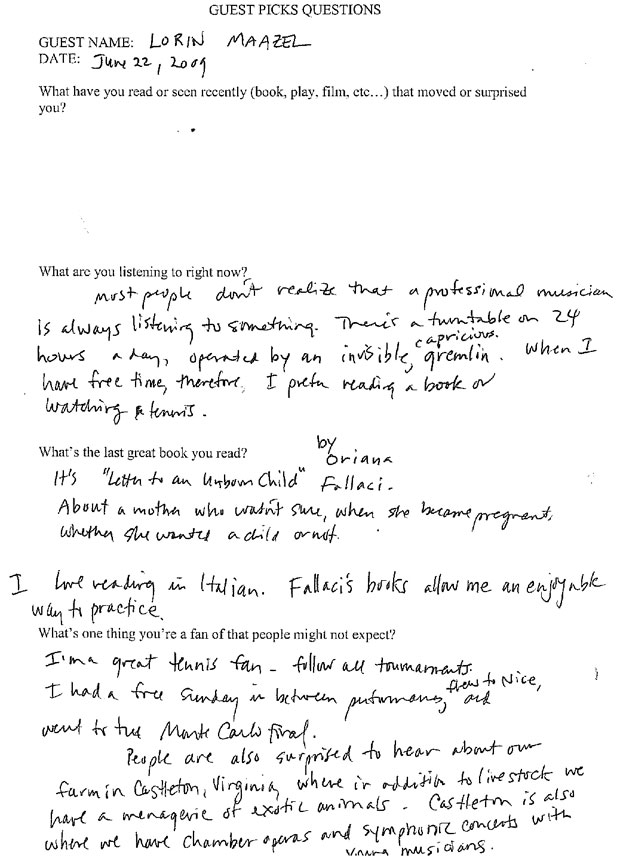 What are you listening to right now?
Most people don't realize that a professional musician is always listening to something. There is a turntable on 24 hours a day, operated by an invisible, capricious gremlin. When I have free time, therefore, I prefer reading a book or watching tennis.
What's the last great book you read?
It's Letter to an Unborn Child, by Oriana Fallaci. About a mother who wasn't sure, when she became pregnant, whether she wanted a child or not. I love reading in Italian. Fallaci's books allow me an enjoyable way to practice.
What's one thing you're a fan of that people might not expect?
I'm a great tennis fan. Follow all tournaments. I had a free Sunday in between performances, flew to Nice, and went to the Monte Carlo Final. People are also surprised to hear about our farm in Castleton, Virginia, where in addition to livestock, we have a menagerie of exotic animals. Castleton is also where we have chamber operas and symphonic concerts with young musicians.