Class of 2011: High School Graduation at Rikers Island Jail
Nearly a year ago, 20-year-old high school dropout Benjamin was arrested in a gang-related slaying. Today, he is an award-winning student who was selected to speak before his peers at the first high school graduation for inmates at Rikers Island Correctional Facility.
"When I got locked up and got arrested, I felt that my whole dignity. My whole everything got taken away from me, like my whole life," said Benjamin, who has spent the last 11 months at Rikers, and whose full name is being withheld upon request. "As I was graduating I felt like my whole self value rose up, spiked, went to its peak."
Inmates could earn a GED in the past, but this year is the first time the Department of Education and Department of Corrections teamed up to offer high school credits for inmates at Rikers, which currently runs three schools spread across seven sites.
The graduation this week at East River Academy had many of the hallmarks of other commencements throughout the city: an oversized banner emblazoned with "Congrats Grad," an inspirational commencement speaker, Geoffrey Canada, founder of the Harlem Children's Zone. Seventy young men wearing dark blue caps and gowns filed into an auditorium and the graduation march played.
But there were differences too: dozens of correction officers lined the room, visitors had to give up cell phones and drivers licenses before they were granted admission and hints of lime-green, correction-issued jumpsuits peeked out from underneath graduates' gowns.
Speaking to his peers during the commencement, 18-year-old Ajani urged the other graduates to view their time in prison as an opportunity to change course.
"Jail should be used for transformation," the teen who now dreams of being a computer engineer and music producer told the other inmates. "Some people think of it as the end, but it's more of a new beginning. The majority of our leaders and idols have made a negative decision at some point in their lives."
Ajani's mother, Jamaican-born Anthonette Brown from Queens, just shook her head in disbelief as she watched her son.
"His face looks different," Brown said, "and his aura, it says a whole different person to me."
She added: "He was headed in the wrong direction, and as a result of a lot of intervention, he is in a whole other place. In the correct direction, in the right place, correct direction."
About 7 percent of the roughly 12,500 inmates in Rikers are between 16 and 18 years old and are required by law to get an education, according to Dora Schriro, the Commissioner of the New York City Department of Corrections.
Many of the students graduating earned a GED, and if they stay in prison long enough, plan to continue studying for a high school degree. But it's not easy to maintain continuity since many inmates are pre-trial and could be transferred or released once sentenced.
Students at Rikers follow the same curriculum as other city students, take the same Regents exams and still have gym class — although those credits are earned during so-called rec time in prison. What they don't have is access to items the prison considers contraband, mainly calculators and computers.
"There are computers in the classroom, but, as you would expect, with no access to the Internet," Schriro said. "But the students acquire the important keyboarding skills, and the fundamentals of working computers."
Charmaine McCants-Collins, who has taught English at Rikers for 23 years, said the teaching challenges are the same as any school: "Whatever is happening out there is happening in here. It's not a different student, it's a different venue," she said.
Like any other graduation, after the ceremony the inmates filed into the gymnasium for a party. There was music, but no dancing. A buffet of soupy mac and cheese, Caesar salad and generic brand soda was served. The recent graduates sat with their families and friends while guards patrolled the basketball court.
As Benjamin described how school has been transformative for him, his mother, Shirley Lopez, from Elmhurst, Queens, started to cry. He reached over, and wrapped a lean tattooed arm around his mother and held her.
He said he wants to study psychology and help people because he said he has a lot of empathy.
"I want to go to school for that. And I'm definitely going," he said. "This isn't my first nor my last graduation, I'm looking forward to that."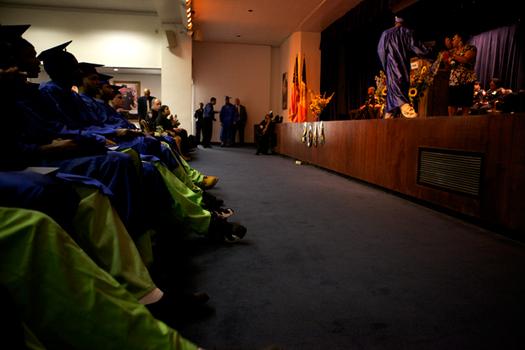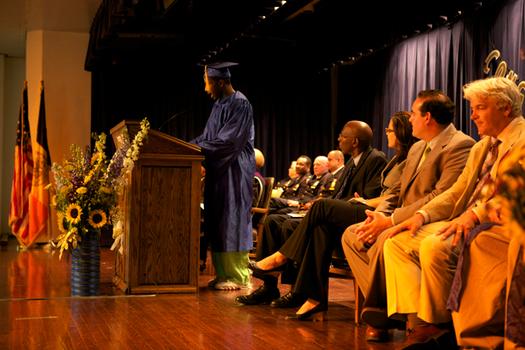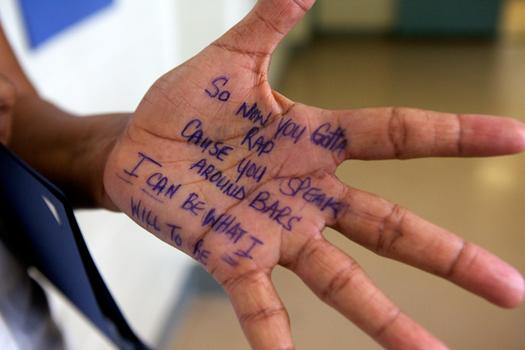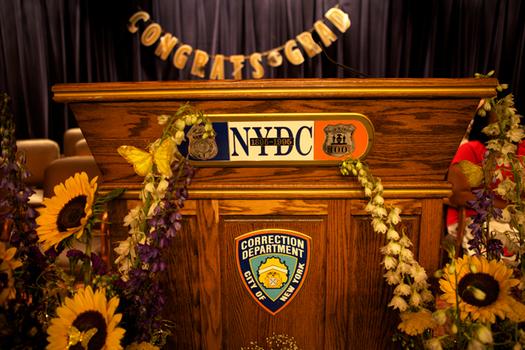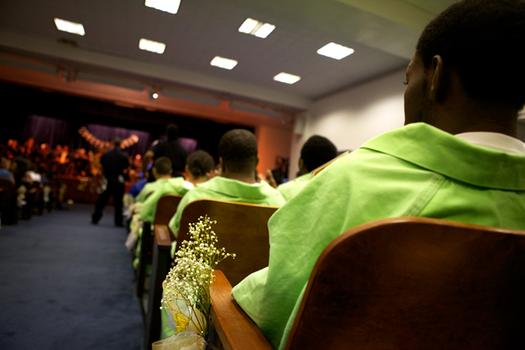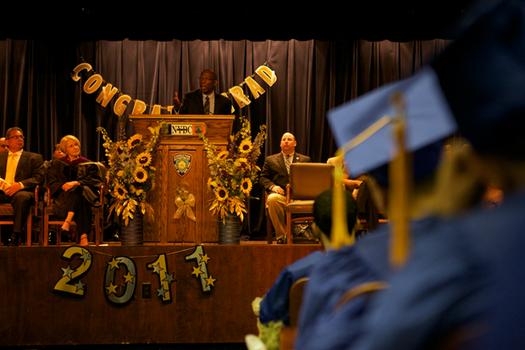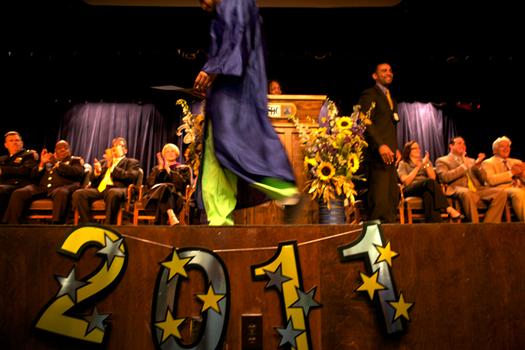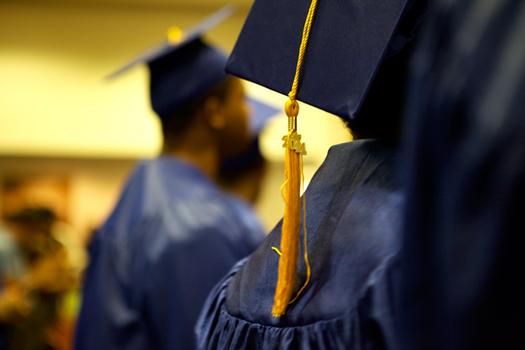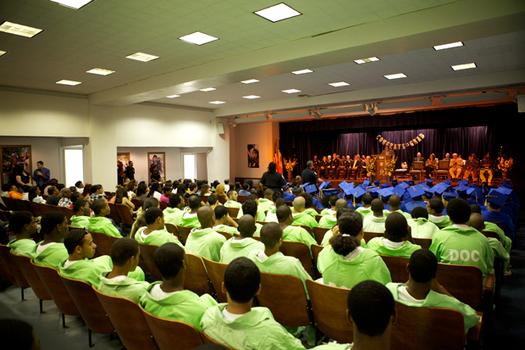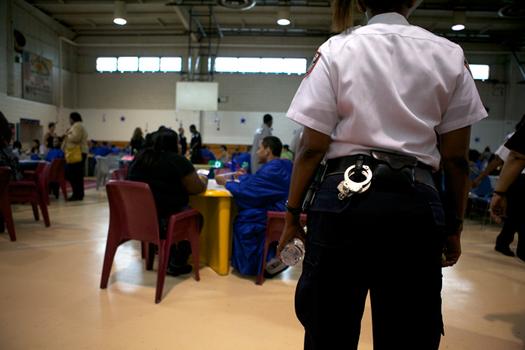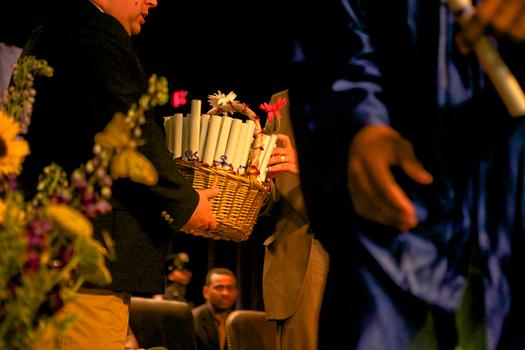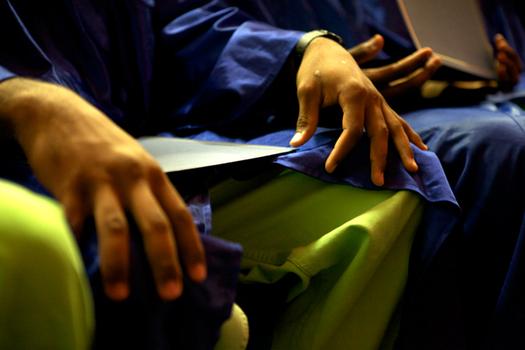 of