Niche Market | The Joy of Cookbook Shopping
New York is a city of specialists from foodies to academics, laborers to shopkeepers. Every Wednesday, Niche Market will take a peek inside a different specialty store and showcase the city's purists who have made an art out of selling one commodity. Slideshow below.
Bonnie Slotnick Cookbooks
163 West Tenth Street
New York, NY 10014
On a recent day, Bronx-born cooking connoisseur Bonnie Slotnick perfectly sliced through the tape of a package the mailman had just delivered from Israel. Every book in the box was individually covered in bubble wrap. The first book was a "Betty Crocker Boys and Girls Cookbook" from the 1960s.
"This is the kind of book a person will spot and start to cry, and I'm not exaggerating," Slotnick said as she eyed the loopy cursive and the cartoon of the mother and daughter mixing bowls of batter on the cover.
Slotnick, who worked in cookbook publishing for decades, owns a West Village bookstore specializes in out-of-print, antiquarian and vintage cookbooks and magazines. When she opened the shop in 2000, she had a stock of about 2,000 "hand-selected" books. Now, she has 4,000 books — she keeps an inventory in her head — and culls from private collections and those that are being dumped (Plucking then from "virgin fields of books," as she says).
She carries classic first editions — many signed — from innovators in cooking and writing like Elizabeth David, Jane Grigson, Richard Olney ("a great influence on Alice Waters, among other people"), Julia Child, James Beard and M.F.K. Fisher. Slotnick has editions of "The Joy of Cooking" from the 40s through the 70s, "and after that I kind of lost interest," Slotnick said.
She added, "I didn't like the 1997 edition, so I don't have to carry it."
The oldest item in her collection is a cookbook from 1823 with a worn brown leather cover and surprisingly soft white pages. Inside are white newspaper clippings from roughly the same era that belie their age, filled with recipes on pickling cabbage and other local vegetables.
"This is just the kind of thing a Dan Barber would use with his locally grown produce," Slotnick said, referring to the founder of Blue Hill Farms, renowned for using local produce.
Why only old cookbooks?
I've never really been able to explain my love of cookbooks and my fascination with cookbooks. It's not because I have any professional culinary training. It's not because all I ever want to do is cook, and I'm looking for new recipes. It's a combination of food and books and history, the object that is a book. This is not a place where you come for your Kindle or your Nook. Every time I open up a book and a hand-written recipes falls out or a pressed four-leaf clover, I always say, 'You won't get that in your Kindle!'
I think if they called a hiatus in cookbook publishing for a decade it wouldn't be too terrible because there's so much wonderful stuff from the past 200 years. And there's a quality to the older books. Of course there was schlock in the old days also, but the personal voice of the writer, before it became a question of having to crank out a book every year, like the TV chef people. 
I'd rather pick up a book that someone wrote because they were passionate about the subject. They knew, they had a personal connection, it's their grandmother's recipes. It's their home state or hometown, so that's why old cookbooks.
Another thing that you get here is you often meet another customer and have an hour-long conversation and come away having learned something or met somebody that could end up being your best friend. There's a social aspect to bookstores. You can't buy everything online just because it's cheaper. You lose a tremendous amount, including walking out your door and realizing one day that your favorite little store where you never shop, but was so picturesque, is gone. 
Do you have a favorite recipe?
I wouldn't say a favorite, I'm just always fascinated by these books. This is history. The fact that this book, which has a very worn leather binding the book is about 3 by 6 inches. It looks almost like a missal, and this book may have lived in New York for the last 190 years. It may have lived in this neighborhood. I start to picture the buildings here in the West Village that are from the 1830s and how this book might've been on the shelves. I just lose myself. I don't necessarily want to run into my studio apartment and "brew strong beer" or make "China ale" or "recover liquor that has turned bad," but still, I want to keep reading the book, turn the pages.
Do any famous chefs shop here?
Mark Ladner from Del Posto, April Bloomfield from the Spotted Pig and Breslin. Nick Malgieri, who's a pastry chef and teacher, comes here very often. They're not the biggest names in the world; they're the biggest names in my world. It's mostly the young chefs, the up-and-coming ones who come here. The people who just graduated from culinary school and got their first jobs. Their minds are more open. I think by the time you're an executive chef at a restaurant you're maybe not looking for new ideas every five minutes. It makes me feel very good that they appreciate what I've done. There are certain books that a lot of chefs know, that a lot of food people know, are the highest quality books and they were published 20, 30, 40 years ago. And they know that they can find them here, and they know they can send there sous-chefs and trainees to find them here. 
What are your top-five books for someone new to cooking?
I'd say for a reference, and for a book to just read and absorb, I like the 1975 edition of the "Joy of Cooking." I'm not sure that all the recipes would suit modern tastes. She (the author Irma S. Rombauer), after all, was a German-American, they kind of lead to European style foods. But still, it's got a lot of great basic stuff. There's certain book that have become classics, Marcella Hazan's "Classic Italian Cookbook." Madhur Jaffrey's "Invitation to Indian Cooking." Simone Beck's "Simca's Cuisine," or "From Julia Child's Kitchen." For Chinese cooking, Grace Young's "Wisdom of the Chinese Kitchen." This is about Chinese home cooking for well being, not for health. There's not a prescription there. This is a very carefully written and carefully edited book, and that's what I like. Grace didn't say, 'I'm going to write a book about Italian food, it seems trendy now.' She said, 'This is what my family is about and I want to share it.'
How do you feel about the proliferation of recipes online? 
You get a recipe with zero context. You get a recipe that some people say is good. It's like Yelp — you get reviews from different people, but you don't know anything about the people that are reviewing it. I would much prefer to get a recipes from my friend Rhea, and I've gotten many of them, that when it says 'Mom's Favorite,' it's her mother, whom I've never met, but I trust implicitly. You get so much more in a book than when you get a recipe standing by itself on a web page. Context is everything to me. Having a recipe embedded in the story of a person's life is something that I love. An example of that is this book "Victorian Cakes" by Caroline King. This is a story of a woman who grew up with her sisters, her mother and her aunts, and the chapters are about the things they used to bake and each person had specialties.
When you're looking at a store full of books or a room full of books you're doing a walk in the woods. You're just looking at everything and something catches your eye and you don't realize, you see a book suddenly that you saw in your aunt's kitchen that you hadn't thought about for 40 years and you go, 'Oh, well she used to make the best blank.' That doesn't happen on the Internet.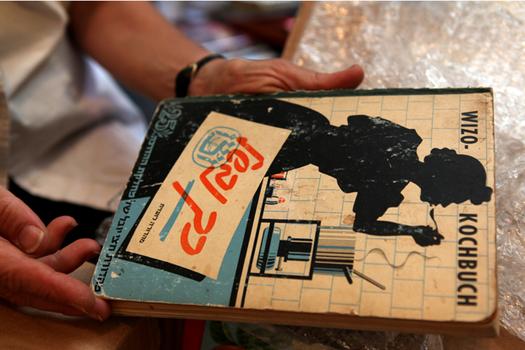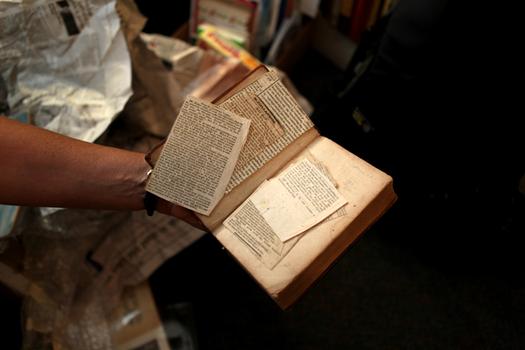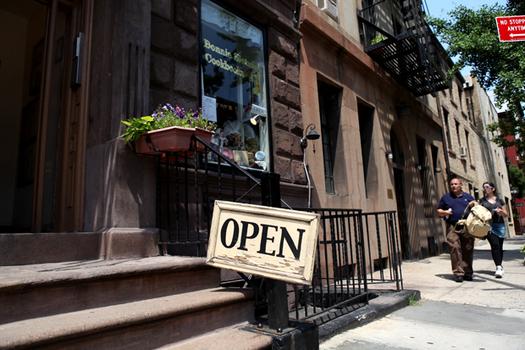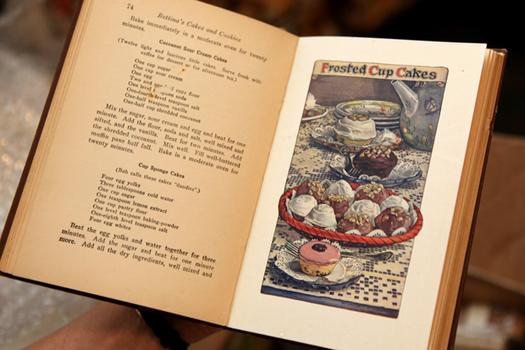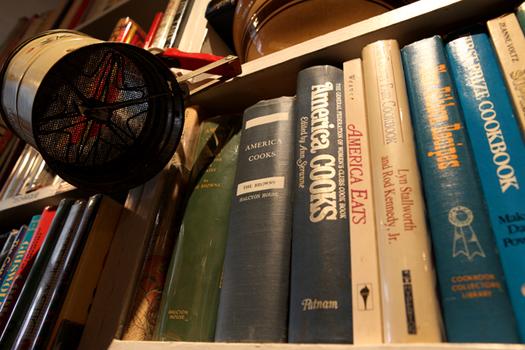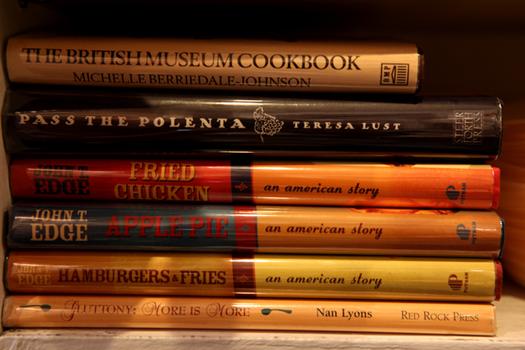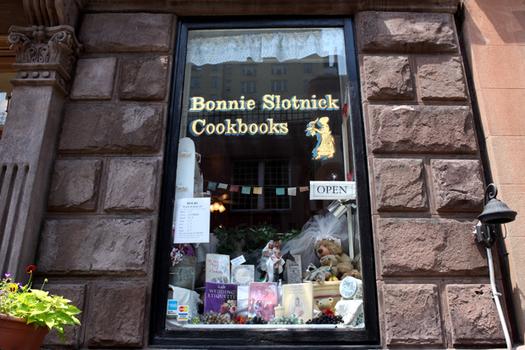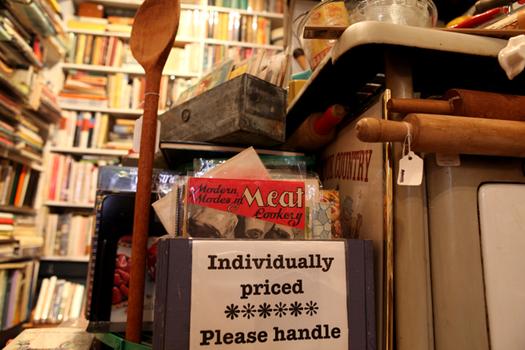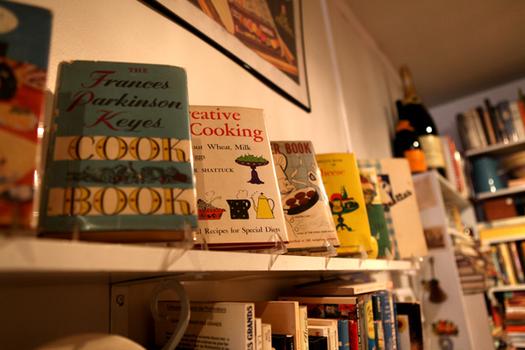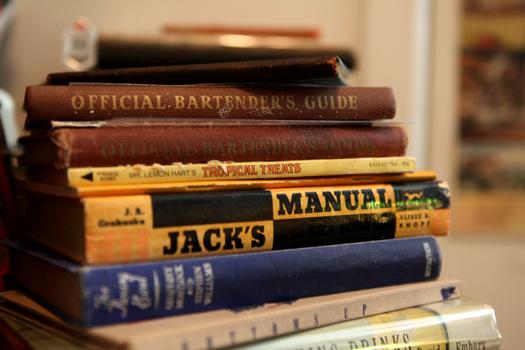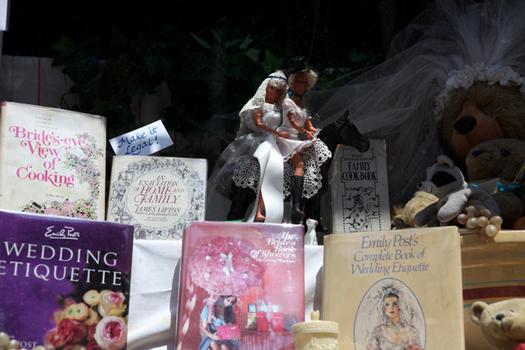 of