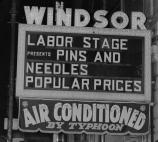 A Foundry Theater revival of a Depression-era musical opens this week. In its day, the show brought satirical relief to a polarized society. WNYC's Sara Fishko tells the story.
(Scroll to the bottom to see photos from one of the original performances of Pins and Needles)
Pins and Needles was produced by the International Ladies Garment Workers Union, and performed entirely by union workers, all amateurs, who diligently rehearsed after their day jobs ended.  It was presented at the old (now gone) Princess Theater on 39th Street, which doubled as their union hall. Later, the production moved to the Windsor Theater.
The show broke what was at that time a Broadway record: more than 1100 performances, between 1937 and 1941.  Dreamed up toward the end of the Great Depression,  the show took a famously light-hearted approach to class-consciousness, union politics and current issues of the day.  The young composer-lyricist Harold Rome (he went on to write "I Can Get For You Wholesale) made his Broadway Debut with Pins and Needles, crafting witty songs that display a love of language.

 
Select songs from Pins and Needles
Doing the Reactionary
All the best dictators do it / Millionaires keep steppin' to it /The Four Hundred love to sing it /Ford and Morgan swing it

Not Cricket to Picket
It's not cricket to picket not cricket / Oh, no it's just not coming for to picket / You haven't any right you know / You're acting in great haste / Just think of the predicament / In which your boss is placed
The above songs were recorded in-studio on the occasion of the 25th anniversary of Pins and Needles. To see the recording, click here.
Pins and Needles at The Irondale Centre in Fort Greene, Brooklyn
An updated revival of Pins and Needles is running at The Irondale Centre in Fort Greene, Brooklyn. Produced by The Foundry Theatre, it features performances by members of FUREE (Families United for Racial and Economic Equality).  The Show runs on Wednesdays, Fridays and Saturdays through July 9th. For more information, visit The Foundry Theatre's website.
(Photo by Ari Mintz)
WNYC Production Credits
Mix Engineer: Paul Schneider and Bill Bowen
Assistant Producer: Laura Mayer
WNYC Newsroom Editor: Karen Frillmann
Photographs from one of the earlier runs of Pins and Needles. To see more, vist this Flickr set from the Kheel Center at Cornell University.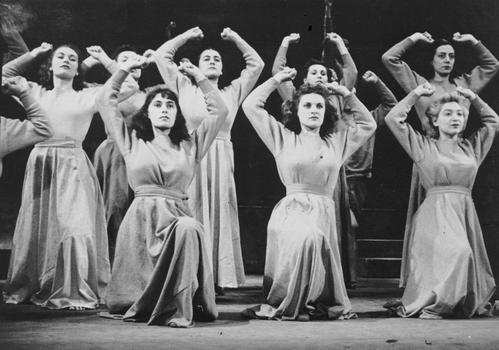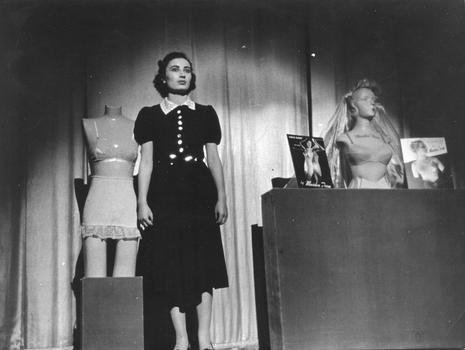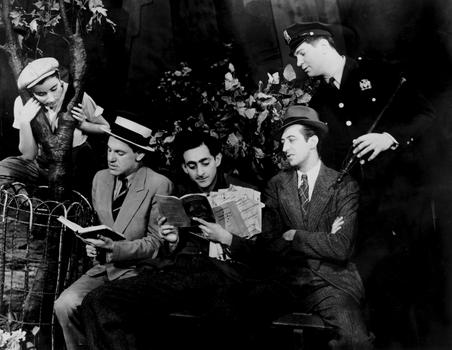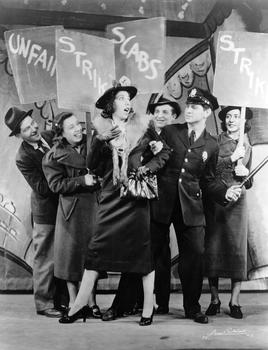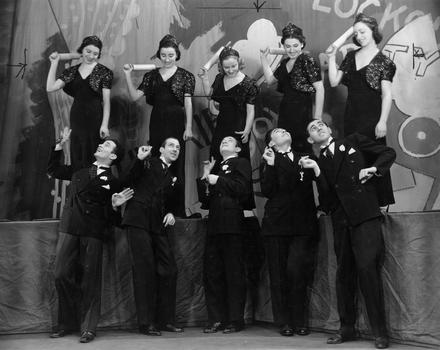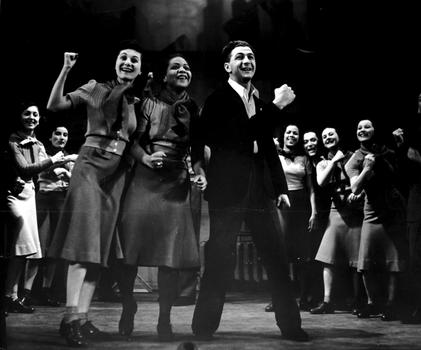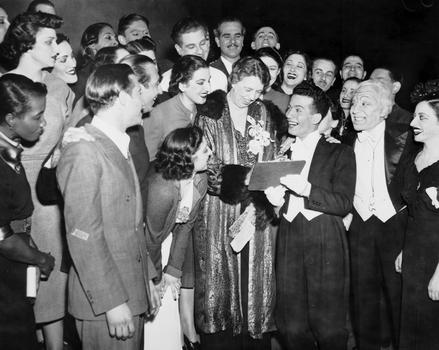 of