Christie and Democrats Poised For Big Win Over Labor in NJ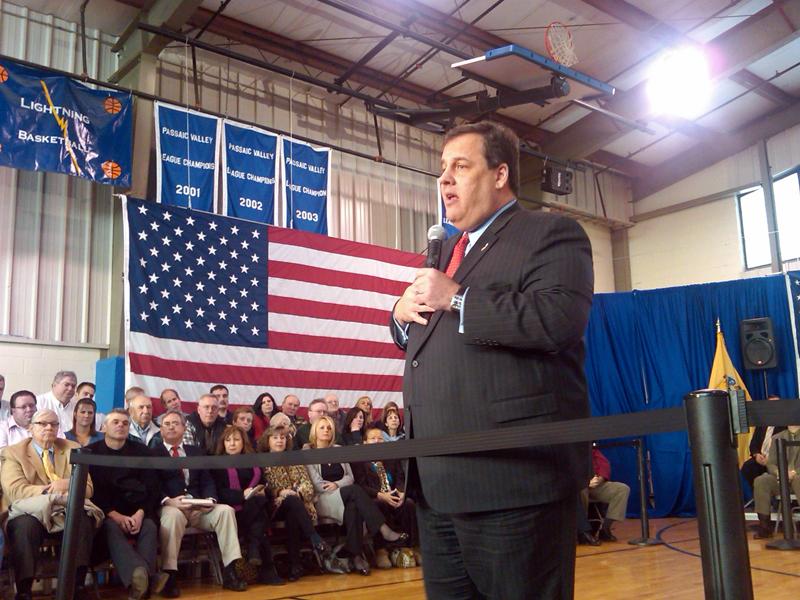 In Trenton, protesting public workers hope to evoke the imagery of George Washington's come from behind win at the Battle of Trenton when they cross the Delaware behind a detachment of Revolutionary War re-enactors.
Today, New Jersey's state Senate is expected to pass bipartisan  legislation backed by Gov. Chris Christie that would require the state's public workers to pay a lot more for their health and pension benefits.
The unions are vehemently opposed to the bill because it suspends their right to collectively bargain for health care benefits for three years. Labor activists call the bill Walker-lite, referring to Wisconsin Republican Gov. Scott Walker, who set off a national partisan firestorm with his successful legislative push to repeal collective bargaining entirely for state workers.
But New Jersey is not Wisconsin. Republican Gov. Chris Christie has found willing partners in Democratic legislative leaders Senate President Stephen Sweeney and Assembly Speaker Sheila Oliver. The boosters of the bill say reforms like raising the retirement age to 65 for future public employees is the only way the state can get out from under what they say is more than $100 billion dollars in unfunded liabilities.
(Bond raters have also taken note of that unfunded liability—they recently downgraded the state's credit rating, which puts upward pressure on the state's borrowing costs.)
Of course, New Jersey's public unions argue the state is in such a pickle because it failed to reinstate its millionaire's tax and neglected to pay in billions of dollars on required public employee pension payments for a generation.
While opinion surveys indicate most Jersey voters agree with the public unions on the millionaire's tax, Patrick Murray with the Monmouth University Poll said his surveys indicate public union leaders have badly misread the historical moment and are paying a price with Jersey voters.
Specifically, Murray says the state's New Jersey Education Association seriously miscalculated early in Governor Christie's term when they refused Christie's request to freeze teacher salaries for some new hires in the classroom. He says sacrifice is in.
"While people support public workers and teachers, they are not quite as satisfied with how their unions and their union leadership are dealing with this issue, and that is really the key here."
Murray said in New Jersey, where economic anxiety about the future runs high, the electorate is hungry for leadership that's redeemed by self-sacrifice.
"Workers should be more willing to give up some of their current benefits, which is something we have never seen in the past. Usually most people say a current benefit is a promise."
This shift in public opinion is cast against the backdrop of New Jersey's sluggish economy. Three years out from the collapse of 2008, New Jersey's employment picture remains bleak. It's one of the states with the highest percentage of homes in some stage of foreclosure. Homeowners and local municipal governments are grappling with the combination of sliding home prices, rising property taxes and thousands of property tax appeals.
In essence, it is a kind of hyper unraveling that's being missed in Washington but is grasped in Trenton.
So the task for public unions this week is to confront these political and economic forces while taking some of the sting out of a pension and health reform bill that will cost their members thousands more annually. One goal is to reject a provision that attempts to steer public workers to in-state health providers rather than medical centers in New York City and Philadelphia.
Peter Woolley, the director of Fairleigh Dickinson University's Public Mind Poll, said labor has to adjust to the state's shifting political landscape that's increasingly shaped by the protracted economic slow down.
"For generations the public union leadership has been a one-trick pony of we-are-the-greater-good," said Woolley. "In this recession, many voters are skeptical of that claim."
Woolley said the state's public union household will still be a force to be reckoned with.
"They are about 25 percent of voters. However, they are more against Christie than against his reforms," said Woolley. And yet even within union households there's a sense the status quo is unsustainable.
"Polls suggests that many union families recognize the need for some basic changes. Meanwhile, non-union families tend to be strongly for reforms in public employee pay and benefits."
In addition to the Senate vote on Monday, the Assembly Budget Committee will take testimony. A final vote in that house could come on Thursday.