Supporters of Same-Sex Marriage Keep Hope Alive After Bill Stalls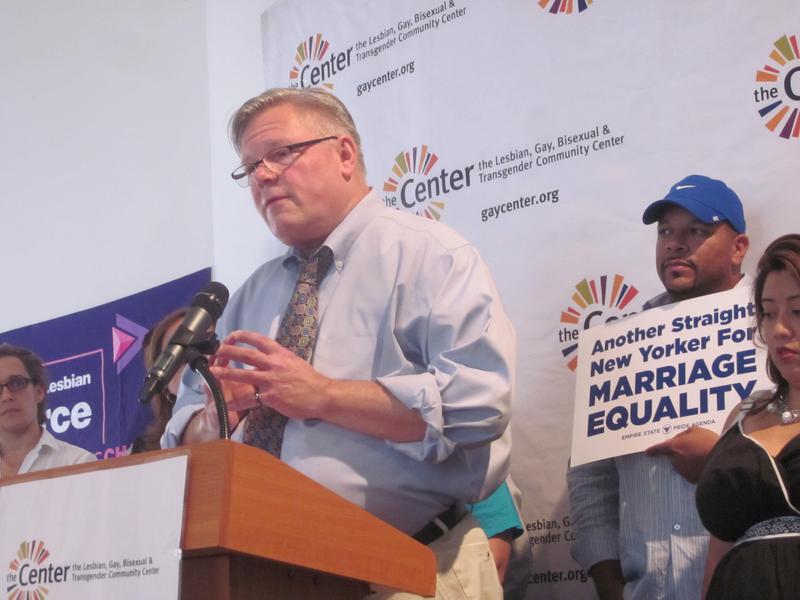 Dozens of supporters of same-sex marriage rallied at the LGBT Community Center, in the West Village, this weekend in hopes that legislation — which stalled in Albany  — will be passed this week.
Senator Tom Duane, the lead sponsor of the bill, said he's been meeting with his fellow legislators, in hopes of winning their vote.
"I think the governor's been very strong and his showed real leadership and the community's really pulled together," he said. "I'm feeling optimistic but that's as far as I'm going to go."
Last week, Senate supporters managed to win over long-time opponents of same-sex marriage but failed to bring the measure to a floor vote over the course of several days. The legislation appears to be one vote short of passage, with some Republicans expressing concerns that there aren't enough exemptions for religious organizations opposed to same-sex marriage.
"I don't know what's going to happen," said Duane. "I just get up every day, hoping, thinking, believing that we'll make a fair New York."
The LGBT Community Center event was organized by New York Latinos United for Marriage Equality, and featured two members of the City Council — including Rosie Mendez, who is openly gay, and Melissa Mark-Viverito.
A Siena poll found that 55 percent of Hispanic voters favor the legalization of same-sex marriage in New York. Several speakers alluded to Senator Ruben Diaz, who has forcefully opposed same-sex marriage and whose rallies have drawn thousands of demonstrators.
"I have yet to find any Latino I have known in my path, that says that this Senator speaks for them," said Sophia Passos. "He definitely does not speak for me."