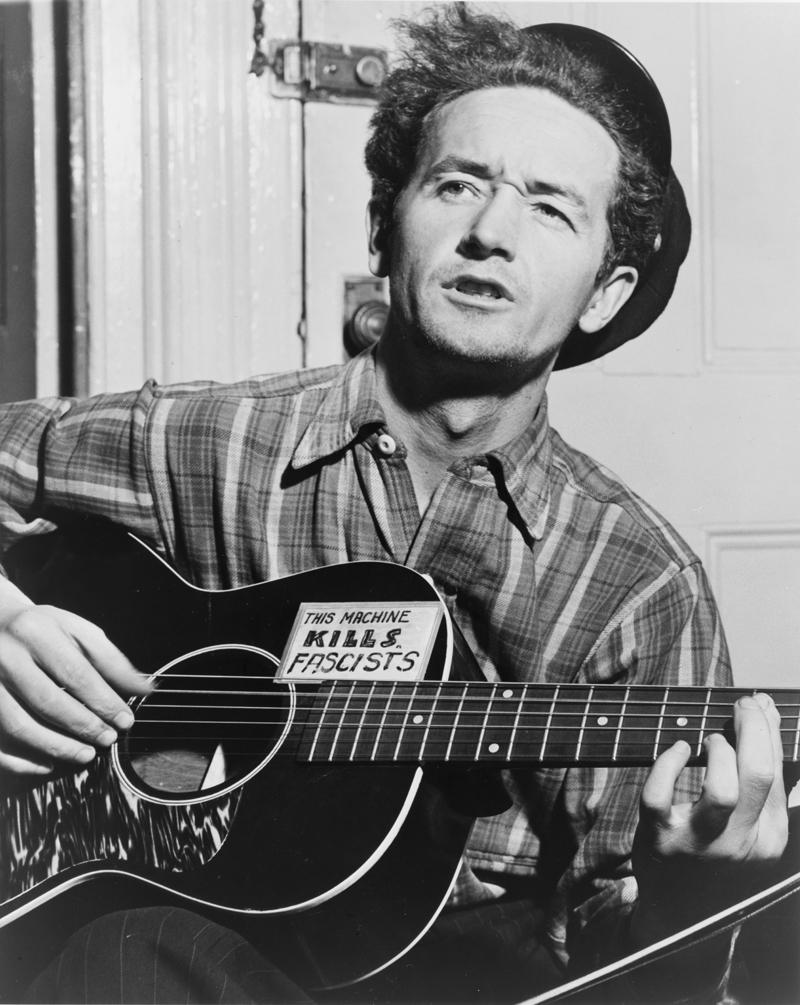 Woody Guthrie left California and arrived in New York City early in 1940. By summer he was making his first appearance on WNYC, on Henrietta Yurchenco and Paul Kresh's second Adventures in Music program on July 13. The show's theme was folk music of the mountains and the plains, featuring Jim Garland, Sarah Ann Ogan and Guthrie, who was introduced as "a modern troubadour who sings as he pleases and makes up his own tunes as he goes." Guthrie performed "Hobo Blues," "Dusty Old Dust," and "Tom Joad." 
Woody Guthrie appeared on WNYC many times between 1940 and the early 1950s. He was a regular guest on Leadbelly's weekly show, Folksongs of America, (the recording above) also produced by the late Henrietta Yurchenco. In this show from December 12, 1940, Guthrie sings "Jesse James," "John Hardy" and "Tom Joad." Joad of course is a lead character in John Steinbeck's "The Grapes of Wrath," played by Henry Fonda in the feature film directed by John Ford and released nine months earlier. "I didn't read the book but then I seen the picture three times," Guthrie said. Leadbelly, (a.k.a. Huddie Ledbetter) sings "Good Night Irene," "You Can't Lose Me, Cholly," "Frankie and Johnny" and "The Boll Weevil Song."
Guthrie actually proposed a daily 30-minute program to Station Director Morris Novik on March 8, 1945. His letter, two legal-size typed pages single-spaced, described the importance of WNYC's American Music Festival, on which Guthrie had just performed the previous month. The modest folk singer wrote, "My appearance on your Music Festival series was a little thing because there are eight or ten million folks out there that can sing as good if not better than me..."
In a poetic stream of consciousness ramble he went on at length about the difficulties of getting folk music on the larger commercial stations, writing that he was often misunderstood, misinterpreted, discriminated against and censored. But it was WNYC, the folksinger wrote, "One little station out of a whole big mess of them," that was bringing hope to the "long hairs." In short, Woody said, "If there is the littlest faintest spark of hope for the nervous salvation of our other New York stations then I see a whole big blaze of hope for WNYC." Before closing his pitch Woody added, "I have been told by commercial agents that a regular program over your facilities would let all the sap drip out of my prestige. I told them that it was a pretty considerably increased feeling of prestige that I always got out of standing in front of your microphones." 
Novik replied to Woody, "To say thanks for your recent letter is a great understatement. I appreciate your spirit, and I am in complete agreement with your analysis of the commercial radio stations. Your suggestion for a series is accepted 'hands down.' " Novik indicated, however, there was no money to pay for the show. Woody replied in a second letter that he would do the show for free and that he would call. There were notes indicating calls were to be made. Unfortunately, beyond that, it appears no regular show was programmed. However, Guthrie did perform on other WNYC American Music Festival concerts and on Oscar Brand's "Folksong Festival" in the years to come.
You can visit the Woody Guthrie Archives online, and you'll be hearing a whole lot more about Woody Guthrie as July 14, 2012, the centennial of his birth, gets closer.
Thanks to the LaGuardia and Wagner Archives of CUNY for access to the Guthrie/Novik correspondence.
_____________________________________________________________________________________