A Report from the Bryn Mawr Hound Show: Beagles, Bassets and Foxhounds, Oh My!
When Jerry Seinfeld called out, "Release the hounds," he probably wasn't imagining the extravaganza that is the Bryn Mawr Hound Show, held each year on the handsome grounds of the Radnor Hunt Club in Malvern, Pennsylvania. One of the largest such sporting events on the East Coast, it offers the hound enthusiast — what's not to love? — a day with top packs of beagles, bassets, and foxhounds from all over the area. The foxhound packs are usually in the service of a local hunt, and the beagle and basset packs are often private or subscription packs that allow interested parties to watch the hounds track rabbits. However, a few times a year they all come together at shows to compete against each other, and the result is 19th-century sporting print come to life.
The show began officially on the evening of June 3 with a good-natured horn blowing competition for amateur and professional huntsmen. This always adds an element of tuneful hilarity to the proceedings as the 500 plus hounds kenneled not far from the clubhouse respond with clamorous bewilderment to successive renditions of traditional hunting horn riffs: "Moving off," "Gone away," and "End of day."
Unlike confirmation shows, such as the annual Westminster Kennel Club show where highly trained show dogs lustrously approximate the standard for any given breed (sort of the canine equivalent of "I'm not a doctor, but I play one on TV"), Bryn Mawr features only working hounds. That means dogs that have either hunted in the field, or, in the case of untested puppies (known as "unentered" puppies in the biz) are destined to hunt.
Because of this, the ring work is a little less choreographed. Instead of the showy and elegant run across the enclosure (called "gaiting"), some competitors show their dogs "off lead" to allow for greater freedom of movement (especially in the beagle, basset, and English foxhound rings.)  This also compensates for the A.D.D. (Attention Deficit Disorder) issues that crop up: this is the only time of year that working hounds ever find themselves at the end of a lead, and many find the experience daunting or boring, or both.
Individual classes judge hounds at various stages of their lives and careers: young, unentered hounds; older, entered hounds; veterans (who have six seasons or more under their belts); hounds in couples. And there are classes to celebrate and assess the hounds' most important role other than hunting: passing their skills on to the next generation. Brood bitches and stallion hounds are shown with their children (who should look vaguely like them). These classes lead to many Kodak moments and what Monty Python would peg "The Ministry of Silly Walks."
Midway through the show another new generation is spotlighted during the junior handler classes: a sweet solemnity reigns there, especially in the 10 and under class, which often features a tiny child determinedly presenting a hound three times her size. 
At the end of the day are the much anticipated pack classes, held on the Club's steeplechase course, in which five couples of hounds — hounds are always counted in units of two — are judged on their uniformity and ability to move in concert in response to commands from the huntsman (who is not infrequently these days, a woman). Rangy foxhounds provide the drama by sailing over steeplechase fences, while beagles and bassets aim for a smart quadrille-like presentation. The Farmington Beagles has an almost unbroken record of pack class wins — moving in a fluid wedge that is reminiscent of the chorus of New York City Ballet.
"That's right," agrees joint master and huntsman Sherry Buttrick, "they all wear tutus, and they point."
On a more serious note, she credits her beagles' "bulletproof" temperaments, and their ability to focus on her — even with the noise and chaos of the show. Decorum does not always come easily — almost every pack has some goofy hound who won't get with the program ("ET phone home"). And one memorable year, the whole proceeding was watched from a far field by a self-possessed family of foxes!
The other big class of the day is the competition for the champion foxhound, in which the winners from the four different foxhound rings (English, American, Penn-Marydel, and Cross-bred) are judged by one Grand Championship judge. This year, judge Stanley D. Petter, Jr. pronounced English foxhound Amwell Valley Heythrop "beautifully balanced" and "very athletic." The striking toffee-colored hound edged out an elegant American foxhound, Potomac Terrain, for the top honors.
In the spirit of full disclosure, I should reveal that I was not at Bryn Mawr only as a reporter, but also as a participant. I am a member of the Sandanona Harehounds of Millbrook New York and each year we bring both bassets and beagles to compete at the show — an exercise that lead one long-time hunt member to comment that walking beagles was like walking electric eels and walking bassets, like walking oil spills. This year, the oil spills produced at least one geyser: our hound Roister, shown by Sandanona Master Elizabeth Park, was proclaimed Champion basset.
Bryn Mawr is both intense and dreamlike, and the club grounds no doubt echo with the "speaking" of hounds long after we are gone.
Listen to the horn blowing competition at the link above, and watch a slide show of the event below. All photos were taken by Karen L. Myers.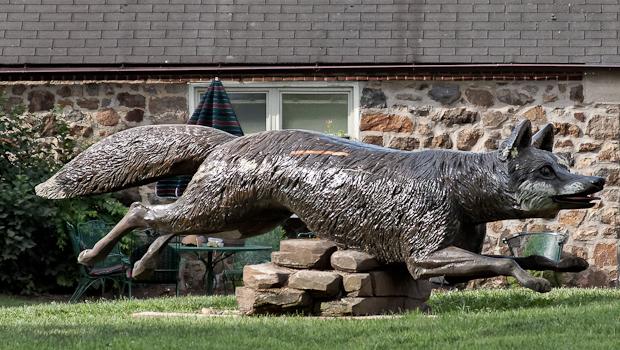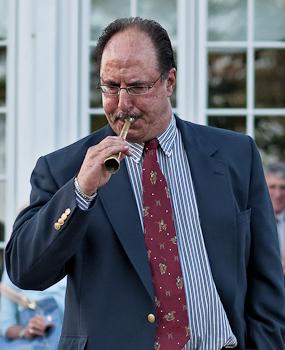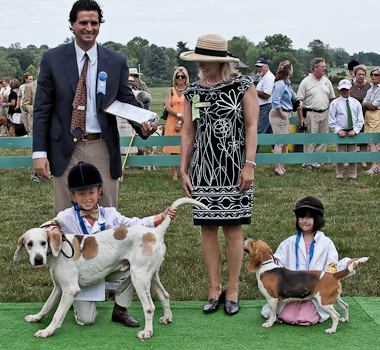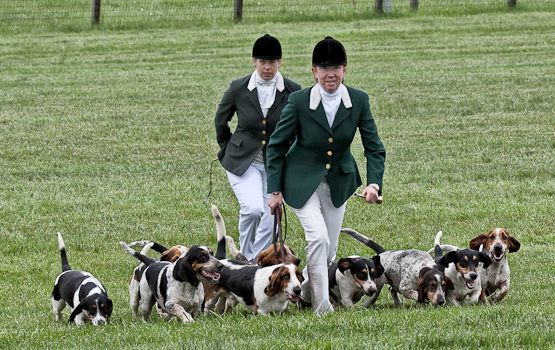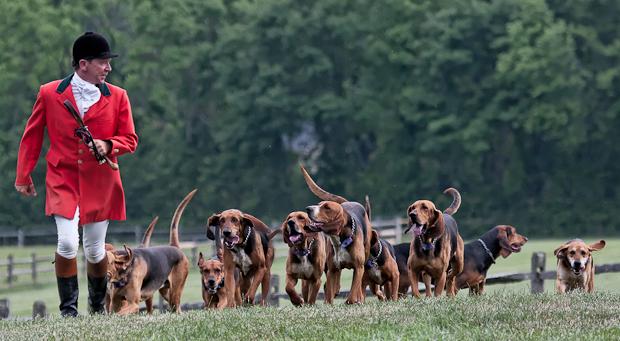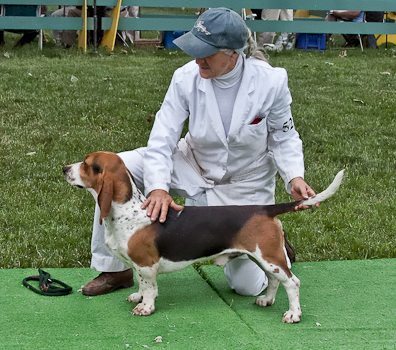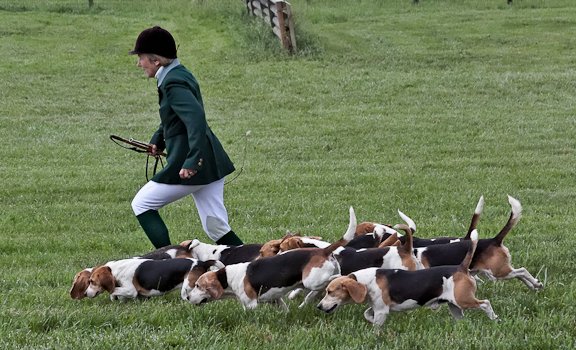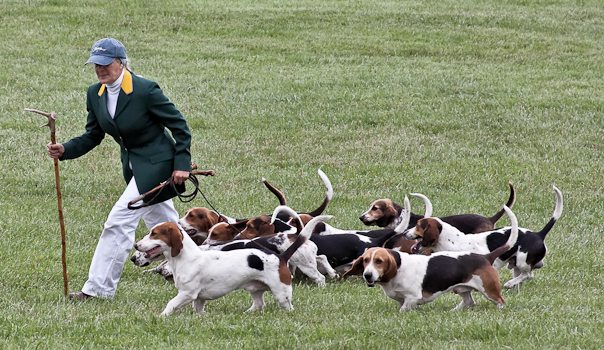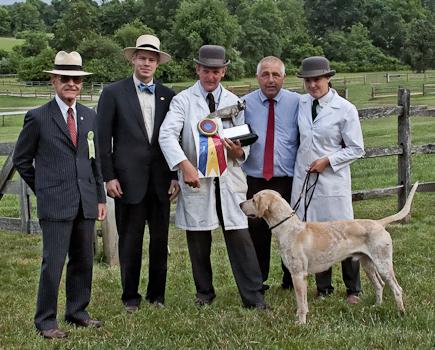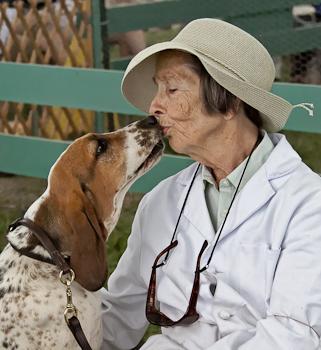 of