Starving for Gay Marriage News (and Food) in Albany: A Reporter's Notebook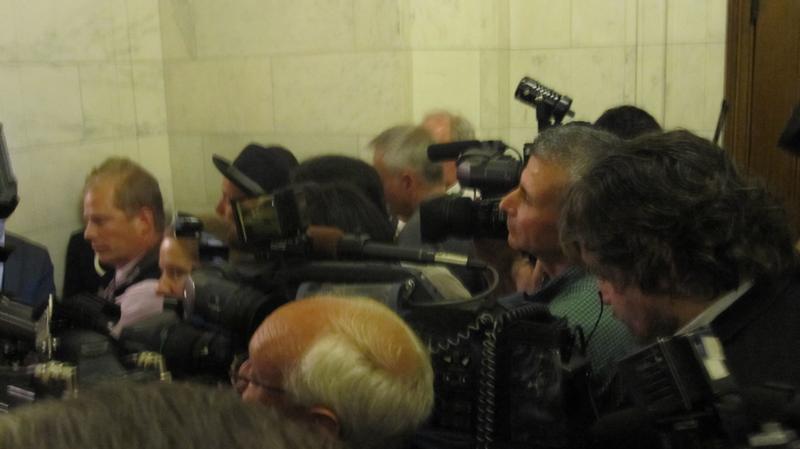 After four hours of standing without food and water in dress shoes, forgoing bathroom breaks, packing in tightly with other reporters— right under the armpits of the tall ones—a reporter does not want to hear there's no news.
So when a figure emerges in the light of the doorframe, like a vision, we crush in, salivating. New York Senate Majority Leader Dean Skelos. 
"We've had a tremendous conference, a thoughtful conference, discussing the issue of marriage equality," Skelos began.
Yeah, go on …. Give us something, just a little something ….
"The discussions are going to continue. The issue has not been resolved, and I'll respect the decision of the conference once it's made, but the conference has asked me to keep confidence of the conference at this point."
Are you serious? 
And thus ended Wednesday's senate Republican conference on whether the same-sex marriage bill should be brought to the floor for a vote.  Skelos said the conference will be continued Thursday.
But, Senator Skelos, will there be a vote?
"We haven't resolved other than we're going to continue our conversation," said Skelos.
So that's the way it goes in Albany. You huddle in hallways, stake out doorways, ambush legislators with your shotgun microphones, body block them outside chambers, just for a little nugget, a nibble, a little something-something so you can say the story is changing. 
And often, you get nothing—so that becomes the news:  There's no news yet, guys!
The hallway stake-out is the classic. It's called the "scrum," in reporter speak. A horde of reporters and cameramen cluster around a doorway, standing in wait. 
You have to reserve a spot, so you arrive early. By "spot", I mean a spot for your two feet and just enough space to shoot your arm through so your mic can land under the politician's mouth. Then when you find your spot, you don't give it up—even to momentarily rest your feet and sit up against the wall. But some reporters do end up drifting away. And you look at them and wonder, Am I missing something? Is there a second getaway exit the senators are probably using instead? What do they know that I don't? But if I just follow them, I'll lose my spot … 
So you stay put.
As senators arrived at Wednesday's conference, most wrestled through the pack without uttering a word. The Republicans we wanted are on the short list of "Republicans in play"—the possible senators who just might be that one last yes vote on gay marriage that the senate needs to pass the legislation. 
Mark Grisanti from Buffalo strode by. We rushed him. No comment.
Andrew Lanza from Staten Island breezed by. Please, give us anything? What will you say in there? He said nothing of note.
Roy McDonald of Rensselaer County, the most recent Republican to go on record as a yes vote, pushed his way through with a look of total annoyance on his face. He had stated publicly that he grew weary of the herds of reporters that have been stalking him for weeks on the issue. Apparently unburdening his planned yes vote yesterday didn't seem to help. He was still avoiding us.
When Jim Alesi of Rochester turned up, we circled like vultures. He was the first Republican to declare his support of the same-sex bill. We asked him if he thinks there's going to be a vote.
"I think I'll have a better sense of that in a just a few minutes, but I hope they do." 
Hmm, not news.
Since the senators weren't talking, we approached lobbyists. They've been popping in and out of the rooms—maybe they knew something. I glided up to one of the same-sex marriage proponents who has been feeding me some stuff. He ribbed his colleague and told him I was "dangerous." I had no idea what he meant by that. He gave his best guess on which Republicans were still in play. It's the usual list of senators: Andrew Lanza of Staten Island, John Flanagan of Suffolk County, Stephen Saland of Poughkeepsie, Mark Grisanti of Buffalo and Greg Ball of Putnam County.
Then Duane Motley from New Yorkers for Constitutional Freedom, an evangelical organization lobbying against same-sex marriage, offered his best guess. He said the vote is 31 to 31 now, a dead-tie. And no Republicans are going to budge. So the bill will never hit the floor for a vote.
By hour three, my hunger pains were so bad I started to think about the senate cafeteria menu with a longing that that dining institution does not deserve. 
Then a senate official passes around Jolly Ranchers, as if throwing fish food into a pond of carp. Reporters grab at the little basket. A fellow radio reporter, Karen Dewitt from New York Public Radio, snags me a grape flavored one and I suck on the candy as if I've never tasted anything better. 
So you can imagine everyone's relief when Skelos finally appeared in the doorway. But realizing he had nothing substantive to add, the reporters slowly slinked away and tried to track down other senators who might talk.
We mob around Lanza one more time. What did you guys talk about in there for more than four hours?
"You know, there's a process, there's a conversation happening, and I think there was a great conversation, a great debate, a great discussion, and it's continuing," said Lanza.
Uh, thanks, man.