This Week: Must-See Arts in the City
Internet culture deconstructed (and reconstructed) at MoMA PS1, a street-influenced biennial at El Museo, a forest of fabric grows in Chelsea and an artist gets people to confess their deepest, darkest secrets. Plus: there are all kinds of artsy hijinks going down in Williamsburg. Here's our guide to what's hopping in the arts world in Gotham this weekend.
Ryan Trecartin: Any Ever at MoMA PS1 According to the press release, the sculptural video installations in this exhibit "embark on poetic, formal, and structural elaborations of new forms of technology, language, narrative, identity, and humanity, portraying an extra-dimensional world that channels the existential dramas of our own." Translation: he takes a Ronco Veg-O-Matic to YouTube culture, producing hallucinatory videos with weirdly attired, squeaky voiced characters that don't necessarily adhere to the conventions of linear narrative. The show at PS1 represents the first New York museum solo for this hype-saturated artist, who is beloved by curators in search of all things that slice and dice Internet culture. Trecartin certainly has a distinct voice and his visuals can be riotous -- but, I'm gonna go out on a limb here and say that I can't help but find his work annoying. Honestly, I'd much rather sit around and watch glowpinkstah's Avatar makeup tutorial -- not to mention this animated GIF. If you hit the show, let me know what you think. I'm always open to having my mind changed. In the meantime, Rhizome has a preview of one of the pieces in the show. Opens Sunday, in Long Island City.
Bienal: The (S) Files at El Museo del Barrio Biennials tend to be hit-and-miss affairs, broad surveys of everythingness that don't amount to much in the end. That makes this year's "Bienal" of Latino and Latin American artists at the Museo del Barrio a nice surprise -- it's tightly held together by a theme that focuses on the street. This includes pieces by known street and graffiti artists (such as Cope2 and Lady Pink), as well as works that explore various aspects of street culture, from the disconcerting sight of a car roof emerging straight out of the gallery floor to D.I.Y. instruments crafted out of found objects. In the latter category, don't miss the hacked together turntables produced by Thessia Machado, which create beats and scrapes through the strategic placement of junk. This year's biennial will also feature various off-site installations and performances -- including an event at the Socrates Sculpture Park, in Queens, this Sunday at 5 P.M. Check the Web site for all the listings. Through January 8, on the Upper East Side.
PearlDamour + Shawn Hall, How to Build a Forest at the Kitchen The artist duo of Katie Pearl and Lisa D'Amour, along with New Orleans artist Shawn Hall, are transforming the Kitchen's cavernous galleries and performance areas into a "forest" made of fabric that visitors are free to wander through. The piece will evolve over the course of the exhibit, as the artists add and remove bits. If you're looking for a more heightened experience, join one of the organized walks of the install by the folks at Elastic City (whom we teamed up with last summer for a very unique sound tour of Brooklyn). Opens Friday at 2 P.M. (through Sunday), in Chelsea.
LAST 10 DAYS: Gillian Wearing, People at Tonya Bonakdar Gallery This exhibit -- a mix of video installation and photography -- left me gasping. Specifically, a second floor video install called "Secrets and Lies," in which Wearing runs a projection of various mask-clad people confessing some of their deepest secrets: a 57-year-old virgin, a woman who stabbed her husband, another who is having an affair. The intimate box-like setting gives the piece a sense of urgency and intimacy -- forcing the viewer to stare right into the eyes of the confessors. If you're going to see one thing in the coming week, be sure it's this. (Hat tip to Art Fag City for the enthusiastic heads up.) Through June 24, in Chelsea.
Plus, there's a number of interesting/entertaining/destructive events going down in Williamsburg this weekend:
Presents: 3 Months of Mail Art for Hyperallergic HQ The Brooklyn-based arts blog has gotten artists from all over the world to create ingeniously crafted works that are then submitted through the post. Overall, a fine opportunity to go postal. The pieces will be on view at Hyperallergic's offices, this Friday, from 6 to 9 P.M.
Crest Fest at Crest Hardware This lovable Williamsburg exhibit and party takes place every year in a sprawling hardware store on Metropolitan Avenue, with works displayed amid the spackle and the nails. Now in its fourth iteration, it's bigger and badder than ever, with musical performances and DJs throughout the day. Gothamist got a sneak peek. Opens Saturday at 1 P.M.
Boxhockey at Pandemic Gallery Two broom handles, a hockey puck and a box -- and you've got a violently fun game known as boxhockey (a concept refined by musician Derek Pippin, of Tight Chocolate, Dead Betties and Fur Cups for Teeth). Pandemic will be showcasing artist editions of the game -- and will also have plenty of bloodsport on site. This should be a hella fun opening party. Opens Saturday at 7 P.M.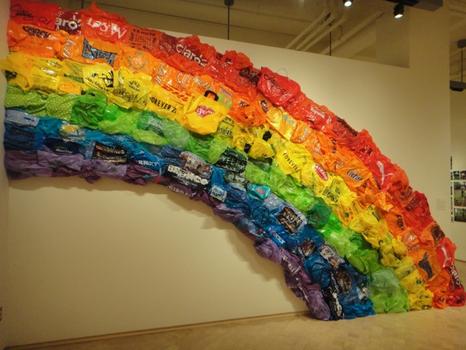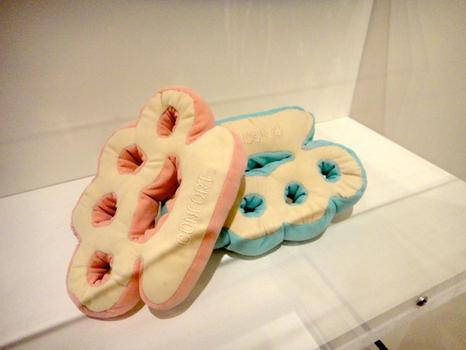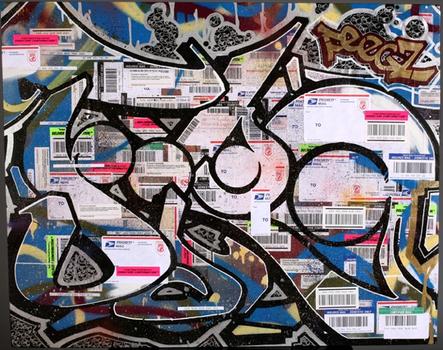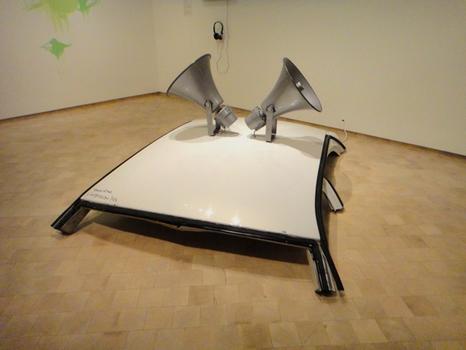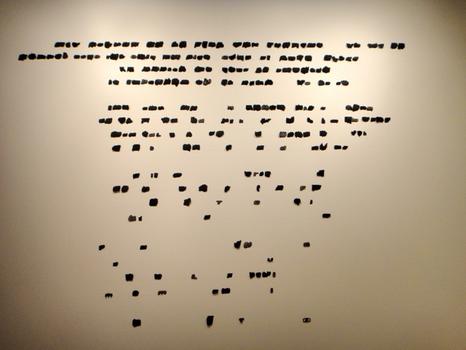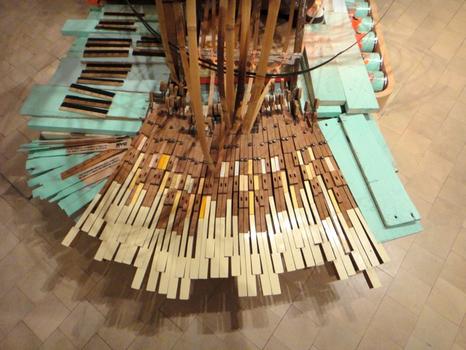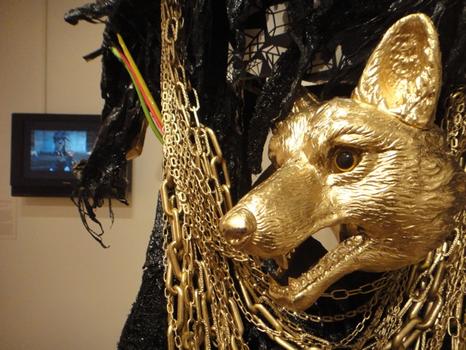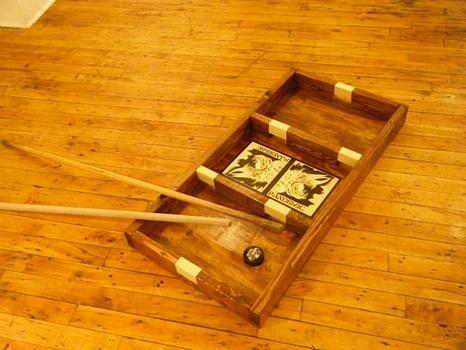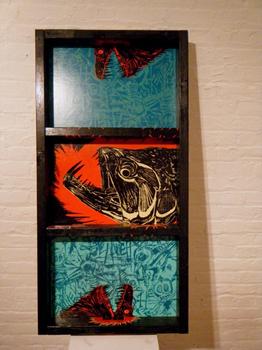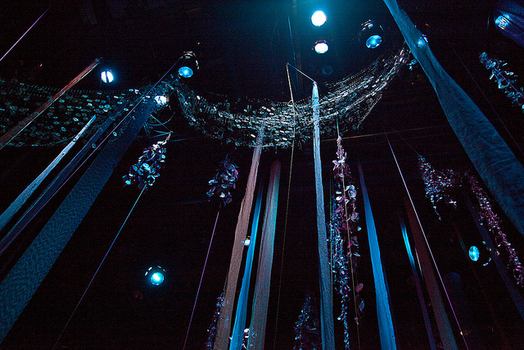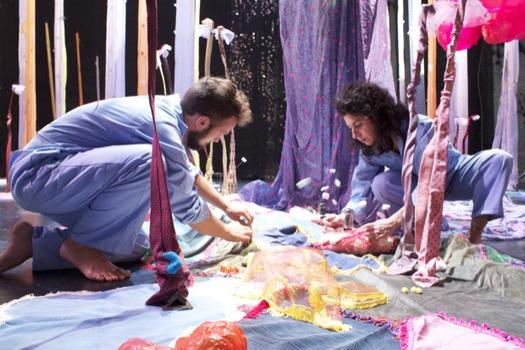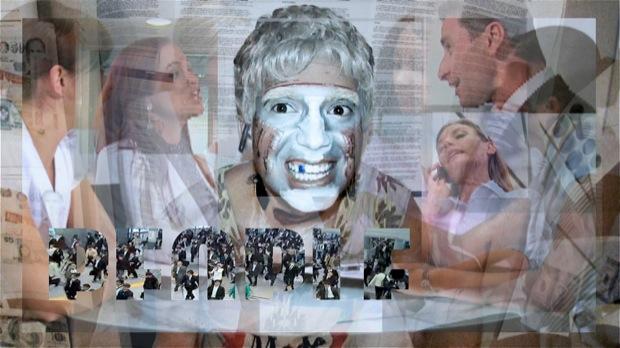 of