Niche Market | Soccer Fanatic
New York is a city of specialists from foodies to academics, laborers to shopkeepers. Every Wednesday, Niche Market will take a peek inside a different specialty store and showcase the city's purists who have made an art out of selling one commodity. Slideshow below.

Soccer Fanatic
8428 Roosevelt Avenue
Queens, NY 11372
When Jorge Vargas first opened his business in Jackson Heights, Queens, in 1989, he was a self-described "soccer fanatic," but he managed to relegate related gear to a small section of his store. But by the time the U.S. hosted the World Cup in 1994, soccer paraphernalia was all he sold. Now, cleats, soccer balls, jerseys, flags and balls line the walls at the family-run business under the elevated No. 7 train on Roosevelt Avenue.
Customers shop for official jerseys made by companies like Nike and Adidas (which average at $80 and go up to $120 with the name and number of a player), and other, less expensive jerseys meant to be played in. During major tournaments like the World Cup or "Clásicos" — match ups of the two best teams in a country — sales always rise. 
Vargas said the bulk of his customers when he first opened were immigrants from Colombia, like him, but now the majority are immigrants from Mexico and Ecuador. For the recent European Champion League final between Manchester United and FC Barcelona, Vargas said Mexican immigrants bought loads of Manchester jerseys because the British team has Mexican player Javier Hernández Balcázar on its roster.
"They want to buy the jersey Manchester United," he said. "Why? Because El Chicharito, No. 14, is there. So the sales go up, just because Mexico loves that player."
Jorge's wife, Yhammir, said immigrants also root for the U.S: "I also want to go for USA because it is my children's country and my grandchildren's country."
The Vargases are hoping to pass on the business to their son, Andres, who grew up in Queens playing more basketball than soccer, but enjoys working at the shop.
The store is a haven for Calvin Loja, 11, who goes there every day after school to trade "paninis," collectible stickers of players that sell for $1 for a pack of five.
"I only have 33 left to go," said Loja, who noted that even though his family is from Ecuador, his favorite team is Brazil.
Why did you decide to open up a store that was dedicated to soccer?
The first reason is because I like soccer. I grew up in Colombia, and the major sport over there is soccer. So when I came to the United States I saw the chance to be one of the first stores in the neighborhood that has everything with soccer. So we opened in 1989. In the beginning, it was a small section in soccer because nobody was really interested in soccer in United States. Finally, we started to have a team in New York--Metrostars. And then the World Cup in 1994, that was the beginning of soccer in the United States, and that was the reason I opened. Because I loved my sport, and I played until I was almost 45, then I retired, and now I play for fun with my friends and even with my grandson.
Who are most of your customers?
In the beginning, when I opened the business here the neighborhood was dominated by Colombian people. But little by little, started changing the neighborhood, people come from Mexico, which is the No. 1 now. And then, in the last three years, we found a lot of Ecuadorian people coming to the United States. So if in 1985, I had 95 percent of customers from Columbia, now I have only three percent of Colombian customers. ...
What's the most popular thing that you sell here? 
Mexican Jerseys. Anything from Mexico: everything for the team from Mexico we sell very well here because the Mexico people they really love the team, and they die for it. Every time there is a Clásico — we call it Clásico when the best two teams from any city play each other — that weekend, my sales get better because the Mexican people they like to buy the jersey to go and watch the game on TV, so that's why my sales go up.
Would you say that soccer is becoming more popular in the United States?
It's becoming more popular, yes, but they're making one huge mistake. They haven't been able to have a team in New York. They have a team, Red Bulls, but it's in New Jersey. New York doesn't have a team and 85 percent love soccer. In fact, [last Tuesday] night was a game, Greece against Ecuador, right here in Queens. There were more than 40,000 people watching the game. Right here in Queens. It's going to create business, it's going to create more people who are going to love soccer. From my point of view, sometimes on Sundays I don't feel like doing anything, but I would like to go to the stadium to watch a soccer game but I don't have a chance, so that's why I said, New York needs a team and I hope they do it fast because it's too expensive to go to New Jersey.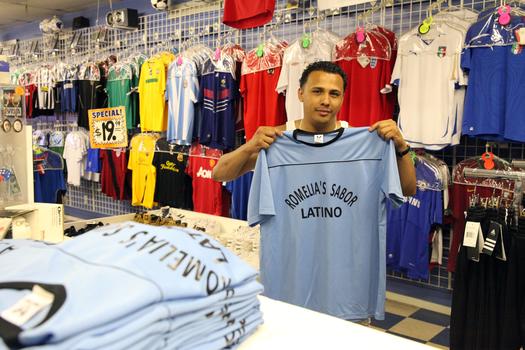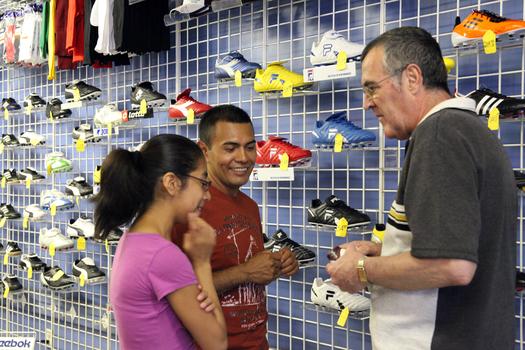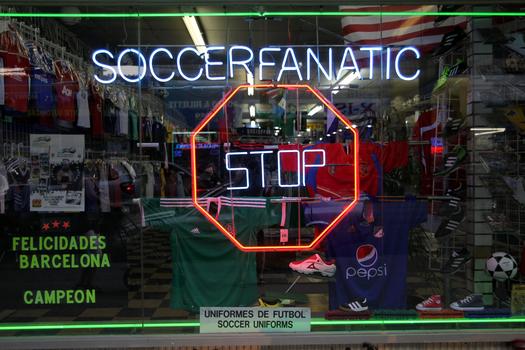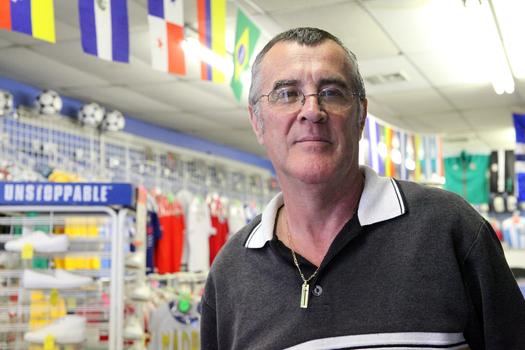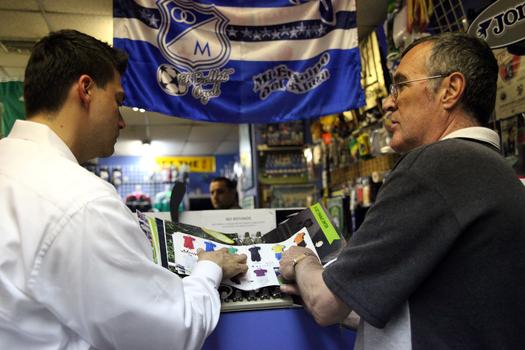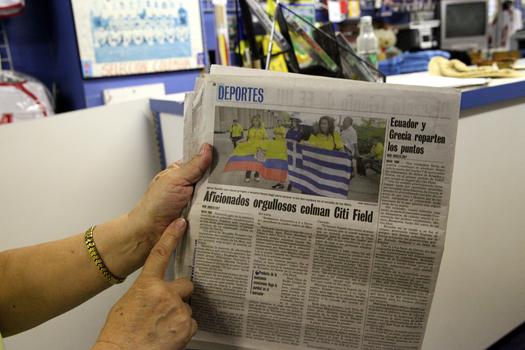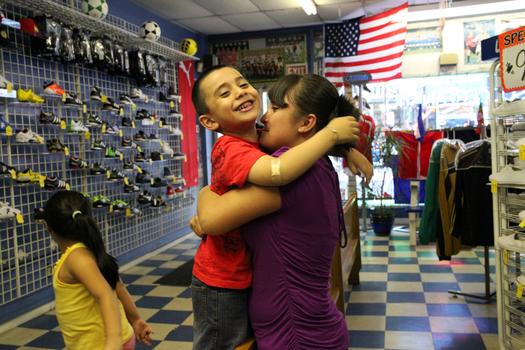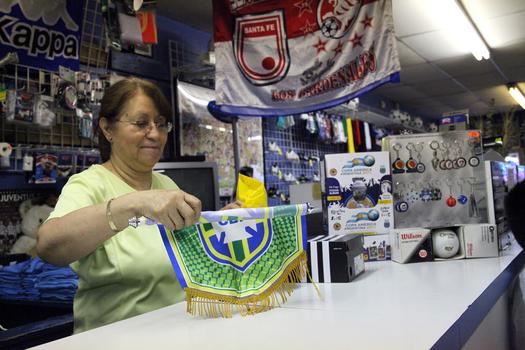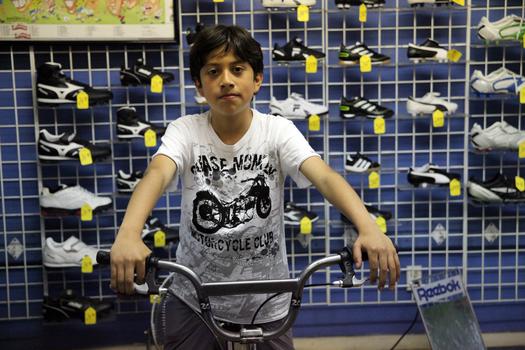 of